Wednesday, February 20, 2019
Paula Summers Murphy, director of business development for Vision Financial Group, was so impressed with the DiSC management training she received at the National Propane Gas Association's (NPGA) Southeastern Convention last spring, she knew it would be beneficial for everyone in her company to have a similar experience.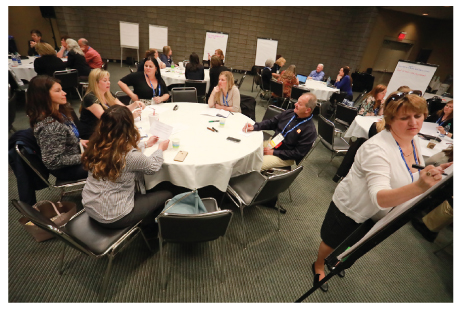 The training, offered by NPGA's Women in Propane Council (WIP), teaches an effective behavior profile training program by certified DiSC experts, affordably and conveniently. DiSC training was developed to provide a more interactive learning experience and more dynamic resources than a traditional classroom model. It is not specific to any industry, although the WIP trainers are involved in the propane industry. The WIP Council offers the training to men and women, members and non-members, and companies and organizations with teams of seven or more.
The customized training is centered around understanding the four DiSC behavioral tendencies: Dominance (D), Influence (I), Steadiness (S), and Conscientiousness (C). Participants create personalized profiles ahead of on-site training via online assessments. After completing the DiSC profile, participants receive a customized DiSC report designed to help them discover their strengths, the impact their behavior has on others, and how to better navigate conflict situations. The DiSC model also provides a common language people can use to better understand themselves and to adapt their behaviors with others—within a work team, a sales relationship, a leadership position, or other relationships.
The WIP Council has been offering DiSC training at its conferences for several years, but in an effort to expand its presence and reach more people in the propane industry, the WIP Council launched DiSC On the Road last year, said Kimmie Marler, co-chair of the WIP Council's marketing committee, and the east region customer service manager for ThompsonGas.
"We have fantastic programs, but some were only available if you attended the expos. We (WIP Council) needed to make our programs accessible to anyone who wants growth," she said. "Our programs are for the employees who have dreams but don't know how to get there or they are under the impression they can only be what I am now."
With DiSC On the Road, certified trainers come to a company or organization. There are two modules currently being offered by the WIP Council: DiSC Everyday Workplace Training, which emphasizes communication among teams and team members, and DiSC Management Training. A third module, DiSC Sales Training, will soon be offered.
The training is beneficial for any company, regardless of size or type of company, because it's based on personalities. "We can all be more effective, especially if you look inward. How can I be more effective? As leaders, we have to be able to mold around our team so we all work better," Marler said. "We were so excited we could offer it to everyone (at Vision Financial Group). I initially thought we would bring DiSC Management, but decided the Everyday Workplace Training would be better," said Summers Murphy. Last fall, all of Vision Financial Group's 25 employees, including employees in the field and those from multiple offices, attended the four-hour training session.
"It immediately had a really good impact for us as a company and as a whole versus just one person," she said. "Employees raved about the training. As a result, we have increased efficiency of communication between departments, which has enabled us to develop genuine rapport and respect amongst team members.
"The increased level of camaraderie has resulted directly in faster response times between departments and a willingness to impart an extra effort to support one another," Summers Murphy said. "As an added bonus, the training was fun and a great team-building activity."
An unexpected surprise, she said, was the accuracy of the DiSC profiles in assessing her personality and her team members'. "Not only were we able to help our business and our employees, but we were able to help Women in Propane too. I loved the program—they were able to make it really easy coming to us," she said.
The Women in Propane Council provides opportunities for all members of the propane industry to support the advancement and success of women in every scope of business operation and professional development. For information about scheduling a DiSC On the Road training for your company or organization or about WIP's mentoring program, the Knowledge Exchange, email
This email address is being protected from spambots. You need JavaScript enabled to view it.

.
—Karen Massman VanAsdale