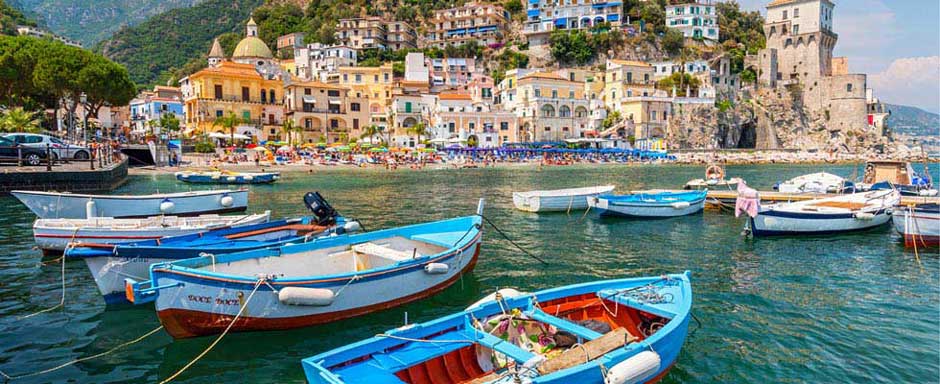 Your peers describe the best places they've visited & the moments that brought them joy
In case you have travel to do or like to hear what people consider beautiful, our colleagues answer this question with heart. In this column, adopted from the familiar "Heard on the Street" format, we offer our responders a chance to answer the question posed in the title. These are their replies reported verbatim.
Spectacular Vistas & Familiar Faces
My husband and I have been very fortunate to have had the opportunity to travel to the Caribbean, Mexico, Alaska, Norway, Italy, France, Spain, Portugal and Russia. Each spot has its own beauty. The scenery in Norway was fantastic. Even though those were all cruises, we saw many other beautiful spots, such as the sunset sail with the National Propane Gas Association board of directors in Key West. We have also taken our grandchildren on some short trips. The beauty I have seen in our travels has come more from being with friends and family that have accompanied us. To be able to have had these experiences with friends and family and to see the smiles on the faces of our grandchildren has brought more beauty and a lifetime of memories that I will always cherish.
Rosie Buschur
McMahan's Bottle Gas
Dayton, Ohio
I've been fortunate to travel in my adult years. My first trip to Florida to see the ocean was the most beautiful place I had ever been. The sand and salt water were like nothing this Midwesterner had ever experienced in my life. Then I went to Jamaica and experienced true beauty! I had the opportunity to visit England; the architecture and scenery there is breathtaking. Last year, our family vacation took us to Sedona, Arizona, and the Grand Canyon to see the mountains, and I shed a tear as I realized how small we are in this world.
I can't pick just one place because I think every new experience always seems to top the last one! But I can say that after every trip, I'm always happy to get back home and see those beautiful Illinois sunrises over the cornfield behind our house … and that might just be my favorite view yet!
Tonya Crow
GROWMARK Inc.
Bloomington, Illinois
The most beautiful place I have ever been is in the presence of my family as they laugh and enjoy each other's company — catching a sunrise or sunset and appreciating its wonder or Sunday morning during a service that seems to be preached just for me. All these things bring me to a place of gratitude where it reminds me of all my blessings. There is no place more beautiful than knowing you are cared for by friends, family and, most of all, my heavenly father! An attitude of gratitude is a beautiful thing!
Judy Taranovich
Proctor Gas
Proctor, Vermont
If I had to choose just one place, I would have to say Lake Tahoe. It's such a refreshing place with crisp mountain air and the reflections of the trees off the lake. It's so serene and peaceful. There used to be a motorcycle rally during the Western Propane Gas Association show, so we would ride around the lake and make pit stops at the scenic overlooks. The views are just stunning.
Jason Soulon
Westmor Industries
Shawnee, Kansas
Hands down, this would have to be New Zealand! I was lucky enough to get to travel there in 2014 for a two-week training session with our customer in New Zealand. Part of the country reminded me of the lush green countryside of Ireland. Other parts of the country reminded me of the Colorado mountains (for good reason — I found out later that many of their evergreens were imported from Colorado). Then throw in some beautiful hot springs and "Lord of the Rings" and "The Hobbit" locations, and it was a win all the way around! Another part of the beauty must be the fabulous people who live and work there! It's a place I would go back to be able to see a lot more.
Susan Peterson
Rural Computer Consultants
Bird Island, Minnesota
Lake Louise, Canada. The first view of the lake took my breath away! The serene water surrounded by evergreen trees with a glacier in the background was so picturesque, I felt inspired to paint it. The painting hangs proudly in my home as a reminder of God's amazing handiwork.
Julie Johnson
Ted Johnson Propane
Baldwin Park, California
The Badlands, Yellowstone, Mount Washington (New Hampshire), Hoosac Tunnel and the area (Massachusetts), and Cape Cod. I know this is about the most beautiful place you've been; however, I have to say these are all my first choice.
Richard Strycharz Jr.
Walter's Propane
Sunderland, Massachusetts
The most beautiful place I have ever been is a place 12 million people also visit annually: western North Carolina. Although it is my hometown, this gorgeous landscape of mountains, waterfalls and endless forest never fails to take my breath away.
Jessica Johnson
ThompsonGas
Asheville, North Carolina
I finally have a question that I can answer very quickly. I have not had the opportunity to travel very much outside of the United States. I have never vacationed on a tropical island like Aruba or gone on a European tour or even a cruise. My interpretation of a beautiful place is probably very different than others'. Living in New England all my life provides me with numerous local destinations, which I classify as beautiful. Here is my short list: Sugarloaf Mountain, Maine; Quonochontaug Beach, Rhode Island; Lake Champlain, Vermont; Martha's Vineyard, Massachusetts; and Franconia Notch, New Hampshire. I could list 10 more in and outside of the Northeast that I have visited, but my goal was to keep it short.
Jerry Schimmel
P3 Propane Safety
Cumberland, Rhode Island
I just took a vacation to Hawaii. The beaches there were just beautiful. It was the first time I had been there. I've seen photos of the beaches and places of interest in Hawaii, but it was one of those moments that when you actually see it for yourself, it blows away the perspective of looking at it through photos.
Sam Fung
Emerson Fisher LP Gas
McKinney, Texas
The most beautiful place I have ever been to is the Notre Dame Cathedral in Paris over 20 years ago. I was in awe at the detail throughout the building. The paintings and sculptures that took so long to make were inspiring. The detail in the wood carvings and moldings were very intricate. The gothic architecture built in the 1100s is historic and inspired generations of people. It took almost 200 years to complete. As a Catholic, I appreciated seeing all this history and spending quiet time exploring the building, including the famous stairway with the rose window. Having been there to study this iconic place was truly an exhilarating experience and made me reflect on how dedicated and committed the people were to build this church. In a world where we live with expectations of immediate satisfaction and results, it is humbling to see what our ancestors went through and the pride they had.
Ed Varney
Top Line Management LLC
McKinney, Texas
The most beautiful place I have visited would be the Andaman Islands. Belonging to India but located 81 miles off the coast of Thailand, the white sand beaches, mangroves, tropical rainforests and surrounding coral reefs are truly spectacular. I was fortunate enough to visit the Andaman Islands in 2019, and though the 22-hour journey home was arduous, the experience was worth it.
Leslie Woodward
Fairview Fittings
Oakville, Ontario, Canada
Without a doubt the most beautiful place I have ever visited is the Amalfi Coast of Italy! The cliffs, beaches and lemon trees with lemons the size of small footballs (do footballs come in sizes?) are all absolutely breathtaking! The picturesque villages along the coast are enchanting. My favorite is Ravello, high on a cliff overlooking the beautiful Mediterranean Sea. And the limoncello there is the best!
Paula Moore
Blackburn Propane Service Inc.
Durant, Oklahoma
Although I have traveled in and outside the U.S. to many beautiful places, northern Michigan has my heart. There are so many specific locations, but Walloon Lake in Petoskey stands out. The color of the water and the sky in summer; the trees in fall; how it looks like you're inside a snow globe in winter — each season takes my breath away.
Lauren Clark
Bergquist Inc.
Toledo, Ohio
Without a doubt, the most beautiful place I've been to was Hawaii. My wife Karen and I spent two weeks visiting Oahu, Kauai and Maui and enjoyed all of the unique characteristics of each of those islands. We're hoping to see more of this beautiful world, too.
Bruce Swiecicki
National Propane Gas Association
Tinley Park, Illinois
After traveling across the U.S. this spring, I can say every place is the most beautiful. It was hard to take all of it in without saying a million times, "Wow!" Deserts, lakes, mountains, seashores, ranches, farms — the U.S. with its vast diversity in geography is the most beautiful because I can call it home.
Laurie Irish-Jones
Irish Propane
Buffalo, New York
Italy was the most beautiful place I have ever visited. About six years ago, my wife and I had the opportunity to visit with a group of friends. We toured about two-thirds of the country. We experienced everything from the history of areas like Rome and Florence to the beauty of Tuscany and the Amalfi Coast. We stayed a couple of days in Positano along the Amalfi Coast, and I would say that area was the most beautiful place I have been. The homes are built into the side of the hills overlooking the Gulf of Salerno, with spectacular views. We took a boat ride out to the island of Capri — the icing on the cake. That is one trip I would do again!
Tom Krupa
NGL Supply Terminals Co.
Richmond, Virginia
In the Eye of the Beholder
Beauty abounds in our backyards, our states, our country and our world. When you imagine the beauty awaiting you, what features come to mind? Wishing you happy, safe and beautiful trails.