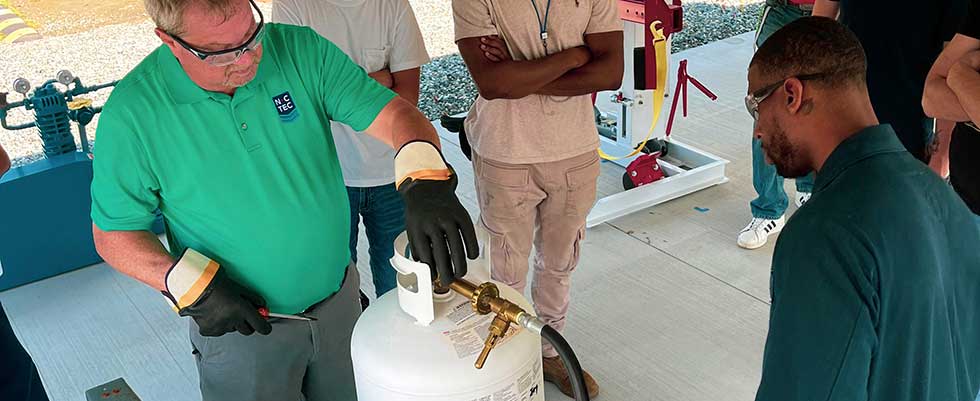 How an education center in North Carolina is preparing a new generation of propane professionals
Thursday, September 9, 2021
Like all industries across the country, workforce development is a top priority for propane marketers. The median driver age in the propane industry is near 55 years old, which is 15 years older than the United States workforce median age of 41.9, per the U.S. Bureau of Labor Statistics. As a result of the propane industry being proactive in finding solutions, the North Carolina Technical Education Center (NC-TEC) was built.
Located in Graham, North Carolina, NC-TEC opened for classes in April 2021. Courses and classes are offered quarterly, with fall, winter, spring and summer sessions. Students enrolled at NC-TEC learn from propane industry experts, with classes focused on all aspects of propane and how to perform a variety of jobs. All students from the first set of classes in April went on to graduate, and all had job offers upon graduation.
Scott Prewitt, regional vice president for Blossman Gas and chairman of the North Carolina Propane Gas Association (NCPGA), said, "The North Carolina Technical Education Center was a long time in the making, and I am very excited for what it will give back to our industry. The facilities and what the school has to offer are state of the art, and it will only continue to grow from here. I encourage everyone in the industry to review what NC-TEC has to offer and visit the facilities if possible. Not only will the program bring in quality professionals to the industry, but it will also expand the skills and knowledge for those looking to make advancements within."
NC-TEC is positioning itself as an institution for anybody who would be interested in a successful career in propane. This includes everyone from high-school graduates who are interested in an accelerated path to a rewarding career to people transitioning from military to civilian life. NC–TEC programs are approved for use of GI Bill benefits.
NC-TEC is also encouraging propane companies across the country to inquire about sending employees to their facilities. The school is prepared to help advance those already working in the industry into more advanced roles with their respective companies.
An Idea for Enhancing Workforce Development Is Born
"It's nice when something that was a dream becomes a reality," said John Jessup, president and CEO of the NCPGA, referring to the several years from initial discussions to the opening of NC-TEC. Jessup had brought an idea for building a school for workforce development back to the board after being impressed by a school led by the Maine Energy Marketers Association.
"The main comment from the board was, 'How soon can you get it up and running?'" Jessup said. "Initially, I thought maybe a year and a half."
The project took about four years with the reality that there were a lot more details and hoops to jump through. "There are no shortcuts in life," Jessup said. "A lot of people are hoping there are shortcuts with workforce development where they can just give some money to a workforce development group or go to a high school and say, 'The propane industry is great.' But all that stuff just impacts on the surface. The hardest thing you can possibly do is build your own school from scratch, get propriety school approval and then get volunteers to build it, get grants and money to fund it and find good people to run it. We did all that to create the most direct way to bring young, talented people into our industry."
Phil Farris, director of wholesale marketing at 3Eight Energy, was a member of the Propane Education and Research Council (PERC), as well as the North Carolina Propane Education and Research Foundation (NCPERF), when the idea for opening a technical school was first discussed.
"I think in those early days when somebody said 'workforce development,' they meant find a community college to partner with and encourage them to teach a course tailored to the propane industry. Then, when it was over, only some of the students came out and decided to go into the propane business," Farris said. "I know we weren't the only ones who took that approach, but it didn't work. Students would graduate and then go work for Duke Power or someone else. They rarely came to work in the propane business, so there was no connection between the funding and what we expected on the other end."
"We now control the process from start to finish," Jessup said, noting that all 13 graduates of the two initial classes at NC-TEC — 80% of whom are military — had job offers upon graduation. "At the community college, graduates are like leaves blowing in the wind. They may go work for natural gas. At our school we're in control, and we get calls every week from marketers that want to come and talk to these students. They want to interview them; they want to know what we're doing, when the students are going to be available and where they want to live after graduation. You don't get that kind of connection with the students at a community college or a high school."
Jessup believes other workforce training programs have various levels of success, but that NC-TEC is more of a sure thing.
"When workforce development was really gaining traction with PERC around 2018, we thought we had enough funds already in our state PERF," Farris said. "As we started talking about it, we learned how much this was really going to cost to get into it. We knew we didn't have enough."
Farris was still involved with PERC and sought funding to help support the project. A request for $250,000 to support the project was approved with the understanding that PERC didn't want to help build a ship that never sails.
"We're pleased to say the ship is sailing, so we accomplished that mission. The boost of funding from PERC caused the NCPERF and NCPGA to realize they were all in, to start looking for a building and to finish developing the business plan," Jessup said. "We've now spent about $2 million in the process. It's not for the faint of heart. This has proven to not be a little process the industry is doing in a vacuum. The government certifies you and recertifies you, we get inspected twice a year by the state proving agency and the NCPGA college system, and they want to see our syllabus, tools, lockers, fire exit and fire marshall report. All this gives the program a certain amount of legitimacy."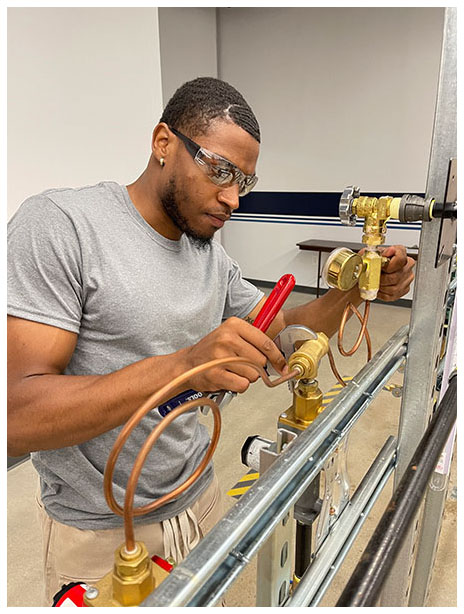 Launching the School
When Juan Pena, director of education, and his wife first visited before accepting his position with NC-TEC, he observed from the outside a normal building with a gravel parking lot.
"We didn't know what we were getting ourselves into," Pena said. "When we walked into the facilities, the inside speaks for itself. These are world-class facilities here. I would challenge that there is [not] another facility out there that has what we have here. The classroom has a very industrial look. It feels very promising for a student to want to come here."
"Just yesterday, I gave a tour to a potential candidate for our next class. As soon as they walk in, they see the classroom, they see all the labs, they meet the staff, they see all the interaction we have here with the students. Yesterday, I asked the prospect, 'Do you have any questions?' He said, 'Where do I sign? I want to sign up right now,'" Pena added. "That's how impressive our facilities are here. It goes without saying we have a great facility, but what we teach here is the most important thing. We have two dynamic instructors."
One instructor is David Donahue, who Pena describes as part of the industry since he was "knee-high to a grasshopper."
"He was born and raised in the industry. He is also our co-compliance guy for the NCPGA. His brain has a plethora of knowledge."
Pena also discussed NC-TEC's second instructor, Kenneth Melton, whom he said, "just brings a whole different level of knowledge and drive to this organization. Our expectations of him have always been high, but he has completely exceeded those expectations in the short time he has been here with us. He's got experience in a different industry — he served as a general contractor for nine years and he's got 13 years of military service."
"A typical day at NC-TEC starts at 7:30 a.m. Classes start at 8 a.m. and go until about 3:45 p.m., or no later than 4 p.m. Staff members talk for another hour," Pena said. "Those are the operations I drive. They teach the courses and I manage the classes. My No.1 goal every day is to make sure my instructors have zero distractions so they can execute their job. I do things behind the scenes, including running errands and taking care of tasks instructors need [completed]. Yesterday, I had an instructor who needed a ditch dug, so I reached out to a close affiliate who came right over with a Ditch Witch to make it happen quickly. That allowed us to teach piping today."
"We've had a tremendous amount of support from the industry," Jessup said. "Volunteers have donated time, equipment, sweat equity and more. They've done a tremendous job of helping build the bulk plant, facilities inside and regulator labs. There isn't one person who is solely responsible. It's been a team effort by the industry, especially the dealers and suppliers of North Carolina."
Farris agreed. "The time, money and equipment that has been donated to the project shows the strong level of acceptance and interest," he said. "With that level of commitment comes high expectations, and everyone involved is fine with that. We are fortunate to be where we are today."
Courses taught include Basic Principles and Practices of Propane, Bobtail Delivery Operations, Cylinder Delivery Operations, Basic Plant Operations, Designing and Installing Exterior Vapor Distribution Systems, and Placing Vapor Distribution Systems and Appliances into Operation. Additional courses include OSHA X 90 Day Training, Personal Protection Equipment, Static Electricity, Cathotic Protection, Mobile Crane Safety, Bobtail Rollover and Cylinder Requalification.
"On the first day, every student gets a laptop issued to them along with the National Fire Protection Association (NFPA) Pamphlets 54 and 58," Pena said. "About 65% of our course is in the classroom, while 35% is hands-on training in our propane village. While many courses around the country are strictly classroom with hands-on at the company, our students graduate with the hands-on training completed."
In addition, tuition covers $1,800 worth of tools. "Every tool will be used in the class, and the students take their tools with them when they graduate. This makes it even more enticing to hire our students. They are not only fully trained both in the classroom and with hands-on training, but bring with them $1,800-worth of tools the company does not have to purchase."
Pena also focuses hard on placing the students in good companies in addition to providing the education. "We prepare biographies of the students for marketers in North Carolina. We've had many affiliates come to interview the students. We had one who wanted to hire every student in the class."
Looking to the Future
Jessup gives credit to the NCPERF and the NCPGA for supporting the entire process of creating the school and making it successful. "We put in the hard work ahead of time to get all this done with the support of the NCPERF and the NCPGA Board," he said. "They're the ones who said, 'We like the plan and we like the vision.' They said we should see if we can make it happen, and we did."
NC-TEC will hold its first open house on Oct. 11, 2021. The school is open to students from all over, not just North Carolina. "We've already placed a few students in other states because that is where they wanted to locate. There is no requirement that students reside in or commit to work in North Carolina. Certainly North Carolina is positioned well to gain a lot of younger new hires. Our companies get first crack to come in and do interviews."
Ultimately, the capacity for NC-TEC is 96 students per year. While the median driver age is over 55, Pena notes the median age of the initial students at NC-TEC so far has been 25.
Jessup and Pena said they have talked with other state association leaders who have an interest in starting their own schools similar to NC-TEC. "We have talked to several other state leaders and have welcomed a few who have come to visit the facility," Jessup said. "We are just getting started, though, and there will be new layers added to the offerings at NC-TEC. I envision the addition of a commercial driver's license program as well as a training program for instructors."