You shouldn't have to drive 100 miles to service an autogas vehicle. That being compulsory, it follows that few would adopt propane as an alternative fleet fuel. But the industry and its fellow stakeholders endeavor to eliminate market barriers and facilitate switching to autogas. Toward that end, nearly 20 automotive technicians received hands-on and classroom instruction under the sponsorship of the Iowa Propane Education & Research Council (IPERC) and the national PERC in mid-June at Iowa Central Community College in Fort Dodge.
The curriculum, developed by the West Virginia University-based National Alternative Fuels Training Consortium (NAFTC), with financial support from the national PERC, bolsters efforts around the country to train next-generation technicians to maintain and repair autogas-fueled vehicles, thereby supporting the over-the-road propane segment, a market that not only promises additional off-heating-season load, but promotes propane as an environmentally friendly and cost-advantaged alternative to competitors like diesel and gasoline. The training also popularizes propane's less costly adoption compared to CNG and electric.
The three-day instruction in Iowa included techs having access to a Blue Bird Vision propane school bus provided by the Iowa Pupil Transportation Association, a Chevrolet Silverado pickup furnished by the Iowa Propane Gas Association (IPGA), a Prius cutaway, and a training tool designed by ATech International. Icom North America, Roush CleanTech, and Blossman Gas partner with PERC and NAFTC to support the nationwide training program.
Deb Grooms, CEO of IPGA, notes there are currently 192 propane school buses running on propane in the Hawkeye State. "We are trying to put together a PERC propane school bus autogas technician training class," she says, adding that NAFTC, a nonprofit organization, "offers turnkey solutions to educational institutions for teaching automotive students alternative fuel technologies." She outlines that all Iowa partners were excited to bring an NAFTC course to the state, and that each course includes an instructor textbook, student textbook, lesson plans, PowerPoint presentations, videos, web links, testing, shop activities, and other components. Instruction is free.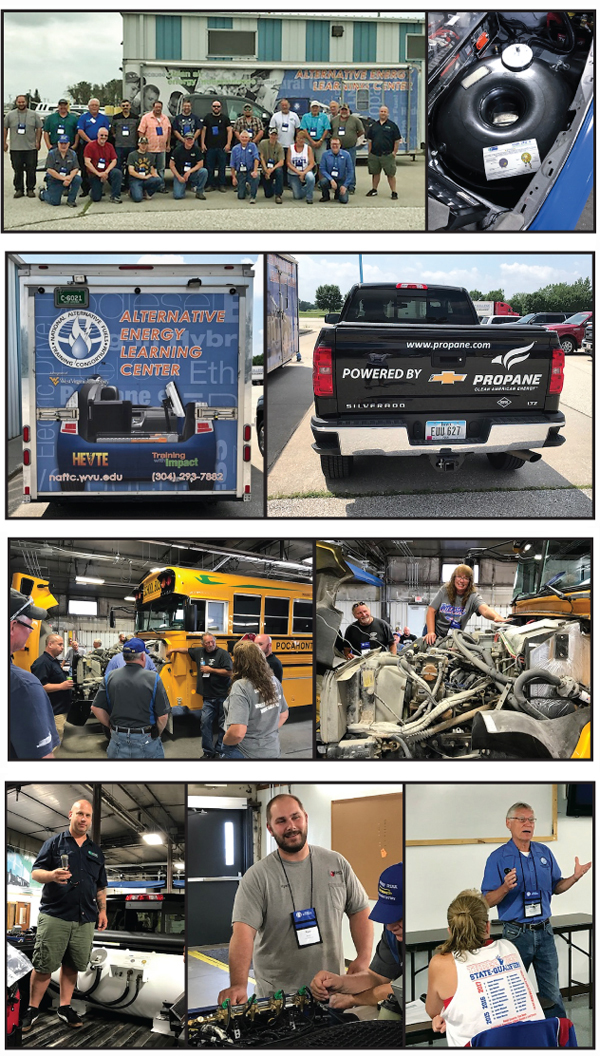 Grooms reviews that NAFTC and PERC have been collaborating since 2015 to rework the class and bring it up to date with new emerging technologies. That initiative is buttressed by the participation of Icom, Roush, and Blossman. In addition, community colleges or other educational institutions don't have to be members of the consortium to host a one-time course. However, hosting provides the opportunity to learn about NAFTC and consider membership in the future.
The consortium observes that propane-powered vehicles can present special challenges to the automotive technician. The organization's three-day course includes an overview of propane technology, automotive components, and propane autogas-related systems. Recognizing the need for qualified technicians to adapt, service, and maintain propane vehicles, the comprehensive coursework covers propane characteristics, fuel systems, vehicle compatibility, system components, and safety.
The state-of-the-art training is being offered at locations across the U.S. this year, again, at no cost. It targets professional automotive technicians currently working in the automotive repair industry who want to enhance their skills and learn more about working with propane autogas vehicles. The class does not focus on current propane professionals, but is designed for those just starting out in the autogas field. Courses are taught by certified NAFTC instructors. For additional information, visit naftc.wvu.edu, email
This email address is being protected from spambots. You need JavaScript enabled to view it.
, or call (304) 293-7882.
Customized classes can be brought to your doorstep and are designed to meet your particular needs. Please contact
This email address is being protected from spambots. You need JavaScript enabled to view it.
for details, class pricing, and for NAFTC membership information.