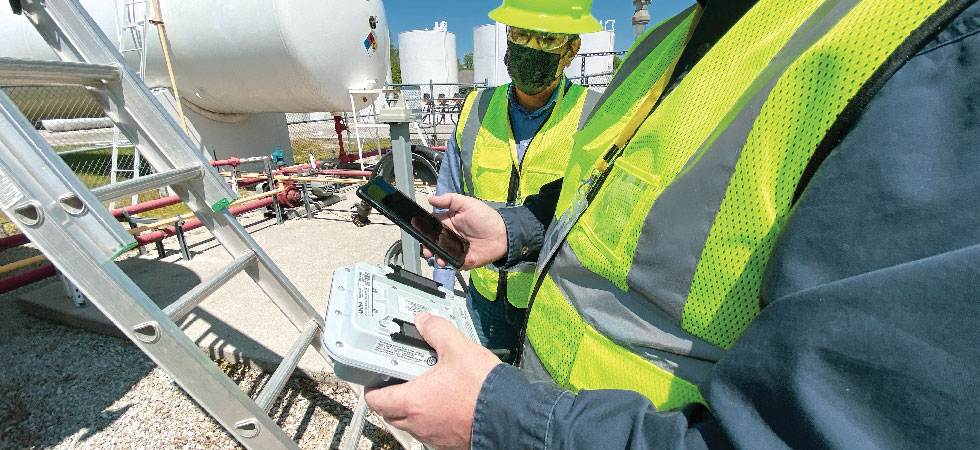 Anova's Dillan Fernando breaks down the industry potential for this technology & the barriers to adoption
Like it or not, the COVID-19 pandemic forced businesses across the propane industry and on a global scale to reassess and redefine how they use technology in their companies.
While terrible and deadly, the onslaught of the virus demanded many slow adopters to consider how tech could help their employees interface with customers safely, adapt to changing safety processes and more. And the propane industry was no exception.
New solutions for customer communications, driver safety and tank monitoring — to name a few — are no longer just nice-to-haves. On that note, meet Dillan Fernando, recently-named senior vice president, LPG fuels and lubricants at Anova.
Fernando has been in the gases industry for the last 25 years, most recently running one of the largest liquified petroleum gas (LPG) companies on the African continent. As such, the customers he has helped serve run the gamut from large industrial customers to the smaller distributors. Fernando discusses changing trends in propane tech below.
BPN: Tell us what a perfect tech operation would look like for a propane marketer or retailer.
DF: It's all about end-to-end digitalization — incorporating intelligent technology that drives profitability and business growth.
That starts with being able to view your entire tank population using intelligent remote tank monitors, and to manage and act on the insight gained with this information.
It includes integration with your business and leveraging this information across enterprise resource planning, forecasting, truck fleet management, route scheduling, marketing and other regular functions.
When you have the information and insight, you can do so much more for your business. You can trigger optimized routes and deliveries based on tank levels, for example, and just doing that can drive year-over-year improvements in gallons delivered, with fewer miles driven despite stops measured per driver.
Digitalization also enables automated billing and other best practice processing. Layer on being able to empower the field and your customers with mobile apps and you are driving faster installations, more efficient use of trucks and drivers, and better engagement, information, service and value for your customers.
BPN: What areas of propane equipment are still lacking in terms of technological development?
DF: We have incredible opportunities to improve how we operate in our industry. We know that around the world, only a very small percentage of tanks are monitored. As I mentioned earlier, digitizing the supply chain is top of mind, and that involves the industrial internet of things (IIoT).
Amidst all the changes that propane marketers are making, such as remote tank monitoring, they also need to develop a parallel focus on embracing these changes culturally and in incorporating the information gained across the business. Better engagement with customers is also an area where propane marketers can reap fast benefits. Customers use their phone today for many things.
Leveraging this, the propane industry could be driving deeper, more insightful engagement with customers through mobile apps. From reducing concerns of runouts to addressing many other common challenges, engaging with customers digitally via a mobile app offers a broad and long runway of possibilities for propane marketers.
BPN: How can IIoT help these areas?
DF: Industrial IoT devices can be rapidly deployed at scale, with less cost and better advantages than those offered by traditional technology. They offer unlimited application opportunities over a broad array of users on irrigation pumps, propane and refined fuel tanks, and in soil sampling, all the way to remote rat traps. Historically, users have had to physically interact with technology.
An IoT device sits and operates remotely. In propane, they are used to monitor tanks, in smart meters and for automated meter readings to name just a few uses. They inform mobile apps that deliver detailed and informative customer experiences. Most importantly, they help us build more efficient businesses built on better decisions, informed by new data and insight.
BPN: What are the top benefits of using data analytics for propane delivery teams?
DF: Data analytics improve the speed and ease of doing business. They help our customers drive better performance and improve efficiency. From creating better utilization of a company's drivers and fleet, optimizing tank fill rates, and reducing fill rate and runout risk, to building greater intimacy with their own customer base, mobile apps provide immediate data access and visibility.
BPN: What percentage of companies in the propane industry are employing tank monitors?
DF: On a global basis, it is a very low percentage and there is certainly a large market to penetrate.
BPN: What impediments remain regarding mass adoption?
DF: Some leaders in the propane industry have been satisfied with the status quo — because it was the way they have always done things. However, several factors including, are changing that long-standing mindset for good. The global pandemic, for example, shone a bright light on the very strategic role that digitalization plays in the continuity of the supply-chain and in business success.
The propane industry is really starting to look for better, more efficeint strategies to do more with less, and to better understand usage consumption where customers are concerned and be able to track which tanks provide highest return on investment time after time. At Anova, we are helping the industry with innovations in performance and profitability analysis, allowing customers to evaluate and compare key elements of their business.
The performance of tank-monitored accounts versus those whose tanks are not monitored, performance comparisons of routes and districts, and performance of different customer categories are a few examples of the profitability focus areas we deliver through our solutions.