(March 17, 2020) — Those looking for a new bobtail, service truck, or cylinder delivery truck have some new options to consider when selecting a chassis. These include higher-displacement gasoline and propane motors, Allison transmissions backed by a longer warranty, and, in July, new medium-duty trucks from Mack Trucks.
BPN spoke with several truck builders who work with any and all of the chassis available to build bobtails and service trucks. They shared news of the currently available chassis; longer-term trends on the equipment options being chosen by propane marketers; and tips for working with a truck dealer and a truck builder to develop a truck that will best do the job over the long haul.
Among the Class 7 (33,000 GVWR) chassis commonly used for bobtails, there have been a few changes. These chassis are generally fitted with 3200-gal. to 3499-gal. tanks.
The
Freightliner S2G
is now available with a choice of two factory-installed propane autogas engines: the DriveForce 8.0L and the all-new DriveForce 8.8L, which became available on model year 2020 S2Gs.
Another Freightliner medium-duty chassis offers a choice of four diesel engines; the Freightliner M2 106 is available with the Cummins B6.7, Cummins L9, Detroit DD5, and Detroit DD8.
Lin's Propane Trucks
(Dighton, Mass.) uses Freightliner chassis for just over half of the bobtails it builds. In 2019, 44% of the bobtails it built were M2 and another 7% were S2G.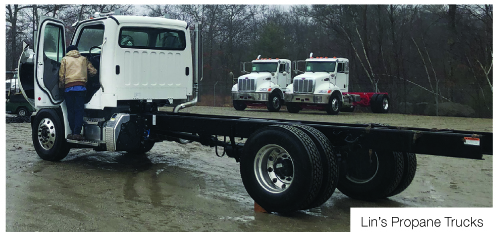 "Freightliner is definitely the most popular," says Scott Swensen, sales at Lin's Propane Trucks. "The cabs are a little lower, which makes climbing in and out easier. That's important when you're doing that 40 or 50 times a day. Freightliner trucks also have a tighter turning radius, so you can swing in rather than making a two- or three-point turn. They also have great visibility."
The Hino 338 and other Class 6-8 Hino trucks now come standard with a five-year, unlimited-mileage transmission warranty on all Allison transmission-equipped vehicles. Hino announced this extended warranty in June 2019, effective immediately. Hino conventional trucks already had a standard five-year, 250,000-mile engine warranty. The Hino 338 is equipped with Hino Trucks' proprietary J08 engine, an 8-liter inline six-cylinder diesel engine.
"Hino's warranty is five years; the others' standard warranty is two years," Swensen says. "That goes a long way with some people."
The International MV607 is available with a choice of two inline six-cylinder diesel engines: the 6.7-liter Cummins B6.7 and the 8.9-liter Cummins L9. The B6.7 is backed by a three-year, unlimited-mileage warranty, and the L9 has a two-year, 250,000-mile warranty.
PACCAR brands' medium-duty chassis are available with a choice of two inline six-cylinder engines. The Kenworth T370 and the Peterbilt 337 are available with the 6.7-liter PACCAR PX-7 and the 8.9-liter PACCAR PX-9.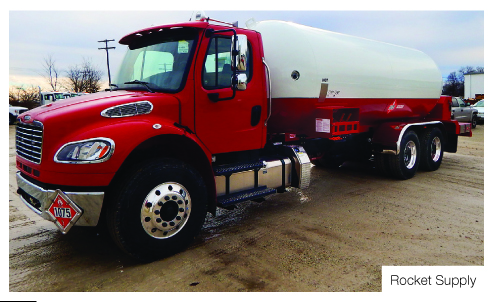 "Kenworth has been our most popular chassis," says Steve Bloomstrand, sales and marketing manager at
Rocket Supply
(Roberts, Ill.). "Our customers like the name brand, the interior layout, and the reliability. This is a stout truck; it's a Class 8 de-rated to a Class 7. The PX engines have a good reputation, too."
Mack Trucks announced Jan. 30 that it will begin producing an all-new model range of medium-duty trucks in July. Called the Mack MD Series, it includes the Mack MD6, a Class 6 model that has a GVWR of 25,995 pounds, and the MD7, a Class 7 model that has a GVWR of 33,000 pounds. Propane truck builders told BPN they are anxious to see the specs of this new entry to see if it will be a competitive new option for bobtails.
Cylinder Delivery, Service Trucks
Also commonly seen in the propane industry are the 19,500 GVWR chassis often used for service trucks, cylinder delivery trucks, and for bobtails with up to 1200-gal. tanks.
Ford Super Duty Chassis Cab models are now available with an all-new 7.3-liter V8 gasoline engine in addition to the 6.7-liter Power Stroke V8 diesel engine and a 6.2-liter gasoline V8. The new 7.3-liter V8 provides 350 horsepower and 468 ft-lbs of torque. An all-new 10-speed automatic transmission is standard with all engines.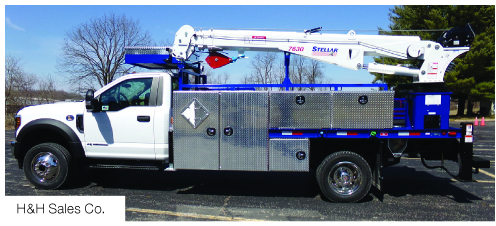 "For the 2020 model year, Ford has a new 7.3-liter gasoline engine that offers more robust horsepower and torque," says John Hawkins, CEO of
H&H Sales Co.
(Huntertown, Ind.). "It has just hit the marketplace, but I think we will see more people choosing that engine as time goes on."
H&H Sales Co. builds cylinder delivery trucks and crane service trucks using mostly Class 4-7 trucks. For the crane service trucks that will be handling 250-gal. to 1000-gal. tanks, the company uses Chevrolet, Ford, and Ram chassis. For those that will be equipped with knuckleboom or articulating cranes for handling 1000-gal. to 2000-gal. tanks, H&H uses Ford, Freightliner, Kenworth, and International chassis.
"We have sold a lot more gasoline engines, because they are less expensive to operate and the initial cost is less," Hawkins adds. "Diesel engines have become more expensive to buy and to maintain."
Fisk Tank Carrier
(Columbus, Wis.), too, builds crane service trucks and cylinder trucks. Ninety percent of those it builds are based on the Ford F-550 chassis. Of those, one out of three are equipped with gasoline engines converted to propane.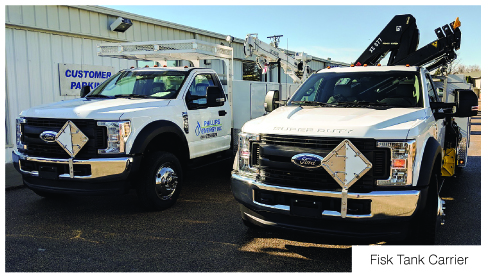 "The new 7.3-liter engine has a lot of marketers excited," says Josh Budworth, director of sales and operations at Fisk Tank Carrier. "There's a ton of interest in that motor in the Ford. It has a lot more torque at the low end, so it may be the best option for a service truck. Marketers are really looking at that engine as a powerhouse gas engine to convert to propane."
While 90% of the crane service trucks built by Fisk Tank Carrier are Ford F-550s, the other 10% are primarily Ram. "Pretty much any Ram or Ford dealer can work on the trucks we sell," Budworth reports. "They are familiar with these engines."
For the Fords converted to propane, he adds, "We use the Alliance AutoGas conversion systems. They have service centers across the country; it's great to have that service network. There's never been a better time to run your trucks on propane."
The current generation of Ram commercial work trucks was introduced in 2019. The Ram 3500, 4500, and 5500 Chassis Cab trucks represent Class 3, 4, and 5 GVW ratings. They are available with a 6.4-liter HEMI V8 gasoline engine and a 6.7-liter Cummins V8 diesel engine. The 6.4-liter engine is available with an eight-speed automatic transmission (3500 only) or a six-speed automatic. The 6.7-liter diesel is paired with a six-speed automatic.
Chevrolet launched its Silverado Class 4, Class 5, and Class 6 chassis cab trucks at the end of 2018. The Silverado C4500, C5500, and C6500 have a GVWR range from 16,500 pounds, 19,500 pounds, and 22,500 pounds. They are powered by a Duramax 6.6L Turbo-Diesel V8 paired with an Allison transmission. "We can use this chassis for both our crane service bodies and cylinder delivery," says Hawkins of H&H Sales.
"We're getting a lot more inquiries about the Chevrolet Silverado 6500 HD," says Budworth of Fisk Tank Carrier. "There are many cab to axle configurations in the 4500, 5500, 6500 series, and all available with four-wheel drive—even the 6500 has the factory four-wheel drive option available. We have a few of those slotted to build right now."
Lin's Propane Trucks uses these Ford, Dodge, and Chevy chassis for bobtails with 1200-gal. tanks. "Generally, these are for someone who is driving into mountains, say for a cell tower account," Swensen explains. "These trucks are also used for weekend, on-call duty, like for an out-of-gas call. They can fix the leak, check it, and then fill the tank without having to go back. You have to have the right accounts for that type of truck, because it costs the same as a bobtail."
Westmor
(Morris, Minn.) offers a bobtail on these chassis with a 500-gal. to 1200-gal. tank. This Blueline MX bobtail is dubbed the "maneuverability model." Milt Swenson, territory manager, vessel sales and special projects, explains, "This for getting in and out of smaller areas. It's typically a smaller truck on a Ford or Chevy chassis. It's not as prevalent as the bigger bobtails."
Danny McElroy, executive vice president and general manager of
White River Distributors
Southwest Sales Center (Dallas), says that among these trucks, "People seem to like the Dodge diesel or the Ford gas engine. We sell both.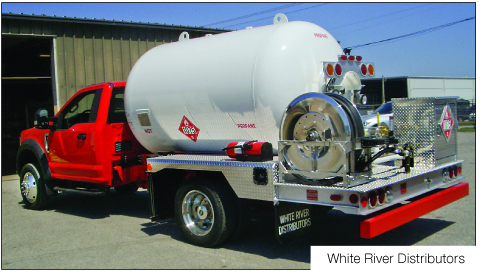 "Diesel tends to have a little more power. Customers may have other diesels in their fleet, too, so they may want a new one for that reason," McElroy explains. "People buy the Ford gas engine to get a propane conversion put on, because Ford offers a gas prep engine for conversions to natural gas or propane. Texas is trending toward dedicated alternate fuel vehicles with grant money available through the Texas Commission of Environmental Quality."
Safety, Handling
Along with these latest developments and current offerings of chassis, the truck builders highlighted longer-term trends they see in the equipment options chosen when speccing a chassis.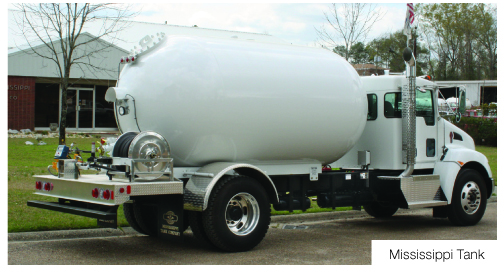 "Most of our customers are looking for safety, first and foremost," says Joey Runnels, vice president of
Mississippi Tank
(Hattiesburg, Miss.). "That means visibility out of the cab; an automatic transmission, so there's nothing to shift; and aftermarket backup cameras and sensors."
"Disc brakes are becoming popular, as opposed to drum brakes," says Swensen of Lin's Propane Trucks. "There is an up-charge for discs, but they stop better. Disc brakes are not a huge percentage, but there are more coming though."
"A locking rear differential has become almost a standard item; it is not standard on the trucks, but it has become kind of a standard in our industry," says Bloomstrand of Rocket Supply. "It's all we stock and it's something most customers want. When you are in snow or on soft ground, like you might be with an agricultural customer, a locking rear differential allows both wheels, on both sides of the truck, to lock in rather than having one wheel spin."
"Another thing to consider is weight savings on the chassis," he adds. "Aluminum wheels and the engine you spec can make for a lighter chassis. That means you can carry more."
Appearance, Comfort Options
Several truck builders reported that options that add comfort, convenience, and appearance upgrades have become more popular in recent years.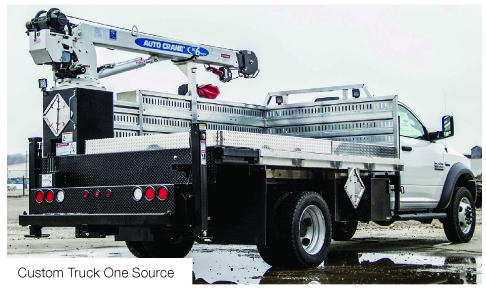 "We're seeing a lot more driver comforts, like air ride seats and automatic transmissions," says Wayne Terpstra,
Custom Truck One Source
(Kansas City, Mo.). "It's rare to see anyone want a manual transmission; that's a big change from a few years ago. That's because the Allison 3000 is a proven product and because propane marketers are trying to attract CDL drivers, and a lot of younger drivers don't know how to drive a manual. Newer equipment tends to hold your driver. The more comfortable they are, the better off you are."
"I'm seeing a lot of up-optioning, with people getting climate control; power door locks; heated mirrors; and more chrome," says Bloomstrand of Rocket Supply. "The truck is primarily what customers see. Fewer people come into the propane marketer's office, so what they see is the truck. The truck is representative of the company. This also helps with hiring and retention. The truck is the driver's office, so making it more comfortable helps with retention."
JARCO
(Salem, Ill.) tends to build its bobtails with the higher-horsepower engines that are available and with an appearance package that includes chrome and polished accessories. "I've tried going with the smaller engine and without the bells and whistles, but they don't seem to sell so well," says Tim Thrash, sales manager. "I think some of it is image. That's your rolling billboard. People take good care of their trucks and they want to put out that image of a good-looking truck delivering propane to your home."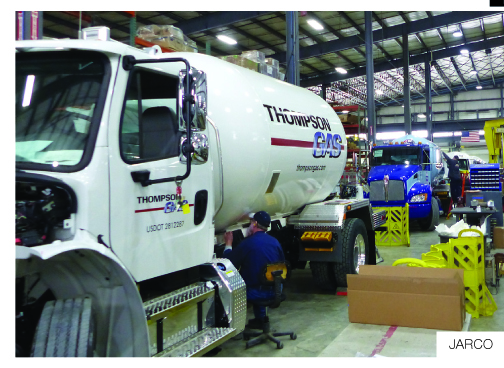 "The chassis is kind of a customer preference," says Runnels of Mississippi Tank. "Often, they will want to stick with what they've got. Others want a mixture of chassis in their fleet, because they don't want to be married to one. When it comes to the body, some want a wider cab with a wider windshield. The wider cab gives them more room for storage for things like printers."
"The marketer might lean toward a certain chassis because of dealership relationship, cab comfort, visibility, etc.," says Rob Vandemark, vice president,
Industrial Propane Service
(
IPS
; Byron, Mich.).
"The common chassis we see are Freightliner, International, Kenworth, and Peterbilt, which are all using Cummins engines and Allison RDS transmissions," he adds. "Typical options are more durable seat covers, A/C, block heater, heated mirrors, locking rear diff, Bluetooth radio, and power locks and windows."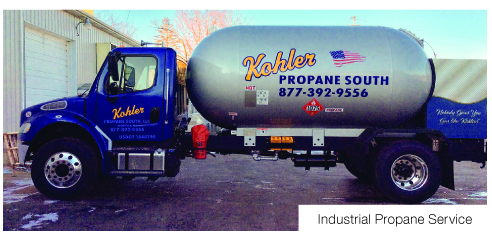 Smaller Diesel Engines
Tim Schweppe, general manager, propane division, at
Arrow Tank and Engineering Co.
(Minneapolis), reports another trend he's seen when it comes to single-axle bobtails: smaller diesel engines.
"As technology has evolved, smaller displacement diesels are pushing out high horsepower and strong torque figures that utilize the multiplying capabilities of an automatic transmission, resulting in one fine hooptie that gets the job done," he explains.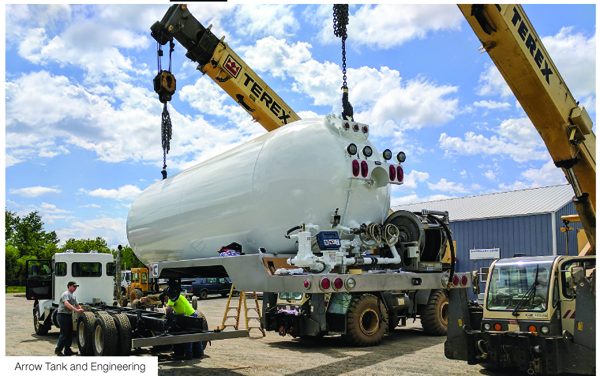 "Another great benefit of these smaller engines, such as the Cummins B6.7 or PACCAR PX-7, is the performance, life expectancy, and cost versus the larger counterparts," Schweppe adds. "When comparing the smaller engine with 325 horsepower and 750 torque to its big brother of similar horsepower and torque, the smaller guy is very attractive."
He explains that the smaller engine is lighter, which translates into more payload when pushing the 33,000 GVWR; the smaller engine's life expectancy is within 11% of the bigger engine's; and the smaller engine can be purchased with a five-year, 250,000-mile engine, aftertreatment, and towing coverage for less money than the equivalent larger engine with no added warranty.
One downside of the smaller engine is that the block is considered disposable, because it is not sleeved. "When the engine reaches end of life, you replace the entire block," Schweppe says. The bigger motors, he adds, are sleeved and can be completely rebuilt. "However," Schweppe says, "the trigger for truck replacement tends to be driven by soaring repair and maintenance costs for everything else around the engine, which again makes the smaller guy a great fit for the application."
However, on bobtails with bigger tanks—5000 gallons and up—"the bigger motors are the only way to go," Schweppe says. For these bobtails, the norm is engine ratings of 350-370 hp with 1150-1250 lb-ft of torque; on occasion, Arrow uses a chassis with 450 hp and 1650 lb-ft of torque.
"This type of power comes in the form of a bigger truck (Freightliner 114SD, Kenworth T880, Peterbilt 567) and a substantial price," Schweppe says. "The added cost of these bragging rights is anywhere from $30,000 to $50,000, depending upon the options. Keep in mind, nearly everything on these trucks is bigger and stronger, resulting in improved longevity."
Communication Before, During Build
Truck builders often guide customers through these choices and the many others that go into speccing a truck for duty in the propane industry. For the best results, they say, the builder should be involved in the process from the beginning, before the chassis is even purchased.
Some customers buy a completed truck; some buy a chassis cab from their local truck dealer and then have a builder add the propane equipment; and others buy the chassis as well as the equipment from the truck builder. In any case, the builder should be involved from the beginning.
"It's a good thing to have the builder in contact with the dealer, or at least have a dealer who knows our industry," says Swenson of Westmor. "As the builder, we need to mount equipment between the frame rails, so we need the cross-members to be out of the way. We need to coordinate with the chassis manufacturer."
"We like to sell a turnkey truck, as our customers rely on us to order the chassis to complete the upfit," says Hawkins of
H&H Sales Co.
"We have become a one-stop shop. That saves the customer the headaches of going to three or four different sources to put together a truck.
"We like to order the chassis because we can get fleet discounts that the customer usually cannot get from their dealership and because truck dealers' salespeople don't understand our industry, as far as selecting the right equipment for the additional equipment that we are going to add," Hawkins explains. "Too many customers 'under-truck' themselves by getting less GVWR than they really need for the payload they are going to carry. I tell them, 'No, you need to be in this size truck to carry the payload.'"
Arrow Tank, similarly, now supplies about 90% of the chassis for the complete bobtails it builds. "The chassis sale is certainly not a profitable business venture, but it's a major value-add in the grand scheme for both the end-user and Arrow Tank," Schweppe says.
"As the original equipment manufacturer (OEM), we order trucks that are specific to the application, utilizing discounted prices based on volume and our relationships with the various brands," he explains. "We gladly share that pricing to control costs and equip trucks with better features inside and out. For the end-user, this is a big deal when it comes to driver retention, safety, overall performance, and reduced cost of ownership."
"What people don't usually recognize is the additional behind-the-scenes value," Schweppe adds. "This value is present in the form of making sure that everything fits, all the connectivity is onboard, and the components are where they belong."
He explains that by supplying the chassis, Arrow Tank and other upfitters can select a proper chassis for the bobtail and utilize their own, trusted dealer network to perform pre-delivery inspections (PDIs). Those PDIs ensure any faults are corrected before the chassis is shipped to Arrow Tank's or the other upfitter's plant for assembly. "Like I said," Schweppe concludes, "it's a better value for everyone."
Some propane marketers want to supply the chassis because they want to buy it from a local dealer they have a relationship with, Terpstra of Custom Truck One Source notes.
"For buyers who want to provide a chassis, we provide engineered drawings they should give to the dealer," he adds. "They need to consider the measurements, the position of the crossmembers on the frame rails, the way the mufflers run—there are all kinds of issues there. We give them the information they need. Most body builders have that conversation with the retailers. We don't want to have to move things, because that can void the warranty. Plus, if it's easier to mount, it costs less money."
"Propane marketers often have a good idea of what chassis they want," says Thrash of JARCO. "When I ask customers what chassis they want, they tell me that's what their dad always bought. Others choose a chassis based on their proximity to a dealership where they can get it serviced. Then I walk them through the highlights of the truck, the engine and the transmission, and then put together a proposal that has the full chassis specs. We have a lot of repeat customers and some say, 'Build me another truck just like the last one.'"
JARCO also gives its customers a weight scale drawing. "We take a frame drawing and our engineer puts on there the front axle weight, the rear axle weight, and the total weight so you know when you load the truck to 85%, here's where your weight is going to be," Thrash explains. "A 3200-gal. tank will get on a scale and work anywhere, but a 3400-gal. tank is real close to the weight limit for the majority of the country. That's when your weight becomes important, so we show exactly where you're going to be with the weight."
In addition to involving the truck builder before the purchase, builders suggest considering who will service the truck long after the sale.
Swensen of Lin's Propane Trucks finds that propane marketers who have an independent repair shop they trust, are less concerned with the brand of the chassis. "Some people take into account the dealer—Who is best for service?—but after two years, when the warranty ends, that's not an issue. Brand doesn't matter if you just find a good mechanic."
Bloomstrand of Rocket Supply, too, says service after the sale plays a part in selecting a chassis. "One thing to look at is, after the sale, where will the truck be serviced? If the service is farther away, that could be a concern," he notes. "So: Do you have relationships built? Do you have a dealership you already frequent? Is there a dealership that is closer for service? As far as what you buy, all the chassis are good. Most new chassis are going to run 200,000 or 300,000 miles. It's just your preference and what dealers you have nearby." — Steve Relyea