Thursday, November 15, 2018
A variety of new safety resources have been made available to propane marketers over the last several months. The Propane Education & Research Council (PERC) and the National Propane Gas Association (NPGA) have created tools with the goal of lowering barriers associated with workforce education and certification. In addition, PERC has updated some of its residential consumer safety education materials and provides safety education courses and materials for external markets such as HVAC/plumber professionals and propane autogas technicians.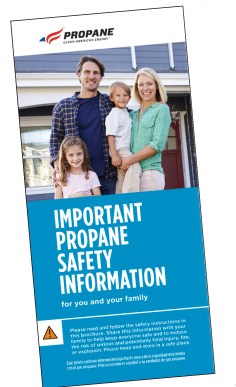 The workforce safety education resources include blended learning, which combines online training with classroom work; the addition of refresher training and a recurrent CETP Certification process; and the transition to subject specific training. These resources are focused on streamlining training and lowering educational barriers for the industry. These changes are starting to be incorporated into the Certified Employee Training Program (CETP), the industry's training and certification program for which PERC develops the training and NPGA administers the certification process.
Blended learning was developed based upon industry demand to reduce costs and increase flexibility. In 2017, 2000 people used blended learning and in the first three quarters of 2018, 2500 people used it. "There is a definite increase in users," said Courtney Gendron, senior programs manager, CETP, at PERC.
"Previously it required two to three days of classroom training; now it's reduced to a one-day review," Gendron added. "Blended learning was in development for three years, starting with a pilot program with a state association. Those who used it during the pilot program loved it. Then it was introduced to other states and companies who continue to use and love it too."
Stuart Flatow, vice president of safety and training at PERC, added, "Blended learning is part of a strategic shift in how PERC develops and deploys training. We are providing tools to lower barriers for employees to train. Those barriers have included scheduling and cost — the cost of the training, of having staff away from work for extended periods of time. Other planned activities focus on the next generation of propane professionals who want us to give them information in the way they've grown up with — on tablets and phones."
The recurrent training offers updates once every three years and is called Remaining Current. Added last year, this component of the CETP certification program is designed to keep CETP certification holders up-to-date with new industry codes, safety procedures, and technology. In most states, it will also satisfy NFPA 58's three-year requirement for documented refresher training.
"Remaining Current was launched in June 2017," said Eric Kuster, director, safety and certification at NPGA. "Over 1100 people have participated in the first three quarters of 2018. They have three years in which to complete the refresher training, so we anticipated that it would start slow and then build. It's a great way to meet the NFPA 58 refresher training requirements online and have it documented by a third-party."
Subject specific training, the third change to training launched last year, is meant to provide streamlined training that addresses specific job tasks. This is meant to save time and cost while also focusing on specific employee training needs. The Cylinder Requalification Training Program introduced in 2017 is the first course to focus on subject specific training.
"We want to restructure courses into bite-size pieces that allow employers to educate their employees on specific job tasks and competencies required for their job and for potential new tasks within the company," Flatow said. "We want to give them the information they want and when they want it — just like any business in this digital age."
Gendron added, "Marketers at convenience stores and RV parks wanted a stand-alone program to requalify cylinders. That was part of a huge textbook, so we pulled out that portion. The Cylinder Requalification Training Program was one of our first subject specific training programs, and it has been very successful. It delivers just what they need, right then and there, not the big book."
Products for Consumers
For consumers, PERC has released six new safety videos and three updated safety publications. All can be used to teach consumers the safe and proper ways to handle propane.
The new videos can be downloaded on PERC's website. The six titles currently available in the Consumer Safety Series are If You Suspect a Gas Leak; Appliance Conversion – Leave it to a Pro; Getting Your Propane System Inspected; Handling and Transporting Small Cylinders; How to Read a Tank Gauge; and How to Turn the Tank Off. PERC invites propane marketers, equipment dealers, state associations, and consumers to share the videos on Facebook, on their website, or through email.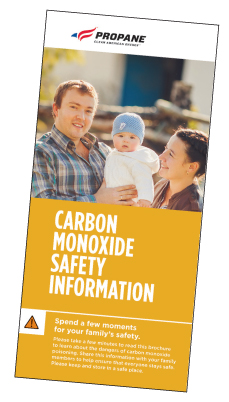 "Marketers have been asking for videos to augment the other consumer safety communications PERC provides," Flatow said. "The objective of the two-minute to three-minute videos is to provide customers with a peace of mind that their propane systems are operating efficiently and safely. We have seen several marketers use them to both provide safety information and promote their company while speaking to their customers about safety," Flatow added. "There is one who sends out postcards with a QR code that links to these videos that educate customers on small cylinder safety, what to do if you smell gas, how to read a tank gauge, and others. Over 700 marketers have posted them on their websites. These videos are very easy to embed on a website and send to customers."
PERC has also updated three printed consumer safety products for the first time in 12 years. These include the Important Propane Safety Information for You and Your Family brochure (PRC-003121); the Propane Safety booklet (PRC-005606); and the Carbon Monoxide Safety Information brochure (PRC-000075). All three have been redesigned with a new look and feel to increase customer interest. They also have been revised to include new safety information, including coverage of uncapped lines. All are designed to assist marketers with duty-to-warn compliance. The newly updated materials are available for $6.25 per pack; each brochure pack contains 125 items, the booklet pack includes 25.
"We updated the new brochures for two main reasons," Flatow said. "First, a brochure is only valuable if someone is going to look at it and keep it, so we updated the look and feel of our brochures. Second, we included some new safety information on such things as uncapped lines."
Kuster added, "Uncapped lines have been the cause of some propane incidents; someone takes an appliance out and does not cap the line, just leaving the shut off valve in place, and then someone else, like a child, can go in and open it once the system is back in service, releasing gas. That's why we tell consumers, when they move into a structure or home, they should always have the propane system checked by a professional."
To test the efficacy and visual appeal of the new printed materials, focus groups were conducted, with 78 consumers participating. This research found that most of the consumers strongly agree or agree that the materials are easy to read and understand; 98% said that of the propane brochure, 97% said that of the carbon monoxide brochure, and 94% said that of the propane booklet. Ninety-seven percent of the consumers said they would save the propane booklet and the carbon monoxide brochure.
The focus groups also found that the consumers strongly agree or agree that the "scratch and sniff" test in the propane booklet is a powerful safety tool (95%); that the materials build on and establish a "feeling of being safe" (94%); and that the materials demonstrate the propane industry's commitment to their safety (81%).
"Propane consumers want to hear about safety," Flatow said. "They appreciate it. It makes the industry look good; it makes us look like proper, responsible providers. It's amazing how many of the consumers in the focus groups said they would keep these brochures. I can't think of a better accolade."
Products for Commercial Customers
For commercial customers of the propane industry, new safety and training products include videos for autogas vehicle technicians and expanded builder/HVAC training.
Each of the six videos for autogas vehicle technicians focuses on a specific safety aspect of autogas vehicle facilities. The titles include Repair and Maintenance Facilities; Major and Minor Facilities; Codes and Standards; Authority Having Jurisdiction; Building Systems; and Safety and Safety Equipment. PERC invites propane marketers to share the videos with vehicle techs they know.
"Autogas is the leading growth mechanism for propane," Flatow said. "To maintain that market, we need techs who can service those engines. We have partnered with the National Alternative Fuels Training Consortium (NAFTC) to try to generate the next generation of automotive technicians. We do not provide training for techs, but this support material is critical to help those who do provide training."
The expanded builder/HVAC training, too, is meant to help recruit new professionals who will be prepared to service appliances fueled by propane.
"PERC has developed a builder/HVAC program based off CETP training materials," Kuster said. "We want to leverage our industry assets of training and education to work with our workforce development efforts. PERC is modifying those assets for tech school programs to help provide education pathways for new employees.
"If someone goes to tech school and takes courses that only cover natural gas, and they are not trained on propane, they will be reluctant to work on or suggest using propane," Kuster added. "If they do get trained, they are more likely to work on propane appliances and recommend them to customers. That means more gallons for our industry."
In addition to these new and revised resources, several other safety and training products have been added in recent months. Safety podcasts from safety professionals in the field are now available on PERC's podcast, The 1075. Safety message-of-the-month social posts, which are meant for marketers to share with their community, are now available on PERC's Facebook page. The next National Safety & Trainer's Conference is to be held Jan. 9-10, 2019, in San Antonio, Texas. In addition, PERC has announced that five of its websites are to be combined into one (propane.com) in the first quarter of 2019.
For more information about these and other resources available from PERC, visit the website at www.propanecouncil.org. More information about CETP Certification, Remaining Current, and other resources available from NPGA, can be found at www.npga.org. —Steve Relyea