The U.S. propane market is changing. There are warning signs on the near-horizon, counsels ICF International's 2019 propane market outlook. That cautionary forecast comes despite a national supply revolution that has yielded American-made fuel abundance unimagined just a short decade ago. Moreover, the Fairfax, Va.-based consultancy and business intelligence provider advises that the propane retail segment is at risk, a vulnerability that can only be blunted by a resolute, industrywide growth mindset to reverse negative trends and grow sales. By rethinking traditional business models and seizing available opportunities, the propane industry can, however, rise above the challenges.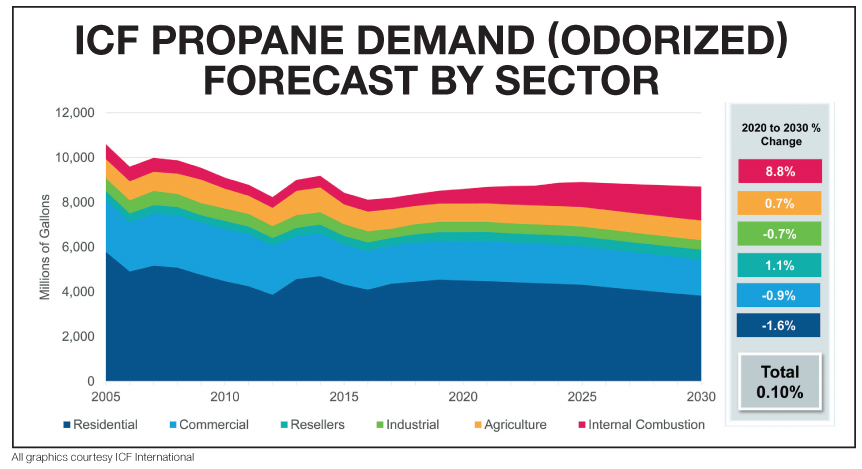 PERIOD OF MARKET TRANSITION
ICF's rundown recognizes that the propane industry has entered a period of market transition, driven by changing demographics, new technologies and, most critically, shifting regulatory priorities. While growth in U.S. propane production and supply will continue—far outstripping domestic demand and leading to ever-rising exports—those factors, while positive for satisfying local demand, ensuring energy security, and bolstering the country's trade balance, will nonetheless not positively shape the home consumer market going forward.
Michael Sloan, managing director and principal at ICF International, surveyed the propane landscape at the 2019 National Propane Gas Association Southeastern Convention & International Propane Expo in Atlanta, Ga. His emphasis: the environmental policy debate will shape the market. The "decarbonization through electrification" movement will create significant headwinds to any fossil fuel use. Defensive positions will only result in slowing a declining market.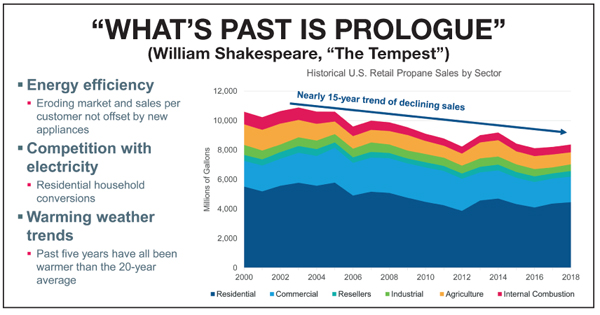 SELLING SERVICES VS. SELLING GALLONS
"If marketers are not involved in the policy development process today, they're going to be hurt by what happens five to 10 years down the road," he asserts. "That's the most important message I can give to the industry. Plus, think about your business models.
Think about ways of providing higher-value services with less reliance on volume throughput. So, selling services, selling reliability, selling resilience, as opposed to selling gallons."
Positing that, What's Past is Prologue! from Shakespeare's "The Tempest"—history sets context for the present—he reviewed that energy efficiency is eroding market and per-customer propane volumes that are not being offset by additional numbers of new propane appliances. Competition with electricity is rising with household conversions, and warmer weather trends in the past five years have resulted in temperatures toastier than the 20-year average.
If the past defines the future, U.S. propane sales will decline to 7.5 billion gallons by 2030, with a sustained drop in the residential and commercial sectors. As a comparison, odorized U.S. retail propane sales of 8.2 billion gallons were calculated by ICF International in 2017, the latest data available, a total 4.5% below the 10-year average of 8.6 billion gallons a year.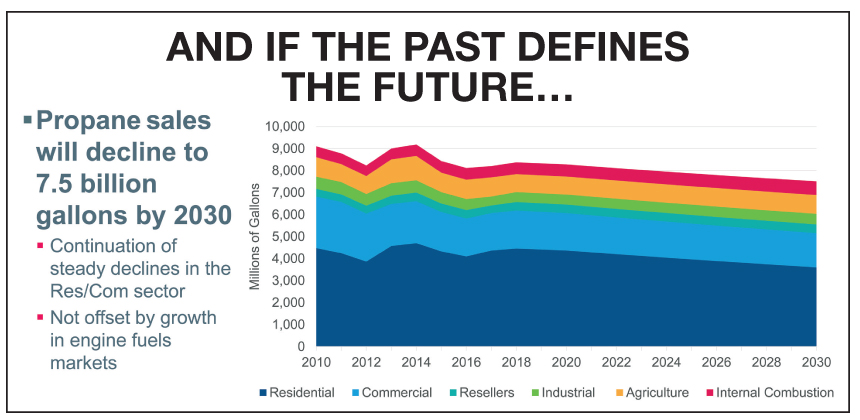 "When we're looking at the trends that have driven the declines in propane demand in the last 15 years, they're related to energy efficiency and declines in sales per customer tied to energy efficiency," notes Sloan, "as well as competition with mostly electricity, some from natural gas, but mostly electricity. And those are trends that are going to continue over time."
He adds that the ongoing energy efficiency trends "are built into the system. They are a natural outgrowth of sales of new, more efficient, equipment and new building codes. Competition with electricity is actually going to get more competitive in the next few years."
PROPANE INDUSTRY'S BIGGEST THREAT
Sloan also affirms that "decarbonization policies related to climate change will be the biggest threat to the propane industry over the next 10 years." In many markets, the threat is "existential." He adds that the story for residential markets remains similar to prior years—significant headwinds are ahead, but opportunities are on offer for growth.
Overall, residential housing markets are improving, but market strengthening is not propane-friendly. Sustained conversion of fueloil customers proceeds apace, but there is increased pressure from electric conversions. The number of residential propane customers is expected to remain flat, although there will be modest growth in the Northeast region—but a fall-off in the South. Total residential propane sales are expected to fade slowly, with long-term efficiency trends continuing to reduce per-customer use.
In addition, Sloan outlined that there's a slow recovery for new housing construction. Whereas 2018 housing starts are expected to be up 6% to 7% from 2017, and additional growth is projected for 2019 and 2020, the uptick has slowed. Risks of rising interest rates have hampered home ownership, and there are recessionary concerns for 2020. Meanwhile, the southern U.S. continues to lead new-home starts. But the market share in new residential building for propane remains at low levels, although propane market share increased 5% in 2017 versus 4.5% in 2016. Noted is that propane's share of new construction has not yet recovered from pre-recession levels.
ELECTRICITY'S GROWING SHARE
Moreover, most of the growth in new housing starts is in markets where propane's share is limited; new construction is weighted toward large developments, and there is limited growth in custom, owner-built residences, which favor propane. At the same time, fueloil conversions represent a markedly declining opportunity. But such conversions currently add about 30,000 households a year. ICF International tallied fueloil-heated dwellings falling by 2 million between 2009 and 2017, with a good portion being captured by propane. But electricity is capturing a growing share of conversions, particularly in multifamily construction.
Sloan underscored that space heating fuel choices are highly dependent on regional climates. Electricity has expanded its share of space heating across the South and Southeast, and that choice remains the top new fuel for household heating nationally. Concurrently, propane faces different competitive factors based on regional and local fuel primacy. Propane's latter-day growth focused on replacing fueloil in areas with high new construction, while electricity's share gained in the majority of counties that propane lost market share.
Total propane households have retreated from the highs seen in 2006. Nationally, long-term trends are not favorable for a recovery in propane-heated residences. ICF has revised downward its forecast for fueloil household conversions, a slowing due to declining market potential and growth in electric conversions. Manufactured housing continues to decline as well, a previously targeted market for propane. Nevertheless, there are pockets of growth in that segment.
"There are new generations of electric heat pumps that will be more competitive in the northern, colder climates," Sloan observes. "The propane industry needs to be thinking about, needs to be prepared for, ways to market their products going forward. That's where propane needs to look, at where we are today and make changes to how it is approaching the market. It's going to be hard to increase sales in some of the core markets, so the propane industry needs to develop a higher-value service approach that generates margins on lower volumes in that market. But new markets must also be developed."
MARKET OPPORTUNITIES
ICF International's outlook isn't all gloom, doom, and obstacles. Most engine fuel markets should see continued growth as new products become more widely accepted, among them on-road vehicles and mowers. Forklift markets will face challenges from electric trucks and changes in commercial market operations, but there is a path for a new generation of forklifts to grow demand. And lower propane prices improve propane's competitive position.
Furthermore, the agricultural markets should see solid growth, supported by engine applications that include irrigation engines and space heating. While irrigation engine sales will rise or fall based on weather conditions, low farm commodity prices delay new equipment investment.
Sloan highlights that "sales growth will be primarily in the engine fuel market with continued penetration of propane autogas vehicles but also agricultural engines." And the potential for propane in the transportation sector is "transformative" for the industry. He points out that capturing 2% of the light-duty vehicle market would increase propane demand by 3 billion gallons. Just a 0.25% hike would double current autogas sales. The pushback against the future growth of alternative-fueled vehicle sales for propane is expected to be concentrated in electric vehicles.
"I think from the opportunities side it's very clearly in the engine fuel market. If propane is successful in capturing just a tiny part of the overall engine fuel market, demand growth would be as much as 3 billion gallons a year. That's 1% of the light-duty vehicle markets, a fairly significant share of the school bus market, and a 5% to 10% share of the various other engine markets."
Among other low-hanging pickings is water heating in U.S. households that now use propane space heating. ICF estimates that half of them use other fuels to heat their water. Separately, there's a shot at capturing water heating load in households with electric heat. Propane has a higher market share of energy-efficient tankless water heaters than tank heaters. Once more, 2.7 million electric-heated households that are off the natural gas mains are in areas with an average temperature of less than 40°F.
Displacing fueloil in older commercial buildings holds promise. About 300 million gallons of fueloil were used in commercial buildings that also used propane. There are also propane-fueled distributed-energy opportunities. Emerging micro-combined heat and power (CHP) technology plug-ins for small commercial and large residential applications are afforded. Facilities off the mains need CHP load support, and there is also a need for underpinning electric grid resiliency and reliability. Again, a higher sales penetration in agricultural markets is called for. If achieved, load builds would be significant.
IMPROVED HEAT PUMP TECHNOLOGY
To recap and expand, ICF International identifies risks to the retail propane market involving a continued loss of market share to electricity in warmer regions of the country. Those losses are accompanied by improvements in electric heat-pump technology that threatens markets in colder climates as well. In short, heat pumps are getting better at pushing out hot air. On top of that, states and local governments are advancing environmental policies targeting all fossil fuel usage to meet self-imposed emissions reduction targets and energy efficiency improvements, whether through stricter building codes, taxpayer- and fuel supplier-subsidized insulation initiatives, and other actions. The list of such legislation continues to build. Piled on that, natural gas local distribution companies, or LDCs, continue to seek an offset to their lost volumes from efficiency gains through legislation favoring their utility fuel, and there are lasting risks from state and local policies promoting natural gas system expansions.
Local greenhouse gas (GHG) emissions regulations represent a growing risk to propane markets. Twenty-four states, nearly half the country's total, have joined the U.S. Climate Alliance, notes ICF International. The group is a coalition committed to reducing GHGs in alignment with the goals of the Paris Agreement, whose central aim is to strengthen the global response to the threat of climate change by keeping the world temperature rise this century well below 2°C above pre-industrial levels, and to pursue efforts to limit the temperature increase even further to 1.5°C.
More than 400 cities have pledged to various environmental policies, and over 2600 mayors, governors, chief executive officers, faith organizations, universities, and tribal leaders have joined the U.S. Climate Alliance. Electric and gas utilities are also participating to protect, or grow, their markets. However, ICF observes that propane is a modest emissions contributor as a fuel source. The residential and commercial sectors account for only 12% of U.S. GHG emissions. Natural gas represents two-thirds of those.
Among the ongoing decarbonizaton policy trends, the consultancy sees hardening mandates for a transitioning to renewable power generation; promotion of and requiring aggressive energy-efficiency improvements; reducing transportation sector carbon emissions by accelerating penetration of electric vehicles that use renewable electricity; and decarbonizing the residential and commercial sectors by converting fossil fuel space and water heating to electricity. And there's the accompanying reforestation, land-use planning, industrial decarbonization…and everything else. Think prairie chicken habitat preservation.
But there are issues. Specific to electrification of space heating, there's the cost. This is an expensive option for reducing emissions compared to other alternatives that are less disruptive—less expensive—to consumers, ICF International reports. High levels of winter-peaking electric demand will require significant spending and infrastructure expansions. Other poor and expensive options are new policies that target home heating fuels by using new building codes or emission requirements that limit consumer choice. Stating the obvious, ICF observes that direct-use fuels provided at the source are less susceptible to failure, whereas the resiliency and reliability of an electric grid with a high percentage of renewable feeds remains uncertain, at best. And increasing resiliency is extremely expensive using today's renewable technologies.
CLIMATE CHANGE POLICY
What is a viable climate policy strategy for today's retail propane industry? Sloan, citing ICF International's recommended approach, advocates participation in the climate change debate at state and local levels. Education of policymakers regarding the long-term costs and dependability downside of decarbonizing residential and commercial energy demand through electrification is paramount. Also, support is encouraged for the further development and widespread distribution of renewable propane to reduce GHG fossil fuel intensity and co-opt the push for renewable energy penetration.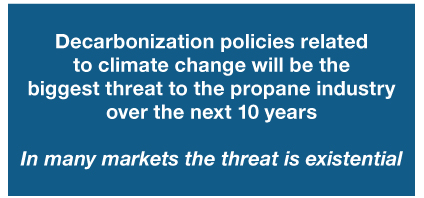 Push for fuel-neutral policy prescriptions that preserve consumer choice. Consider a carbon tax as an alternative to aggressive electrification policies. Push incentives for low-carbon fuels to supplement incentives for energy efficiency and electrification. Promote hybrid heating systems using propane as a backup fuel. Crack the distributed energy market—onsite generation, close to load, such as microgrids. Propane can continue to have a role in a lower-carbon economy, but the business plan will be different.
"The biggest challenge that the propane industry is going to face will come from environmental policy," Sloan projects. "There's a very significant movement in state and local policy right now to address climate change through decarbonization. Propane is a clean fuel and has a lot of applications in a decarbonizing economy, in a policy environment that addresses climate change. But the policies being set right now are very much anti-fossil fuels, including anti-propane. And in the next 10 years that is going to be the largest single challenge the propane industry faces.
"If the industry isn't engaged early in that process, it won't be able to effect what happens five or 10 or 15 years down the road. So it's important that the industry comes together in order to have a strategy, a view, and an approach to address climate change policies. That means not fighting the changes, but demonstrating the propane industry can be a part of the solution. In order to influence policy we have to be at the table, and you can't be at the table if you're not talking about solutions, if you're not talking about ways of addressing the issue policymakers are focused on."
Finally, a quote from another Shakespeare play, "Julius Caesar," may best serve: "There is a tide in the affairs of men, which taken at the flood leads on to fortune. Omitted, all the voyage of their life is bound in shallows and in miseries. On such a full sea are we now afloat. And we must take the current when it serves, or lose our ventures." — John Needham