In case you missed them, the following products were introduced to the propane industry within the last year and were exhibited in the "Innovation Pavillon" at the 2018 NPGA Southeastern Convention & International Propane Expo in Atlanta.
Alternative Fuel Engine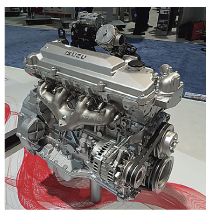 Isuzu Motors America has unveiled the 4HV1 from
Husker Power Products Inc.
, the first in a growing line of alternative fuel engines for off-highway and industrial applications. The 4.6L engine is rated at 247 lb-ft@1400 rpm when operating on propane. It has been used in the U.S. since 2012.
Bulk Plant ESVs
RegO
has added six new 300-psi ANSI flanged swing-check ESVs to its bulk plant ESVs. The 1-1/4-in. (FA6010), 2-in. (FA6016), and 3-in. (FA6024)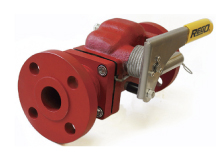 ESVs are designed for installation in liquid transfer lines at LP-gas or anhydrous ammonia bulk plants to provide for quick shut off of flow in the event of an accidental pull-away, line break, or hose rupture. All are UL-listed for use in LP-gas as an emergency and operating shut-off valve. Also available with a high-temperature Viton seat disc as a VFA series in all three sizes, the ESVs' rugged construction will withstand hydraulic shock of sudden closings, piping strains, and temperature variations. The valves have only two moving parts, stem and close/thermal trigger and stem seals are spring-loaded for leak-free performance at low temperatures/pressures. The new ESVs are available from Gas Equipment Co.
PV Series Relief Valve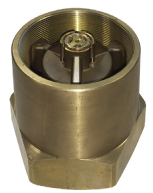 The PV Series from
Cavagna Group
is a new-style relief valve that features a replaceable cartridge. Designed to allow the user to replace the cartridge while the valve body remains installed and the tank retains its pressure, it eliminates the traditional practice of tank evacuation. It takes as little as five minutes to replace the cartridge. The PV Series also reduces the strain on the internal seals of the valve compared to ordinary relief valves, and it is economical since only the cartridge is replaced instead of the full valve.
Engine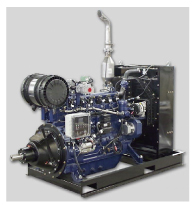 Husker Power Products Inc
.'s WP06NA 412-cu-in., naturally aspirated spark-ignited engine, has a prime horsepower rating of 106 on propane. The diesel platform, electronically controlled inline 6-cylinder engine is EPA-certified to run on LPG, propane vapor, or natural gas.
Bobtail/TransportValves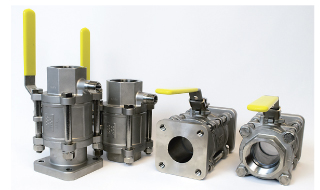 Jomar Valves
has new configurations of its Jomar T-SS-1000N-4B that include a labor-reducing square flange and an added port for use with hydrostatic relief and/or bleed lines. These new features reduce cost, labor, leak points, and space in bobtail and transport truck construction. The next-generation T-SS-1000N-4B configurations incorporate these new advantages while maintaining all of the features and benefits of the original T-SS-1000N-4B valve.
Combination Boiler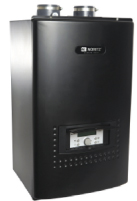 Noritz Combination Boiler
(NCB) utilizes high-efficiency condensing technology to deliver hot water for both plumbing and hydronic heating applications. The CB Combi from Noritz features 95% AFUE, delivers up to 9.2 gpm of domestic hot water, and can be used on applications that include radiators, baseboards or in-floor radiant hydronic heating, and air handlers.
Tank Paint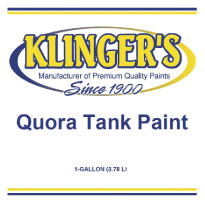 Klinger Paint Co.
's newly introduced Quora Tank Paint is a premium quality tank paint formulated to last with utmost durability. It dries in 4 to 6 hours with no chalking. In addition, it is low-VOC.
Monitoring System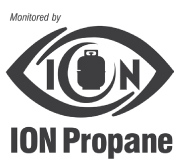 ASM, American Standard Mfg. Inc.
, is bringing The Internet of Things (IoT) to the propane industry with the launch of its "Smart Cage" monitoring system, IONPropane. The ION IoT sensor provides real-time, system-wide data that gives a view into the operation that was previously unavailable, and will transform route delivery, efficiencies, and profits. The data collection gives operators at all levels insight to fully optimize the supply chain and has an API to integrate to most operational support systems. ION technology can be retrofitted to ASM cages or any competitor's already in the field in just a few simple steps.
Smart Meter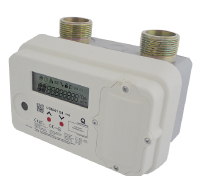 These meters are made in Italy and available from
Shitek Technology.
Designed and manufactured to measure the volume of LP-gas or natural gas, the UGM smart meters are an advanced electronic high-performance gas meter. The measurement technology is based on an ultrasonic sensor that also integrates a temperature sensor for volume conversion. The residential gas meters follow the new generation of smart devices to fulfill all requirements of European and International standard MID-OIML.
Fresh Air System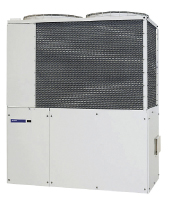 The
Sierra Gas Heat Pump
is a propane-powered air conditioner, chiller, dehumidifier, and heater that delivers propane-fueled comfort heating, cooling, and dehumidification using a combination of propane and a hair dryer's worth of electricity. It accommodates residents in rural, remote, island, or weak electrical grid locations. Unlike any other air conditioner, chiller, or dehumidifier available, the Sierra Gas Heat Pump uses a propane-powered internal combustion engine to power the AC's internal components instead of electricity, enabling it to deliver cold, dehumidified air to residential, commercial, light industrial, warehouse, indoor agriculture and military structures using a minute amount of residential or rural electricity.

Monitor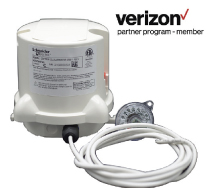 The Centeron Cellular Propane Monitor by
Schneider Electric
takes remote monitoring to the next level. The residential monitor fits any application, is UL-certified for use in hazardous locations, and is Class I, Division 2, Group D approved.
Compact Regulators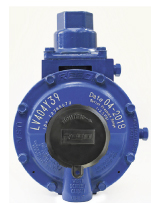 RegO
has introduced its next generation of patented compact regulators featuring new innovations to benefit field service technicians. The compact first-stage, second-stage, back-mount, and twin-stage regulators are designed for greater visibility, with the laser-engraved information on the bonnet matching the provided stickers for easier record-keeping. The outlet pressure adjusting screw has been modified for easier adjustment, and a standard, 7/16-in. pressure port plug allows straightforward adjustment without any special tools. All compact regulators from RegO have a 10-year warranty and 25-year service life.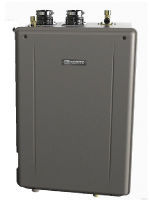 Tankless Water Heater
Engineered expressly for the North American residential market, the EZ Series of high-efficiency tankless water heaters from
Noritz America
are designed to cut installation time and cost when replacing larger, storage tank-type units. The EZ98-DV and EZ111-DV join the previously released EZTR4O to cover most residential tank replacement needs. The unit weighs 70 pounds.
Mobil App
The
Destwin
Connect mobile app for iOS and Android is designed to make it easier to do business by putting products and services in front of customers to grow sales and retain clients, as well as acquire new customers. The app's benefits include simplifying customer service and convenience; empowering customers to order fuel, make payments, and view account info on iOS and Android; making your product stand out in a competitive market; and offering the potential to reach more mobile customers. The Destwin team will start and maintain the app.
Piping, Fittings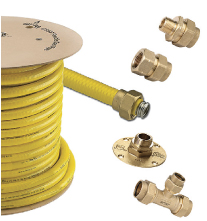 Fairview's
Gas-Flo CSST flexible stainless steel gas piping, fittings, and accessories make up the company's SIMPLE, SAFE & SMART propane and natural gas system that is reliable and easy to install. The Gas-Flo CSST, available in 1/2-in., 3/4-in., and 1-in. sizes, can be used for new construction and retrofit.
Compact Regulator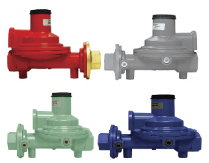 The Gas-Flo by
Fairview
compact LP-gas regulators are designed to reduce container pressure down to 11 in. w.c. They are adjustable and equipped with 1/8-in. FNPT taps for easy system pressure checks. The compact regulators offer high Btu capacities, are easily installed, and make up the Gas-Flo SIMPLE, SAFE & SMART.
Tank Monitor
Angus Monitoring Service LLC
has added a propane version to its line of Gremlin tank monitors. The propane monitor features customized tank alerts, extended battery life, and a personalized consumer app. The Gremlin works off either cellular or RF connection, and takes only 10 minutes to install. It integrates directly with most back-office software systems enabling the dispatching process to remain seamless.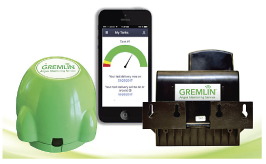 Benchmarking Dashboards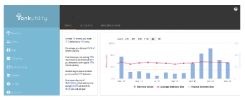 Tank Utility
has introduced its new Efficiency and Benchmarking Dashboards, an extension of the company's complete tank monitoring system that includes hardware, software and consumer-facing mobile app, and marketing services. The new dashboard automatically computes and pushes reports to delivered-fuel providers on drop size, operating efficiency, and missed savings per tank, then compares it historically to past business performance. Within the Dashboard, machine learning is leveraged to make real-time recommendations on customer tanks where delivery efficiency can be improved, providing real-time insight into the most efficient and least efficient accounts. The benchmarking also enables suppliers to compare their delivery and drop size efficiency not just based on their own history, but with other suppliers. Comparisons of performance changes to comparable companies is also provided.