"From humble beginnings come great things," is more than a proverb to Pam Indurjeeth, managing director at
Oryx Energies South Africa
. She integrates the inspirational narrative into a life dedicated to learning, connecting, and giving back to achieve success.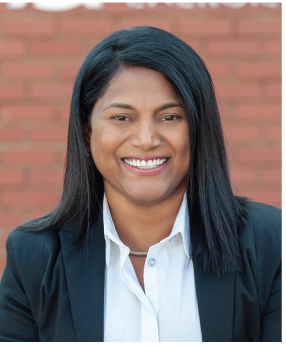 For her accomplishments, Indurjeeth is the latest recipient of the prestigious Woman of the Year Award by the Women in LPG Global Network (WINLPG). In 2018, she was also recognized as the Woman of the Year by the Liquefied Petroleum Gas (LPG) Safety Association of South Africa.
At Oryx Energies, one of the largest independent providers of oil and gas in sub-Saharan Africa, Indurjeeth represents an affiliate of a corporate group that plays a key role in the promotion of LPG in South Africa and rebalancing South African energy.
"As managing director, I see myself as the captain of the ship, defining, designing, and implementing a strategy aligned with key corporate objectives," said Indurjeeth, who has been in the role since last August. "I thank Oryx Energies for creating an environment that has allowed me to expand my skills at an executive level.
"I am a key influencer in the industry lobbying with government and stakeholders; responsible and accountable for the results of Oryx Oil South Africa including assuring that HSSEQ [Health, Safety, Security, the Environment, and Quality] is paramount."
Her involvement extends to serving on the boards of industry forums, initiating social and community improvement projects, and participating in the LPG Association of South Africa conference where she was the keynote speaker and a sponsor of WINLPG's Vision in Energy event.
Indurjeeth's thriving career began more than 20 years ago at BP Southern Africa where she spent 12 years in various management and operational positions. In 2013, she joined the Oryx Energy's Group in operational and executive roles within supply chain and commercial departments before being appointed as deputy managing director by her predecessor and role model who guided her professional development and career acceleration, she said.
"About seven years ago, I was told I was going to succeed my managing director. I replied 'No, don't think so.'…Guess I underestimated myself," she said. "I believe anything is possible if you have the right mindset, commitment, and dedication to achieve with the right level of discipline and resilience."
While at BP, Indurjeeth attended a program she described as a game changer. "I was fortunate to have been nominated for a women's fast-track program whereby I was assigned a coach through a program called 'Conversations That Matter'—a phenomenal career highlight for me. It was a confidence boost; a self-branding experience that positioned my career platform.
"I can tell you now when I walk into a board meeting, it is 90% males. I have to be able to overcome that by not being intimated," she said. "My advice: Women must not see success as an entitlement, they must earn it. Success is achieved through hard work, dedication, and passion. Create your own success story. I am fortunate to be supported and inspired by them, not intimidated by men."
To inspire, support, and advocate a career move for potential leaders is one of Indurjeeth's goals. It's actually what she's been doing for several years by playing a pivotal role in the coaching, mentoring, and advocacy of the Graduate Program and Women Empowerment, Diversity and Inclusion in LPG. Perfecting her current position is another goal.
Given the demands of her position, it is difficult to balance the demands of home and work, but Indurjeeth is a believer in the 5 a.m club. Motivated by "The 5 AM Club: Own Your Morning. Elevate Your Life" by Robin Sharma, she typically awakes at 5 a.m. to spend 20 minutes exercising (often running), 20 minutes reading, and 20 minutes doing something for herself.
"I'm often referred to as a skilled strategic, firm yet fair leader who's extremely passionate about gender equality," she added. "I remain optimistic for Africa and its strategic outlook."
In the current context of the global pandemic, she's intrigued and captivated by a quote: "When you can't control what's happening, challenge yourself to control the way you respond to what's happening. That's where your power is." — Karen Massman VanAsdale