(April 9, 2020) — The ongoing discussion of what fuel is best and most cost-effective to power work trucks carried over to this year's Work Truck Show March 3-6 in Indianapolis. While talk of electric work trucks has hit a frenzy, according to most everyone who represented the propane industry, there was a strong sense among key propane vehicle stakeholders that propane would continue to have a strong niche, especially with Class 3-7 vehicles.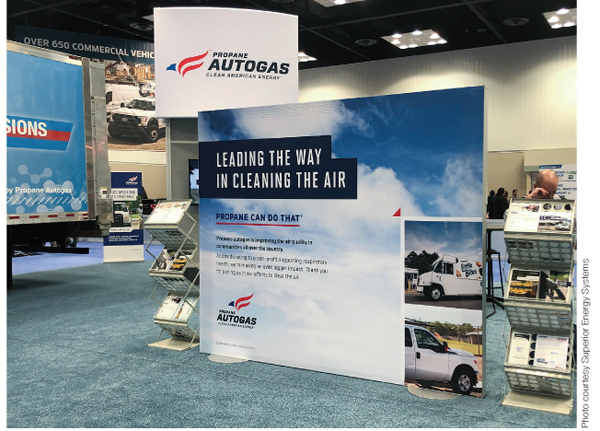 "There was plenty to share about opportunities propane brings to the table," said Steve Whaley, director of autogas business development at the
Propane Education & Research Council
(PERC). "Propane autogas vehicles produce [less] greenhouse gases and significantly reduce NOx emissions compared to other fuels, creating a healthier environment for employees and communities at an affordable cost to fleets." PERC had autogas vehicles and equipment on display, including a 2020 F-250 from Alliance AutoGas and a 2019 F-750 refrigerated van from
ROUSH CleanTec
h.
Whaley, who is new to his position at PERC, has hit the ground running with professional propane autogas experience both at ROUSH CleanTech (Livonia, Mich.) and
Alliance AutoGas
(Asheville, N.C.). "In my experience, I have always been focused on what type of sale is going to require more gallons of propane to be needed. We have some exciting technology that is great for air quality, and the
Alternative Fuel Tax Credit
has been retroactively extended to make propane vehicles an even better investment. The extension of the Alternative Fuel Tax Credit is a win for fleet managers, allowing them to further take advantage of the financial benefits of propane autogas in addition to the environmental benefits it provides fleets." Whaley noted that even without the Alternative Fuel Tax Credit, propane autogas already offers the lowest total cost-of-ownership of any vehicle fuel, so the tax credit is icing on the cake for propane autogas fleet managers.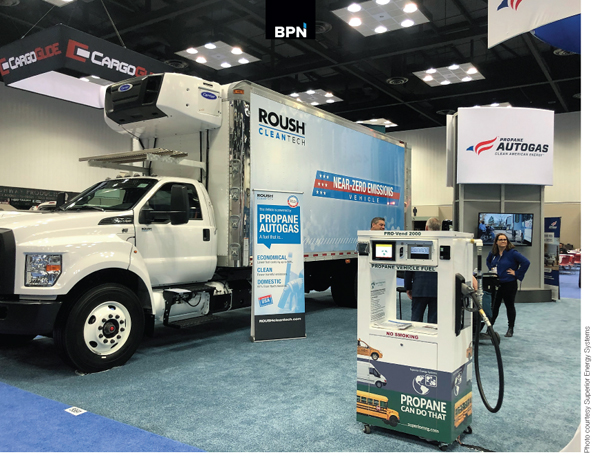 The annual
Green Truck Summit
, held a day prior to the Work Truck Show, featured PERC's president and CEO, Tucker Perkins. A session titled, "Alt Fuels and Technology: Evolution Toward Zero Emissions," was presented by Perkins, along with Dave Howell, deputy director for the U.S. Department of Energy's Vehicle Technologies Office, and Michael McDonald Sr., director of sustainability and government affairs with UPS. Perkins and Whaley also shared the latest developments in the evolution toward zero emissions in separate meetings with Department of Energy (DOE) officials as well as representatives from Clean Cities Coalition.
PROPANE CONCEPT ENGINE
"PERC has put funding into a project with Cummins to develop a new 6.7L purpose-built propane concept engine which now is in demonstration mode," Whaley told BPN. "The engine is in a vehicle at a retail propane operation. We are very excited about what we are seeing so far in terms of horsepower, torque, and efficiency." Whaley also spoke about the prospects for renewable propane, which could represent 50% of propane in the U.S. by 2040. "Renewable propane not only gets us a seat at the EV (electric vehicle) only table, but brings near zero emission with particulate matter, NOx, and now carbon intensity scoring that is far below the national levels of electricity off the grid."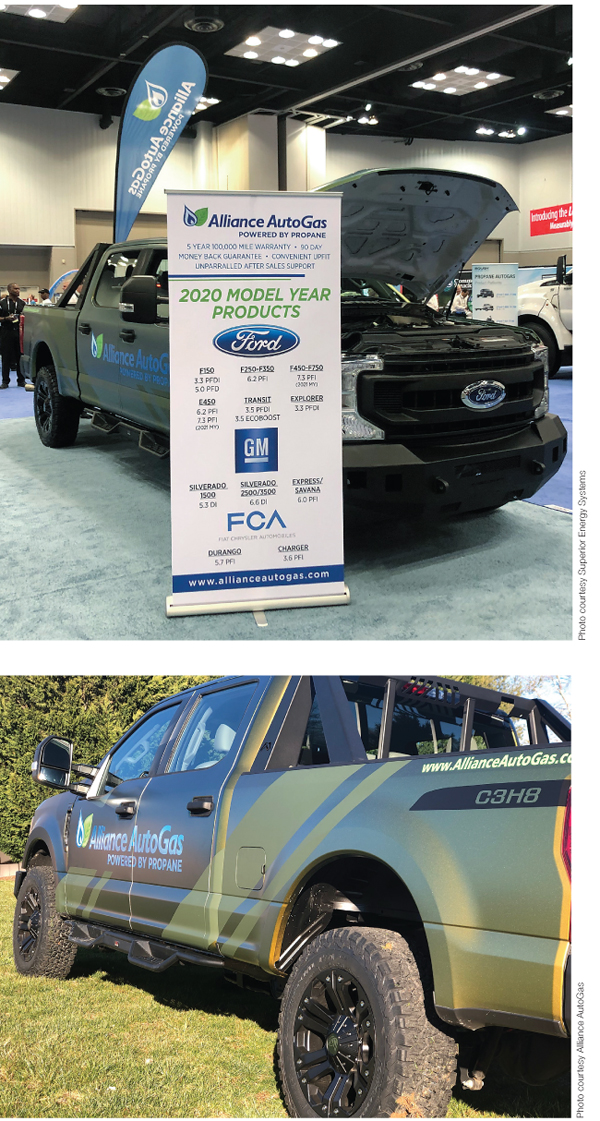 Alliance AutoGas made news at the Work Truck Show with its latest technology in a 2020 Ford F-250. The company unveiled an aftermarket autogas system for the Ford 7.3L V8 engine. The bi-fuel engine will provide an average savings of $1 per gallon on fuel and extend operating range more than 700 miles between refueling. This gives fleets an added advantage of not servicing complicated emission control systems or buying DEF fluid, as with diesel engines. "It is exciting to finally see a modern, high-torque engine in the marketplace," said Ed Hoffman, president of Blossman Services (Swannanoa, N.C.; the distribution partner for Alliance AutoGas systems). "With our Alliance AutoGas engineering systems, this engine will offer a diesel-like performance at a fraction of the cost."
Hoffman talked with BPN about the rampant talk of electrification that he heard at the Work Truck Show. "Once we got into discussing the details, I think people understand that the concept of electric vehicles designed for heavy-duty service is just not practical," Hoffman said. "We saw a lot of interest in propane despite the 'electrify everything' talk. Consider this: if we electrify everything, does that mean propane bobtails and service trucks one day run on an electric battery? Does that make any sense?"
Todd Mouw, president of ROUSH CleanTech (Livonia, Mich.), was joined by several fleet managers in leading a session, "The Most Versatile Alternate Fuel Solution." Topics included: why these fleet managers chose to incorporate propane autogas vehicles into their existing fleet; how this alternative fuel works for fleets of their size; and what challenges they faced and benefits they've experienced due to this affordable fuel.
USPS DELIVERIES
"One of our big accomplishments this year is the sale of eight propane autogas-fueled Ford F-750 delivery trucks to McAbee Trucking, which does contract delivery for the United States Postal Service (USPS)," Mouw said. "This is the first time that U.S. postal packages are being delivered by propane autogas trucks." As for potential, there are nearly 10,000 USPS box trucks like these that really pile on the miles and Mouw is confident things are going well with the McAbee trucks.
"Propane is really a great fit for the size and duty cycle of the trucks we use in our business," said Lisa McAbee, owner of McAbee Trucking, who joined ROUSH CleanTech at the Work Truck Show. Mouw credited staff member Dylan Kyle as well as PERC's Whaley for developing the relationship with McAbee in fall 2019. Mouw told BPN, "Through discussions, it became clear that Lisa McAbee was willing to be a change agent and give propane a chance to make a big difference in the success of her business."
Each of McAbee's propane trucks is equipped with a Ford 6.8L V10 engine and ROUSH CleanTech propane system, which is 90% cleaner than the Environmental Protection Agency's most stringent heavy-duty emission standards, according to ROUSH. With the unveiling of the new propane delivery trucks at the Work Truck Show, ROUSH CleanTech received Heavy Duty Trucking's Top 20 Award for the second year in a row. This award recognizes the company's near-zero emissions vehicles.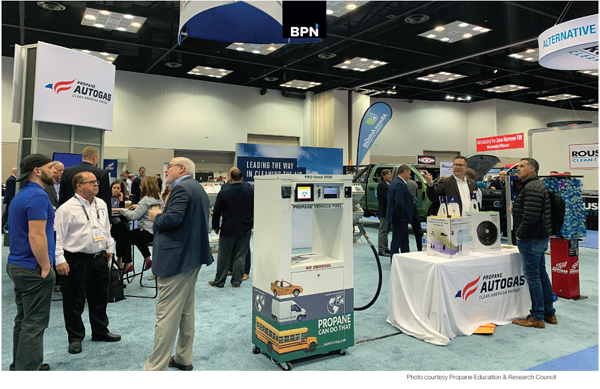 ROUSH CleanTech, an exhibitor at the Work Truck Show since 2009, continued to talk to some of the potential customers in businesses that have done well with propane vehicles. "Many in distribution of products that typically use Class 4-7 vehicles such as water, beverage, wine, and food distribution are typical of prospects we are talking to. School districts are continuing to expand the propane vehicle market share," Mouw said. "New factors are making companies take a closer look at propane vehicles. The introduction of renewable propane, new technology such as air brakes for propane vehicles, lower emissions, and low prices for propane are factors working to our advantage."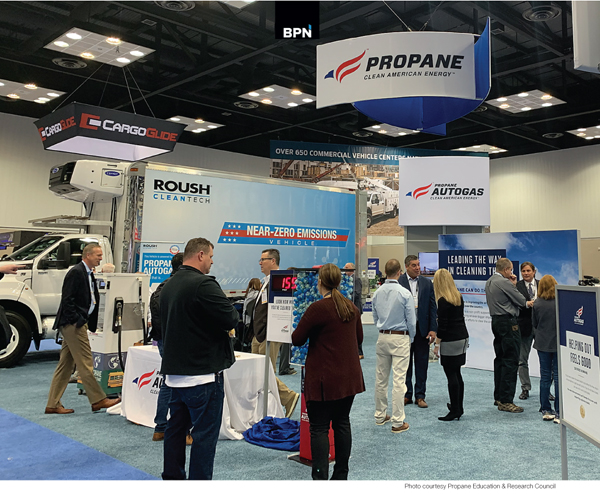 As for challenges, Mouw feels that it remains human nature for many to be resistant to change. "As an industry, we have not done our best to talk to local stakeholders and personally pound home the message of all the benefits propane can provide that represent significant solutions to customer needs. Nonetheless, we are definitely making progress."
Throughout the Work Truck Show, PERC asked attendees to bring to the booth a token that was mailed to them prior to the show. Each token represents a $5 donation that PERC will make on each attendee's behalf to a nonprofit organization that supports respiratory health in the United States. An announcement on the recipient organization and the amount of that donation is expected this spring. Whaley explained, "By donating to a nonprofit dedicated to improving respiratory health for Americans, we're furthering our mission for cleaner air in the U.S. Stay tuned." — Pat Thornton