BASE Engineering
(Saint John, N.B., Canada) has added three new features to its ProControl3 Integrated Fuel Delivery System over the past year.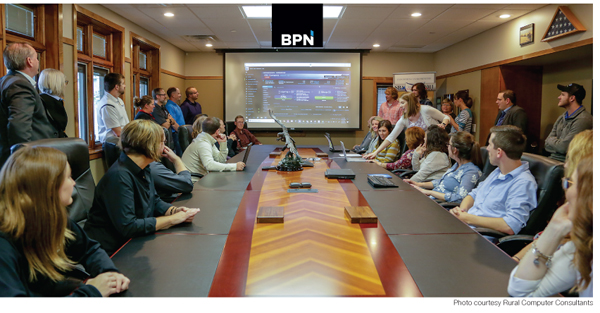 The ProControl3 (PC3) is a handheld device for drivers that features truck remote control and safety features as well as complete delivery system management. Alone, the handheld allows hose-end remote control of the pump, tank valves, engine RPM, hose reel, and emergency stop. With the BASEstation HUB, BASE Engineering's onboard computer hub, the PC3 can also record DOT pre-trip truck inspections, capture and display inventory levels on the truck, display an optimized customer delivery list, and perform several point-of-sale functions.
"The pandemic has sped the transition from paper to the cloud, off paper tickets and toward automation," says Laura Lunn, marketing coordinator. The three features added to PC3 over the past year include the following:
MEC Smart Interlock Integration: PC3 can now interface with MEC Smart Interlock devices on a truck. MEC Interlocks respond to such things as a door being latched or a hose nozzle being seated in its storage housing. Now, the PC3 displays a list of up to five of the interlocks and their status.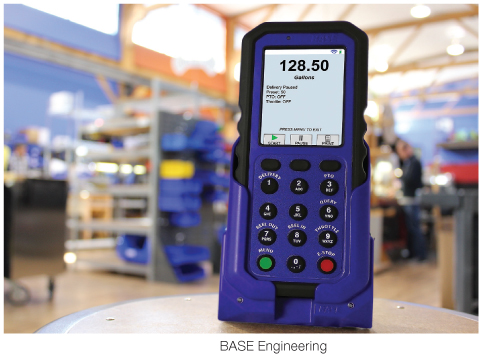 ProControl3 Enhanced Point of Sale: When interfaced to an electronic register, the PC3 now allows the operator to select products, meters, compartments, and set presets. When connected to an LCR, the system allows for full point-of-sale functionality from the PC3 handheld device.
ProControl3 Barcode Scanner: With this new barcode scanning feature, the PC3 illuminates and reads the barcode for identification of each vehicle or piece of equipment. So, the PC3 can capture the volume delivered for each piece of equipment.
BASE Engineering reports that with the increased operator efficiency delivered by the PC3, its current customer base reports making one additional delivery per route. "At the end of the day, PC3 is about increasing efficiency," Lunn says. "It's about gaining efficiency, saving time, and keeping the driver at the end of the hose pumping propane."
BASE Engineering and its parent company, Marshall Excelsior Co. (MEC), will soon launch a series of weekly webinars called MEC/BASE University.
For updates about the webinars, and additional information about the PC3, visit www.baseng.com.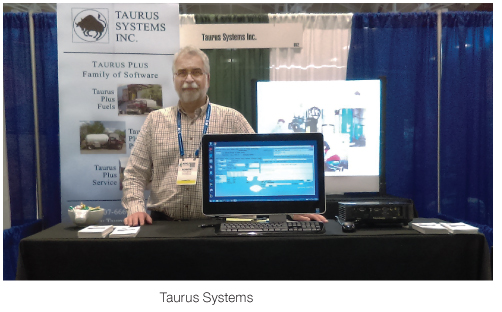 Taurus Systems
(Bowdoinham, Maine) provides back-office software solutions to the propane, fueloil, and service industries. The company promotes to customers that its software interfaces with several mobile truck companies and credit card processors.
"We like to focus on the fact that we are an open company; we work with a lot of partners," says Robert Bertulli, president. "Customers like to have the freedom to choose their own credit card processors, mobile truck partners, and tank monitoring options. We will go in and work with most of the customer's existing equipment."
"A lot of companies are looking really hard at tank monitoring due to difficult customers, such as summer homes or other hard-to-gauge usage," he adds. "They want to make the ideal drop. With our software, they can become very efficient and get paid faster."
Taurus-Plus Propane Back Office Software offers unlimited drop locations, with unlimited tanks, tax, and price tables for each location. It also features check-off boxes for propane use for each tank; tank rentals; and flexible pricing options. The software allows the user to automatically schedule deliveries based on K-factors, monitored gallons, Julian calendar, or weekly route.
"Our price point is a little better than anyone else's for what you get," Bertulli says. "We don't oversell. We have a software option that's right for your team."
"With the propane industry's staff working remotely during the pandemic, payment systems are now more in use," he adds. "My customers and the Taurus team have been very busy during the pandemic."
For more information, visit www.taurus-plus.com.
As someone whose father founded a fueloil delivery business in 1956 and whose brother owns one today, Steve Hill knows what a chore it can be to schedule deliveries. As a Microsoft certified software developer, he also knows how to come up with solutions.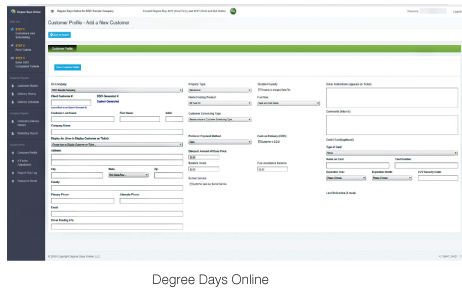 Today, he and his brother, Bill Hill, are co-owners of
Degree Days Online LLC
(Manchester, Conn.), a company that provides fueloil and propane delivery management software. Steve serves as the software developer and Bill is the user liaison.
"I write the software for my brother," Steve Hill tells BPN. "I used to write it for my father, who owned a fueloil company since 1956, but passed away nine years ago. With what I have heard from them, I have made it easy to use, intuitive, and easy to learn."
Degree Days Online (DDO) is cloud-based, subscription-based software that provides fueloil and propane delivery companies a way to track customers and deliveries. DDO automates the delivery schedule and prints delivery tickets; gets the degree day data and makes calculations for each customer; keeps track of outstanding balances; and can work with QuickBooks Online to help with accounting. "We generate invoices in QuickBooks," Hill explains. "Customers love it, because they don't have to do dual entry."
Because DDO is cloud-based, users can access it from anywhere, don't need to install anything, don't have to worry about updating the software, and don't have to back up the data. Because DDO is subscription-based, it has a low initial cost and is affordable. DDO also has a mobile site for use on smartphones.
"We have seen a little bit of an influx of people coming to us because DDO is cloud-based and you can get at it from anywhere," Hill says. "We have had calls from people who have in-office software, but want to change to the cloud."
Hill reports that half of the new subscribers to DDO were using software that they were no longer happy with, and the other half had no software and were scheduling deliveries manually.
"DDO simplifies lives and saves hours of time," Hill concludes. "During the winter, my brother used to write out 60 to 70 delivery tickets every evening after a long day. Now, DDO prints them out, along with driver instructions and directions."
For more information, visit www.degreedaysonline.com.

Destwin Energy Systems
(Sandy Hook, Conn.) offers two solutions for fuel dealers that enable their customers to do business with them online. One is the Destwin Fuel Dealer Solution (FDS), a cloud-based e-commerce system that integrates back-office data with a customer web portal. The second is the Destwin Connect Mobile App, an extension of the Destwin Customer Portal.
FDS allows a fuel dealer's customers to view their account information and transaction history, pay bills, order fuel, enter price protection programs, review and update their contact information, and sign up for programs such as paperless billing and autopay programs—all online. "It allows customers to do business with the fuel dealer without the need for a phone call or office visit," says Robert Kulawiec, chief operating officer. "The portal provides 24/7 access."
FDS connects to the dealer's back-end system for the account information it displays in the portal. "It's not just a tool to pay a bill or order fuel. It interacts with the back-end system, receiving data from and sending data to it, increasing the efficiency of the fuel dealer's business processes."
With FDS, fuel dealers can also create and manage content called Marketing Messages within the portal that can be targeted to specific groups of users based on individual account characteristics. As an example, a will call account might see one message while an automatic delivery account could see a completely different message.
"We also interface with other third-party systems like document providers, tank monitors, and chat providers. The ability to interface with third-party service providers is an important aspect of FDS," Kulawiec adds. "We can interface to different service providers or programs enhancing the customer user experience and adding features for the fuel dealer. We also interface to many gateways to accommodate our clients' current and possible future gateway provider options."
The Destwin Connect Mobile App is an extension of the portal. The app is individually branded with the fuel dealer's colors and logo to provide a seamless transition between the portal and the client's corporate site. Once published, the app is available for download from the App and Play stores and can be added to the consumer's home screen, making access even easier and more convenient to use.
For more information, visit www.destwinenergy.com.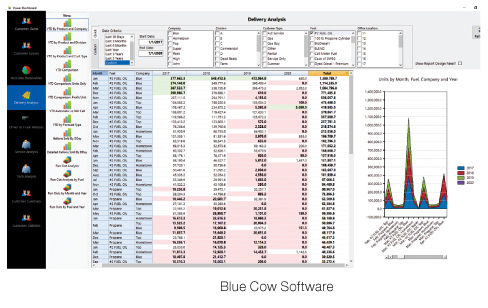 Blue Cow Software
(Lynnfield, Mass.) updates its software products year-round, but the company planned to introduce two significant product enhancements at this year's trade shows. Although the shows ended up being postponed, the product enhancements have been rolled out.
One is a "system check" functionality that analyzes the customer's database and highlights any anomalies. It reviews every aspect of the customer's database including information about customers, employees, forecasting, and trucks. When you set up a new account, did you leave out some necessary information? Has a ticket been created for a service job or fuel delivery, but the job hasn't been done? Is there a truck license or an employee certification that is overdue? The system check looks at over 50 functions like these that could be possible action items and highlights them for the management team to act on.
"This came out at the perfect time," says Nick Quaratiello, vice president of operations. "During the pandemic, with many office people working from home, there may have been less communication when performing daily tasks in the office. The system check functionality is a great tool to help our customers improve their business operations."
The second major product enhancement was done in the Ignite Analytics product. A new "power dashboard" was created to present valuable operational reporting capabilities on every aspect of a fuel dealer's business.
"The new power dashboard gives the management team a great new way to view how their business is performing," Quaratiello explains. "It provides the data necessary to monitor your company's overall health in an easy, customizable format."
These enhancements are part of Blue Cow Software's suite of integrated software products for the propane and fueloil industry. The products include a management software package; a real-time communication tool for drivers and technicians; a customer portal website and phone app that allows customers and staff to conduct business anywhere; a business intelligence tool; and a tool for scanning and saving documents.
"Working from home during the pandemic wasn't a big shock for our customers as the Ignite suite of products are already designed to handle this type of situation and was one less stumbling block for our customers," Quaratiello concludes. For more information, visit www.bluecowsoftware.com.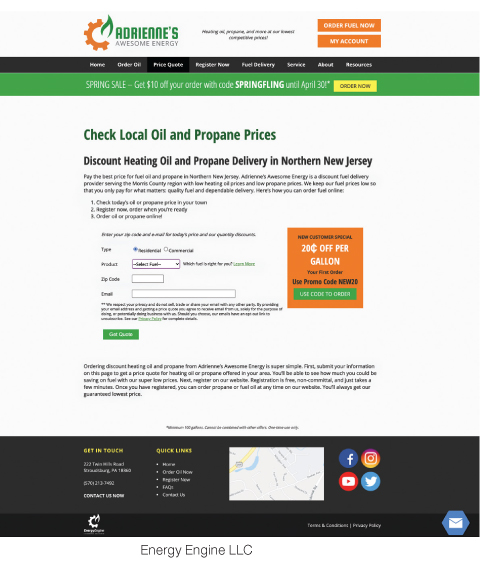 Consumers want to shop online, even for fuel. There's been a trend toward e-commerce in this industry for five years, and the pandemic has accelerated it. So says Mark Stillman, senior vice president and co-founder of
Energy Engine LLC
(Stroudsburg, Pa.).
"Ordering fuel is no different from anything else; customers expect to be able to do it online," he notes. "They actually do want to shop as they do for a phone or on Amazon."
"Now we're in a digital-only world," he adds. "Fuel dealers are seeing COVID turn fuel consumers into someone who wants to shop on their phone—not call, not visit. This has made dealers move faster toward e-commerce."
Energy Engine's solution for fuel dealers is a web-based e-commerce platform designed to serve the unique requirements of heating oil, propane, commercial fuels, and related energy product sales. This is not a portal designed only to allow existing customers to pay their bills, Stillman explains; it is a "full-journey e-commerce system that lives behind the dealer's website."
Like Amazon or other e-commerce sites, the Energy Engine communicates with the customer in an automated way. Consumers can register and log in; view online pricing; place online orders and receive e-mail confirmation; make online payments; receive email and text alerts regarding their delivery day; and receive email confirmation when the delivery is complete.
When a fuel dealer is ready to add the e-commerce platform, they need only provide their branded look and feel and their business rules. Energy Engine does the rest. The look and feel provided by the dealer includes logos and other materials that are used on their website. The business rules include things like prices, zip codes serviced, and additional products sold.
"Our onboarding is not a pain at all; dealers have fun," Stillman reports. "They never thought they'd be in e-commerce, but now they're selling appliances online and thinking about search engine optimization."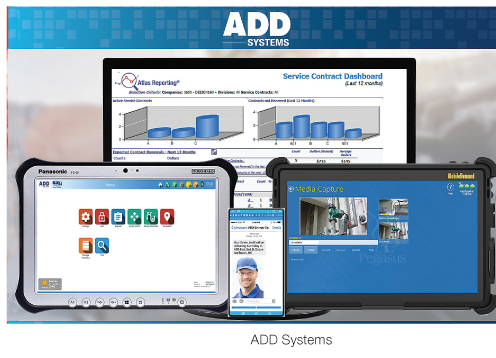 "What we would tell a dealer most of all is, we're now living in a world where the consumer comes first," he concludes. "We have to focus on consumers and think about what they want. Online ordering has become ubiquitous; when consumers don't get it, they get frustrated."
For more information, visit www.energyengineus.com.
ADD Systems
(Flanders, N.J.) does a major update to its software solutions every year, adding between 200 and 400 enhancements. This year's updates are useful at any time, but have proven to be especially valuable during the pandemic.
"Clients were already adopting new technology for efficiency, but in the last couple of months, during COVID, they have reached out to us to install additional solutions," John Coyle, vice president of sales, tells BPN.
ADD Systems' software solutions for propane marketers include a back-office system, a browser-based user interface for staff, self-service portals for customers, a business intelligence solution, a mobile computing solution for delivery drivers, a mobile computing solution for service technicians, an integrated business intelligence reporting engine, and a process automation tool.
One of the latest updates is an enhanced communication module that handles e-mail blasts and texts to customers. One common problem this solves is the customer who calls multiple times in a day to see when their delivery will arrive. With this module, they will be automatically notified when their delivery is expected and again when it was completed. "An informed customer is a happy customer," Coyle notes. "Plus, this allows CSRs to focus on other areas." During the pandemic, this module has also helped inform customers about the COVID-related protocols being used during deliveries and service calls. "Our clients report getting high marks from their customers for keeping them informed."
Another recent enhancement is an additional business intelligence tool. This is designed to cure the "paralysis by analysis" that some businesses can suffer when facing all the data that is available today. With the new Atlas Alerts Reporting tool, problems are highlighted so that the business can focus on targeting them. The user can define what is in tolerance and what is not. Then, rather than showing everything, this tool will display only what is not. "For example, you can have it show deliveries that are less than 60% capacity," Coyle explains. "Then you can look at those deliveries. Did we make this delivery because we were in the area? Was it a vacation home, so we should put a tank monitor on it? Because Atlas shows only where the problems are, you can see them faster and solve them." If a user does prefer to see regular updates, they can set up a subscription that they can quickly glance at to see that all is in tolerance.
"We pride ourselves on continuing to evolve the products," Coyle concludes. "We saw where the market was heading, and then COVID sped things up. We expect that, post-COVID, marketers will have some employees continue to work from home. With our solutions, people working in the field or at home have access to all the information they would have in the office." For more information, visit addsys.com.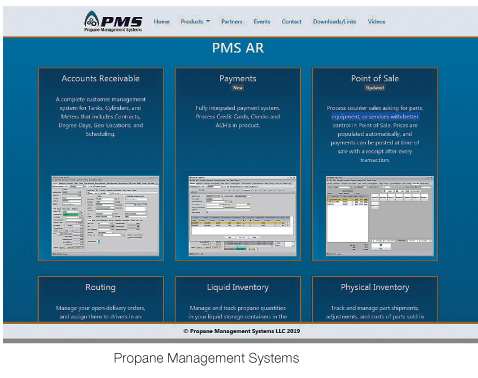 Propane Management Systems
(PMS; Paducah, Ky.) offers two products that are backed with unlimited tech support for one flat annual fee.
One is PMS Accounts Receivable (AR), a complete customer management system for tanks, cylinders, and meters that includes contracts, degree days, geo-locations, and scheduling. This product also features a fully integrated payment system; a point-of-sale system; a routing package; a liquid inventory package; a physical inventory package; tank monitor integration; cylinder integration; and tank propane usage meter integration.
The second product is PMS Mobile, which features rugged propane and cylinder delivery truck tablets that provide greater control and automation of deliveries.
Both products are backed by unlimited tech support for one flat annual fee.
"People like us best for our service," says Warren Van Wyck, general manager. "We answer the phone 24/7 and they don't pay for phone calls. Most of the time, people call to ask about how to do something they haven't done in a long time. Our package has a lot of stuff. If they don't use part of it initially, but then want to use it later, they call to ask about it."
The two products also communicate in real time. "When you enter a customer or a payment in AR, the drivers in the field see it instantly. When you create routing or check off deliveries, that is instant too."
"Most people realize technology can help them, especially with COVID. It's a way to eliminate contact," Van Wyck adds.
"If you are thinking of doing a system, you should check all your options," he concludes. "We don't get beat on service or price. Beyond the obvious price, what kind of price are you looking at if you make a call for tech support six months from now? We answer the phone and we don't charge for that."
Visit www.propanemanagementsystems.com for more information.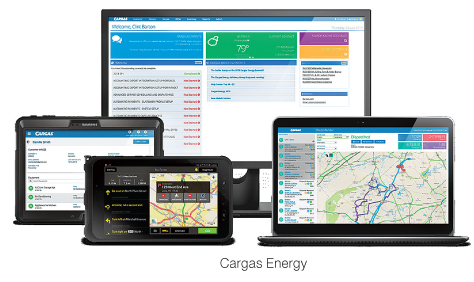 A new embedded reporting tool is the latest addition to
Cargas Energy
(Lancaster, Pa.) software for propane dealers. The Advanced Reporting & Dashboard module helps fuel dealers understand their business performance, spot trends or anomalies, and quickly respond to changes—all without leaving Cargas Energy software.
"Before, we had static reports; now, we have an embedded tool that provides actionable insights that help marketers make decisions based on their most current data," explains Dennis DiSabatino, Jr., vice president of the Cargas Energy business unit. "This helps marketers make decisions on a daily basis about deliveries and service."
"The advanced reporting functionality is an easier way to filter and drill down into data," adds Brian Weit, manager of marketing. "While the dashboards put key performance indicators at your fingertips."
Cargas Energy software is browser-based, so it can be accessed from anywhere, on any device. That has proven valuable during the pandemic.
"Our technology platform has allowed our customers to thrive in this situation," DiSabatino says. "Cargas Energy started from day one as a mobile technology platform. Our customers have leveraged that—there's no need for people to touch and process paper."
Cargas Energy found marketers moving in that direction anyway in a survey it conducted last year. In its inaugural "Top Technology Trends in Fuel Delivery Benchmarking Report," the company surveyed fuel dealers and found that 31% were storing data on cloud servers; more than 50% were looking at tank monitors as a future investment; more than 40% were looking at customer web portals and mobile apps; and 75% said a cloud or web platform plays an important role when evaluating new software.
"It will be interesting to see how the pandemic impacts the results in 2021," Weit notes.
"We're here to help the industry," DiSabatino concludes. "We've implemented secure tools to support your implementation remotely. We urge companies to adopt the cloud technologies that are out there to support remote work in this situation."
For more information about Cargas Energy software, visit
https://cargasenergy.com/.
The "Top Technology Trends in Fuel Delivery Benchmarking Report" can be downloaded at
https://cargasenergy.com/blog/top-technology-trends-in-fuel-delivery/.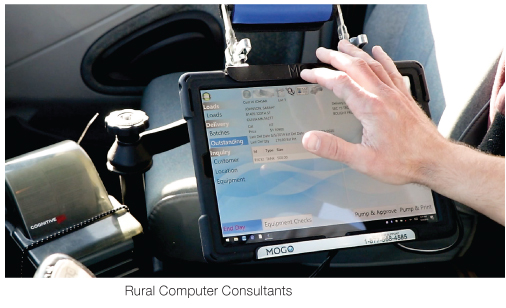 Rural Computer Consultants
(RCC; Bird Island, Minn.) was planning to introduce two new products at this year's trade shows. Both of these products are modules that can be added to their Fuel Distribution System (FDS), a software package for the fuel and propane industry that can be customized with more than 20 modules.
The first module is E-Commerce +. "We already had e-commerce, but this is bigger," says Freddie Ridler, sales. With this module, customers can opt in to receive text or email notifications based on many different scenarios with FDS. This includes when a delivery is on its way, when a delivery has been completed, when a payment has been made, when invoices are due, as well as many other notifications.
RCC has also partnered with DocuSign to begin handling forms. "This really took off the last three or four months with all of the shutdowns," Ridler notes. "Yes, the propane business has been open, but offices have been closed."
The second module is Dispatch Manager (DM). This takes the role of a dispatcher by building loads, mapping, and optimizing deliveries. DM sends this information to drivers so a dispatcher no longer has to give tickets or text them. It does this for all types of delivering—fuel delivery, service, and cylinder delivery. DM also keeps managers informed about where the drivers are and how much inventory is left.
Ridler himself was scheduled to deliver a talk at the NPGA Expo about CRM tools. "Long story short, this means texting," he explains. "People always have their phone with them, so texting notifications are the hot commodity right now. When it beeps, you grab your phone and look." For propane customers, useful text notifications include where the driver is, when the next payment is due, and when a payment has been submitted.
RCC's FDS and its Mobile Office On the Go (MOGO; a mobile workstation for drivers and service technicians) have helped keep customers and employees safe during the pandemic. "Five or six years ago, we started adding cloud hosting, which gives our customers access to our virtual server so they can log in, access their data, and work from home," Ridler notes. "Our good tech team and our ability to host data has been a big deal for us this year. We have ways to make this all as easy and painless as possible."
For more information, visit www.rccbi.com. You can also view a video about RCC at
www.rccbi.com/media/rcc_overview.mp4
.
An upgraded e-commerce system and strong reports with actionable items are the newest enhancements available for Energy-Force, an integrated system of modules for propane or refined fuel businesses. That's what
K&K Management Solutions
(Avon, Ind.) intended to promote at the spring trade shows.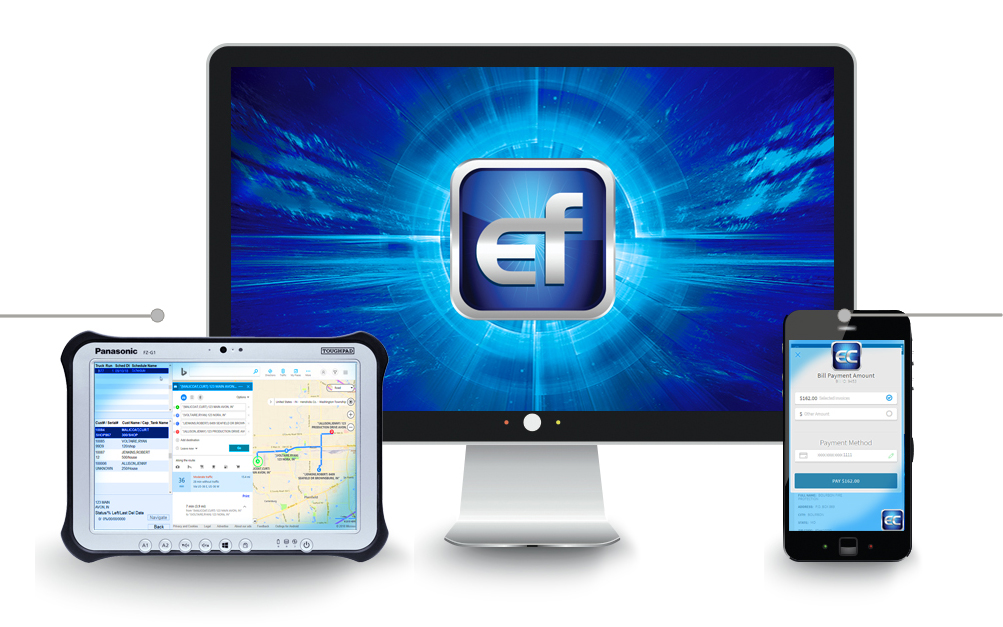 "One thing we were going to focus on was the accessibility of data with built-in reporting," says Mat Jones, sales. With Energy-Force, businesses can make better operational decisions with data. It generates strong reports with actionable items. "One example is our tank utilization report," Jones explains. "You can run a report showing all the steel you have in the field. If there is a case where a 1000-gal. tank would be better than the 500-gal. tank installed, the report will tell you." This reduces the number of deliveries to a tank and advises which tanks need to be "switched out."
OptimizerPlus also does scheduling while you sleep. "The No. 1 thing propane marketers talk about is that they are tired of routing," says Lynn Sheets, executive business consultant at K&K Management Solutions. "OptimizerPlus automates that." It handles K-factor, call-in, and Julian tanks; adjusts for summer and fall fills; and utilizes imported tank monitor reads for efficient scheduling. "It's all automated," Sheets notes. "It follows your rules and decides the best delivery to make." You can not "out think" the OptimizerPlus.
The company's e-commerce module, Energy-Commerce, has been enhanced with PCI compliance. "Our customers don't have to store credit card numbers; it's stored at the merchant processor," Jones explains. Energy-Commerce also allows customers to text ACH and credit card payments. It integrates with the Energy-Force system, so payments are updated and don't have to be manually keyed in. "During the pandemic, we've had customers decide they need to utilize our E-commerce, because their customers are asking for it," Sheets added.
K&K Management Solutions' training has gone online during the pandemic. Customer training is being done via Cisco Webex and new customers are being brought live remotely, with no need for onsite setup and training.
"We've adapted and we're moving forward with the way things are changing today," Jones says. Sheets adds that is true of the company's software, too. "Energy-Force is always evolving with the changing climate and conditions."
For more information, visit www.energy-force.com. — Steve Relyea