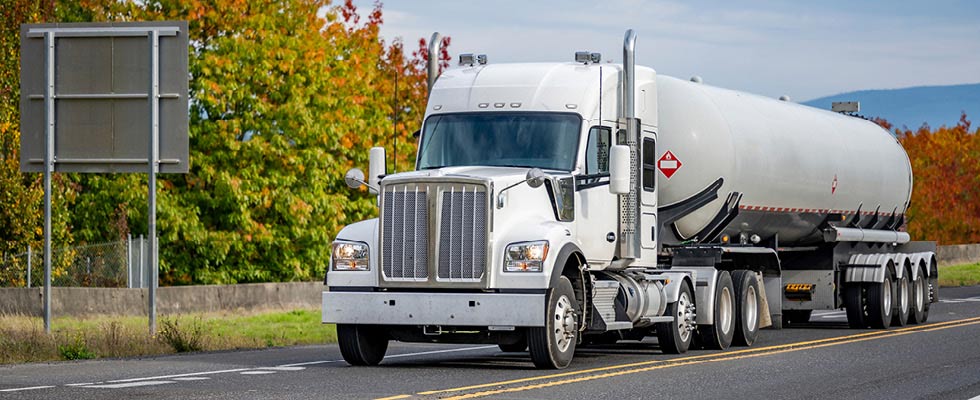 The risks & coverage tips trucking companies should keep in mind when selecting insurance
Monday, September 11, 2023
In 2022, the global propane market size was evaluated at $87.58 billion, with growth expected at a rate of 5.2% by 2030. While expansive growth is encouraging, an increased risk of accidents is inherent in that growth. According to the Federal Motor Carrier Safety Administration (FMCSA), there are more than 5,000 truck accidents involving hazardous materials annually, as gasses are pollutants, toxic, flammable and often explosive.
In the case of a non-combustible leakage, oxygen can be pushed out from confined spaces and cause all of the following: headaches, drowsiness, loss of consciousness, burns due to thermal radiation, smoke-induced breathing difficulties, contusions caused by excessive pressure and wounds caused by scattering shrapnel.
The usual causes of accidents are driver fatigue, bad road conditions, vehicle and maintenance issues, poor weather, large blind spots, problems with the load, or speeding and reckless driving. Of course, when done with care and a focus on risk management, this work can be performed safely.
Yet consider the cost of a collision or spill. Trucking accidents often come with large lawsuits, and the volatility of fuel makes these accidents that much more impactful. A savvy lawyer would push for economic damages as well as non-economic damages, such as mental anguish, pain and suffering, physical impairment and loss of enjoyment of life.
For example, a Traverse City, Michigan, couple was awarded more than $2.3 million in damages for injuries sustained in a crash with a propane tanker. At the time, it was the largest personal injury resolution in that court for at least 25 years, covering past and future damages. Another example: Nearly 300 propane tanks exploded after an accident on the Long Island Expressway, likely caused by black ice. While there were no injuries, the cost of the loss of the haul, damage to the truck and cleanup was considerable.
The fact is, transporting hazardous and flammable materials is clearly risky business, so keeping property covered with adequate insurance is even more important. Insurance is necessary to keep the business going while protecting people, vehicles and the environment — but which insurance is best?
Automobile Liability for Distributors & Dealers
Traditional coverage elements such as general liability and health insurance are critical to protecting your business in the face of third-party claims and injuries, but automobile liability and physical damage coverage help protect your vehicles and equipment.
More specifically, automobile liability protects propane haulers in the event of property damage or injury owing to a commercial vehicle. With liability coverage for collisions, your business is protected from claims and civil suits from the other party. This liability coverage also protects your business from fines and penalties, as more and more states require businesses to have automobile liability for any business that involves travel or transportation.
What's more, if there is a collision or fire, or even if your truck is stolen or vandalized, this coverage will help cover the costs of repairs and replacement. If your truck includes specialized equipment for loading and safely transporting butane or propane, adding coverage for those assets is also essential.
Pollution Liability
Pollution liability assists haulers in the event of accidental discharge of fuel, while contamination and spoilage coverage address contamination or deterioration damage. Nearby victims could also inhale chemicals, experience radiation exposure or suffer reactions from contamination. The cleanup for these types of incidents can be extensive and expensive because of the nature of propane — not to mention the cost of injury from contamination.
Case in point: The Illinois attorney general sued a trucking company for an over 4,000-gallon diesel fuel spill that contaminated a pond. The lawsuit sought to force the company to clean up the spilled fuel immediately and prevent future spills, and also imposed civil penalties on the company.
Erroneous Delivery Coverage
Coverage for erroneous delivery is another form of insurance that provides protection if the wrong fuel is delivered or fuel is delivered to the wrong receptacle or location.
How to Secure Coverage
It's evident that there are many ways propane hauling can lead to risk exposure. It behooves a hauling company to work with a reputable excess and surplus lines insurance carrier to secure liability solutions for specialty risks like propane hauling.
Equally important, haulers should seek out an all-in-one approach that allows them to have broader coverage. Plans that offer up to $10 million limits, with higher limits available through reinsurance partners, are ideal. Haulers should look for insurance carriers that foster a partnership approach and allow direct access to underwriting, risk management and claims management.