(March 31, 2020) — By Tucker Perkins… Propane marketers have a unique opportunity their competitors don't have: customer interaction. Having propane delivered by real people from the community is very different from the customer experience of using natural gas or electricity. Our industry's fine propane marketers do what they do better than anyone else, but in this age of specialization, it is important to have a function that you excel in.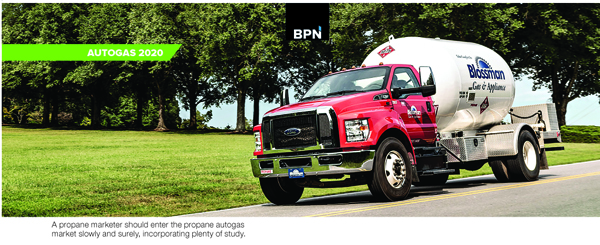 For example, if you sell only to residential customers, do it in a way so that a homeowner would never consider going to another company or another fuel source. Create "Raving Fans," like Ken Blanchard suggests in his book of the same name, and you'll always be successful.
DIVERSE CUSTOMERS
Propane marketers also benefit from having a diverse customer base: customers that use gas year-round and aren't sensitive to degree-days, like home heating. For some, that means finding customers with water heating, cooking, and clothes drying needs, and for others it means supplying propane to an engine, like a forklift or an agriculture engine. These markets offer benefits in supply planning, equipment usage, and reducing the peaks and valleys we all experience with seasonal business.
There's another way to guarantee year-round customers, and that's with autogas. You might view autogas with a raised eyebrow, but there are more and more fleet vehicles on the road that are using it, like delivery trucks, transit vehicles, and school buses. Take a look around—they are likely even in your own community.
If you're not introducing local fleet operators to autogas or currently serving these types of fleets, you're missing a major business diversification opportunity that's only going to grow. And, you've got your own vehicles that could run on autogas. That's quite an endorsement for propane—and perhaps the best marketing for your business.
MARKET ENTRY
How does a propane marketer enter the autogas segment? Slowly and cautiously, for sure, incorporating a lot of study. PERC has plenty of information to help you in your adoption and marketing. Propane.com is always a good place to start. If you want to take more steps, consider these three options.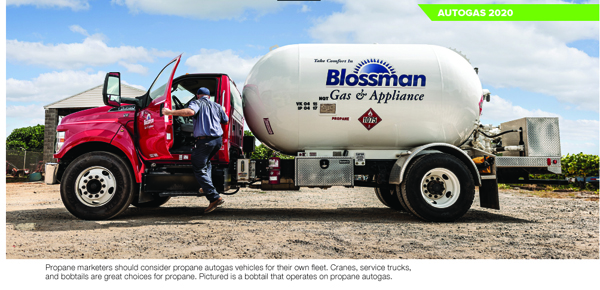 1. Target local fleets that are good candidates for propane autogas use.
Current commercial customers are a good place to start. Do they drive 20,000+ miles per year; return to base each night; use vehicles that have autogas options like Ford, GM, and Freightliner; and keep those vehicles for about 10 years? Do they need to improve their emission-reducing image? Can they benefit from reducing their fleet costs to be more competitive? Commercial fleets as diverse as pest control to delivery companies are fueling with autogas. Autogas is also operating in thousands of public fleets across the nation, such as transit shuttles, school buses, and police vehicles. Target the local ones in your area.
2. Install an autogas dispenser at your location.
This can attract local fleets and other users to your company. The recent federal tax credits available for infrastructure will help with initial cost while driving awareness of your brand and providing incremental gas sales. Once installed, implement marketing tactics to promote it, such as listing your dispenser on local alternative fuel websites and using social media.
3. Consider propane autogas for your own fleet.
Crane trucks, service trucks, and bobtails are the typical choices. The obvious reason is cost savings. Autogas is cheaper than diesel or gasoline, the vehicles are simpler to maintain, and the cost per mile is significantly less than diesel or gasoline. There are tremendous benefits to your brand in using a clean fuel in your community as well, particularly when you message the benefits of quiet, clean, and healthier. Choosing propane for your fleet can be hugely beneficial to your brand, your community—and your business' bottom line.
AUTOGAS BENEFITS
In a world consumed by environmental concern, autogas vehicles offer a rare combination of benefits to user and community. They are quiet, they are inexpensive to buy, operate, and maintain compared to many other choices, and the emissions are often the cleanest of any choice. They are strong and durable, so for fleets that have concerns over payload and range, autogas is the only environmental- and cost-conscious solution that makes sense.
And the autogas engine technology keeps getting better and better. We continue to see great innovation in technology that proves we can be competitive with diesel on durability, and with electricity on emissions. Plus, no fuel offers the entire package that propane can—quiet, capable for range and payload, simple and clean, ideal for all weather conditions, domestically produced, and most importantly, the very best total ownership costs for vehicle, fuel, and infrastructure.
But selling autogas to fleets is no small task. The sales cycle can be long, and you are connected to the fleet for service issues for the life of the vehicle. Enter the market with eyes wide open. Study, and study some more. Study the barriers, too, usually around service and dealer support. Talk to other marketers using or selling autogas, and if you want to know more,
contact Steve Whaley, PERC's director of autogas business development, at
This email address is being protected from spambots. You need JavaScript enabled to view it.

.
We're here to help you be successful, both today and well into the future.
PROPANE'S FUTURE
As we study the future of propane and how propane marketers respond, a few major elements stand out. Whatever we do, we must do it well. Generalists will find it hard to prosper, and specialists will be in demand. Marketing is key; know the customer, tell the customer why they should choose you, deliver on that promise, and, like Ken Blanchard says, "create Raving Fans."
Tucker Perkins is the president and CEO of the Propane Education & Research Council, based in Washington, D.C.