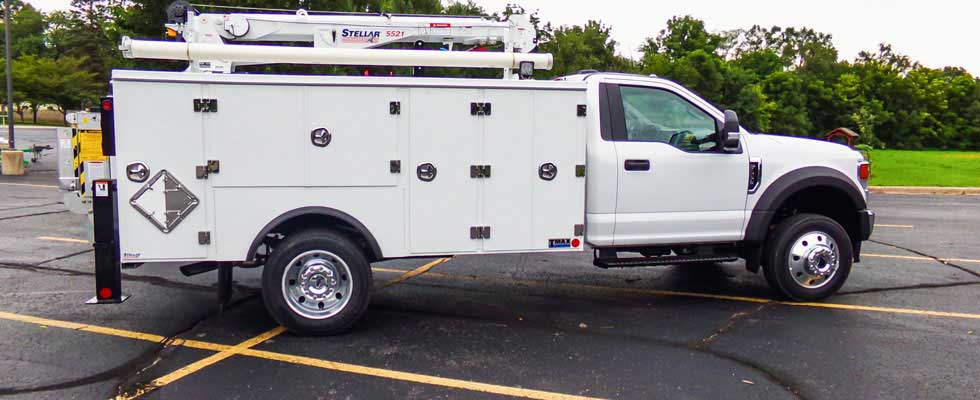 For service trucks, transports & other propane equipment, manufacturers reiterate the importance of planning ahead
Wednesday, September 7, 2022
As we approach the 2022-23 winter heating season, ongoing industry challenges like supply chain disruptions and labor shortages persist for those owning and operating businesses in the propane industry. But there are ways to circumnavigate some of the more drastic effects of these challenges.
BPN spoke with custom truck body and crane manufacturer H&H Sales Company CEO John Hawkins and propane tank truck and transport manufacturer Arrow Tank and Engineering's Marla Verlinde, sales and marketing, to understand the current climate for propane equipment and how manufacturers are working around some of these obstacles. Read more below.
What ongoing supply chain issues is your company experiencing?
Hawkins: Chassis availability is an ongoing challenge for us right now. And other materials can vary — sometimes it's axles; sometimes it's microchips; sometimes it's something else causing delays. In talking with other dealers, they're having the same difficulties.
Verlinde: Shortages have become somewhat of a norm, and we manage them as best we can. Luckily, we haven't had long-term outages, so we have been able to manage the small hiccups.   
How are you working to navigate that as a company?
Hawkins: For one, we continue looking for new suppliers to supplement the current suppliers we have. Of course, a lot of times their pricing is not as good as what your current suppliers are offering, and that hurts, too. As far as our quotes are concerned, we are clear upfront that the quote could be subject to any additional price increases of the product related to obtaining necessary parts from suppliers. Most of our customers understand — they're going through similar challenges. And we do our best to keep customers up to date about any changes in production costs.
Are there other broader market trends forcing your company to change manufacturing & management processes in the latter part of 2022?
Verlinde: The biggest challenge is labor shortages. Like most every other business out there, we are short the number of workers we need to complete projects in a timely manner. The other challenge we face is the retirement of long-term employees and the lack of qualified candidates to fill the positions. To combat these challenges, we have increased wages and been more aggressive with our strategies to get candidates in the door. We are currently working on an in-house training program. This allows us to hire candidates with little to no experience and train them for our specific needs.
What do you expect we will see in the upcoming 2022-23 heating season with challenges related to drivers, ELDT/CDL training, safety regulations, etc.?
Verlinde: We see more marketers with a desire to control their own destiny when it comes to transport operations. The transport market has been a little soft the last 18 to 24 months. Trucking companies were looking closer at their fleet and, in some cases, selling inventory. There has been a shift in marketers evaluating if it makes sense to own their own transport. Diversified companies, like co-ops, can shift employees around to take care of the greatest need at their company. They have made the investment to have a transport available and train people within their organization to be able to get behind the wheel when the need arises.
What is one facet of the total cost of ownership for service & transport trucks that you routinely see marketers failing to consider?
Hawkins: The total cost of ownership has definitely increased in recent years. But the marketer needs service trucks — it's just part of the business. There are some luxury items that aren't necessary to have in the truck but help solve other problems for the marketer. Air conditioning in the cab is now a basic feature, but automatic windows and doors are still an add-on — but those features improve the usability and comfort for the operator, and in a driver shortage like this, comfort for the operator is important. The service life of these trucks can also vary from five to 15 years of use, depending on how the company takes care of them. So it is wise for most marketers look at buying a more expensive truck in the hopes that the truck will hold up for years to come.
Verlinde: Knowing the upfront cost of a transport trailer is easy; the long-term costs are difficult to anticipate. When it comes to longevity of the trailer, our customers are choosing to use stainless steel extensively. Stainless steel is heavier than aluminum, so it is a delicate balancing act. Stainless steel has a chromium component, giving it a protective film and excellent corrosion resistance compared to aluminum. It is also nonporous, which gives it an extra level of corrosion resistance. Stainless steel materials are the best approach to trailer construction whenever when operating in harsh climates.
Tell us about new features, developments or technology on your company's trucks.
Hawkins: We've been offering more aluminum-built and stainless-steel materials. We try to build trucks that will outlast one to two chassis' lives. So even if they switch out the chassis every five to 10 years, depending on the miles they put on it, if they are taking care of the body of the truck, they can transfer it to a new chassis and get double the life out of that body and equipment. We've also been upgrading the cranes that we put on the trucks to have a higher capacity so that if an operator is less often in a situation where they have a lighter capacity truck with a tank, they can't pick up and set. And then there's a lot of little things — we're putting backup cameras in the trucks; we're equipping the newer trucks with back, front and side sensors for safety reasons; and more.
Verlinde: We recently made a significant investment in new fabrication equipment and transitioning toward new vessel design specifications that reduce weight and cost. Reduced weight results in increased payload, which means less miles per gallon delivered.
Anything we haven't discussed?
Hawkins: The main thing is that we're all going to have to start planning further ahead than we normally do. That goes for purchasing new equipment, too. If you know that in a year's time you will need to replace a truck in your fleet, you need to be ordering the truck now.