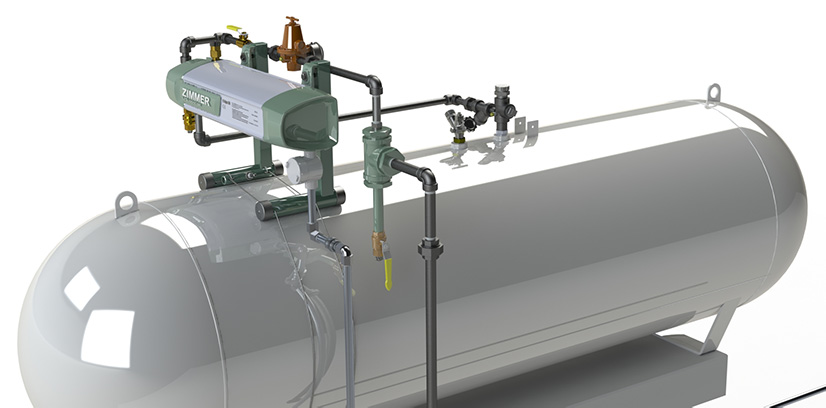 The latest offerings from manufacturers of propane equipment.
New and refined products, mobile apps, growing libraries of online training videos, and more frequent webinars are among the latest offerings from manufacturers of propane equipment. BPN spoke with representatives of seven suppliers of regulators, valves, gauges, meters, vaporizers, pumps, and locks for tanks and asked, what's new? While answering, they highlighted products that provide greater efficiency and training that has gone virtual in response to the pandemic.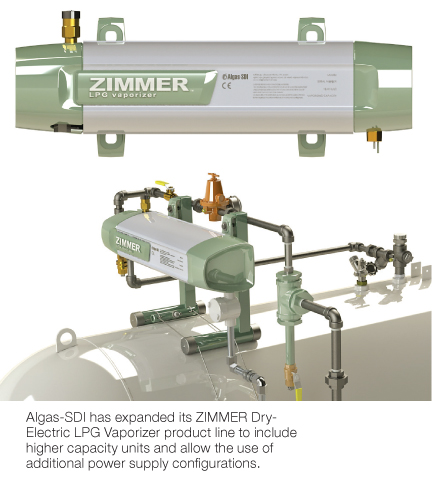 Algas-SDI's latest release is the new version of the ZIMMER Dry-Electric LPG Vaporizer. While developing the new version, the Seattle, Wash., company focused on using the proven and reliable technology in the original ZIMMER product line and improving the design to make it even easier to use.

"We expanded the product line to include higher-capacity units and allow the use of additional power supply configurations such as 480V 3 phase power," explains Kirsten Bellar, sales director, LP Gas Distributed Products Division. "These elements make the ZIMMER easier to use in a broader range of applications."
The ZIMMER has a number of features that provide simplicity, efficiency, and a low cost of ownership. First, it requires little to no maintenance. Second, the components are easily accessible without removing the unit from the installation. Third, the explosion-proof design allows ZIMMERs to be installed with no distance setbacks from the LPG storage tanks and cylinders, building, or other components in the installation. And, fourth, ZIMMERs can be installed in a horizontal or vertical position.
"This feature, coupled with multiple installation and mounting options, makes the ZIMMER a perfect fit for space-constrained installations and the most versatile option for all applications," Bellar tells BPN.
"Algas-SDI is committed to continuous innovation, quality, reliability, and the ease of use of our products," she adds. "We focus on these same elements during pre- and post-sales customer service. We do this by listening to the voice of our customers. We ask our customers: How can we help make the use of vaporizers easier? What can we do better? It gives them the opportunity to provide us feedback on our products so we can continuously improve them."
While the pandemic is preventing the presentations the company would usually offer at trade shows and during an annual workshop at its facility in Seattle, Algas-SDI remains very strong on educating propane marketers on the proper application, sizing, installation, and maintenance of these vaporizers. Currently, the training is being offered virtually. To request virtual training, contact Kirsten Bellar at kbellar@algas-sdi.com.
The company is also expanding the library of training videos on its Youtube channel: youtube.com/user/ALGASSDI/featured.
"Algas-SDI strives to make things easier for LP-gas marketers," Bellar concludes. "We want to continuously educate them about the benefits of using vaporizers, proper applications, and installation and be able to help them with a complete solution for their vaporization needs."
For more information about ZIMMER and other products from Algas-SDI, visit algas-sdi.com.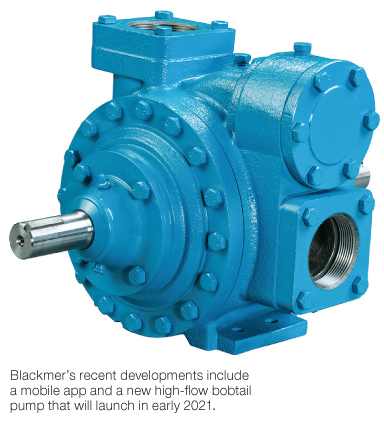 Blackmer, part of PSG, a Dover company, has developed a new high-flow bobtail pump that will launch in early 2021. "This new pump will deliver higher displacement drops in a heavy-duty package, allowing for more deliveries in less time," Kyle Hicks, product manager, tells BPN.
"As competition increases, we are continually improving the flow capabilities of our products," he adds. "High flow rates allow our customers to deliver more propane in less time and complete more deliveries for their customers.
"At Blackmer, our focus has always been on reducing downtime and enabling our customers to keep their pumps running as efficiently and safely as possible. Blackmer propane pumps offer superior reliability and are backed by a five-year warranty and two-year performance assurance. This focus is magnified during these uncertain economic times and is a valuable cost-saving benefit for our partners," says Hicks.
The company has also developed a new mobile platform called Blackmer+ that helps its customers get information about pumps or compressors from their smartphone. "The Blackmer+ mobile app provides all relevant details for maintaining pump and compressor products and will even help determine when a pump or compressor may need to be serviced so they can keep running effectively," Hicks explains.
Blackmer+ enables users to create a living catalog of all the Blackmer products they own; view maintenance events that can be put into their calendar or shared with their team; access Blackmer support; get the latest documentation directly from Blackmer; and maintain notes on each product. It is available on the Apple App Store and Google Play.
To learn more about these and other Blackmer products and information, visit blackmer.com.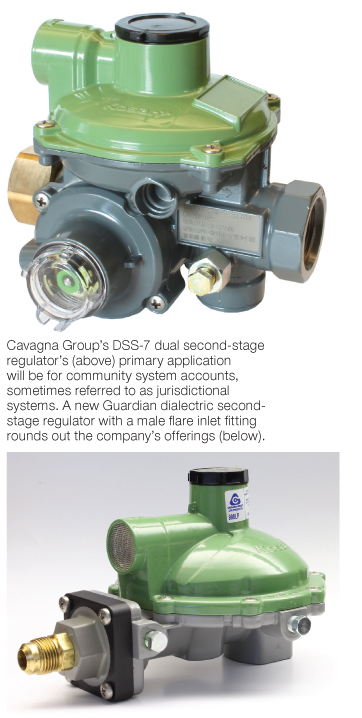 Cavagna Group will soon be adding three new products in the U.S. As this was written, all three had completed, or were soon to complete, testing at UL. They will become available from distributors during the first quarter of 2021.
One is the Ultrasonic Smart Meter. This is connected through an Internet of Things (IoT) cloud. That means marketers can bill the customer for the propane as it is used without the need of sending out someone to read it, explains Peter Dwyer, vice president of sales and business development, LPG Division, Cavagna North America (Somerset, N.J.). The Ultrasonic Smart Meter also has a solenoid valve that can be shut off remotely.
The second soon-to-be-released product is a new type of second-stage regulator. Dubbed the DSS-7 "dual second-stage regulator," its primary application will be for community system accounts, sometimes referred as jurisdictional systems. "To meet the requirements of jurisdictional systems, propane companies have sometimes had to use natural gas regulators with propane," Dwyer tells BPN. "Soon, we will have a regulator built for this purpose." It will have a capacity of 2.5 million Btu and features an over-pressure shut-off (OPSO) device.
The third upcoming product is a new addition to the Guardian (dielectric) series of second-stage regulators. This regulator will soon be available with a male flared inlet connection in addition to the already available female threaded inlet connection. "This reduces the chance of gas leaks by eliminating the need for an additional fitting," Dwyer says. The Guardian series regulators incorporate dielectric protection, in accordance with NFPA 58 where electrical isolation from fixed piping systems entering a building is required.
For more information about these and other products from Cavagna Group, email info@cavagna.com or visit www.cavagnagroup.com.
Lock America (Corona, Calif.) offers two types of high-security locks for propane tanks. These prevent unauthorized fills and connections of tanks owned by the propane marketer.
One, the Fill Valve Lock, prevents unauthorized fills. It has a screw-in fitting with a slip ring on top. "This keeps homeowners from having the tank filled by someone other than the company that owns the tank," Dan Walsh, sales manager at Lock America, tells BPN. "We sometimes hear that people fill up more often after a lock is installed on the tank. Propane companies tell us that a customer who was calling them every two years suddenly starts calling them every six months. Before putting on the lock, the propane company didn't know something was being taken from them."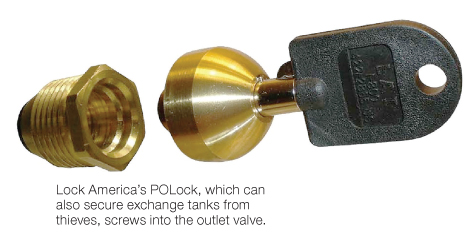 The Fill Valve Lock is available four models, with different combinations in a standard or heavy-duty cap, and airtight option. The standard cap was the original; the heavy-duty cap was added later for those who are concerned that someone could drill through the thinner one. "There is a little bit of a price difference, so if someone doesn't feel they need the heavy-duty cap or the airtight one, they will stick with the original," Walsh explains.
Lock America's other lock for propane tanks, the POLock, prevents unauthorized connections. It works similarly to the Fill Valve Lock, but secures the outlet valve. "If someone is delinquent, you can put this lock on the outlet valve," Walsh says. "That's better than removing the regulator, capping the valve, and hoping that the customer doesn't remove the cap, install a line, and blow up their house."
Both locks use a tubular key. The locks are assembled to order, with a key code for each customer. There are 60,000 different codes possible. "If someone takes off those locks, drills them off, they are doing an illegal act," Walsh adds.
Because they are assembled to order, Lock America can use the same key code on other locks, such as the padlocks or puck locks used on cylinder cages. "That way, the driver doesn't need multiple keys for the different locks on his route," Walsh notes.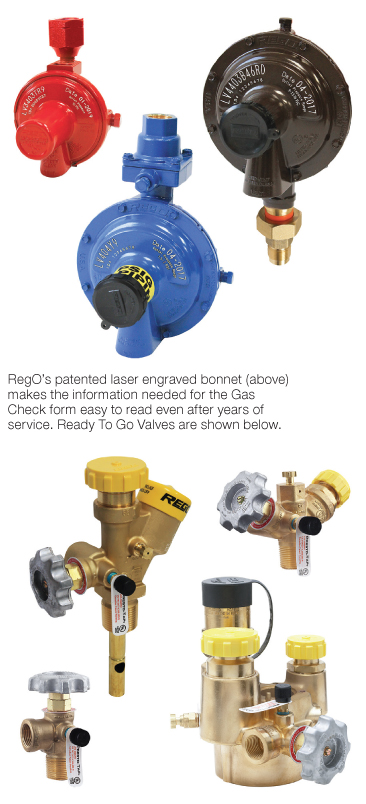 For more information about Lock America and its products, visit laigroup.com.
RegO (Elon, N.C.) focused on three projects in its propane product lines in 2020, and will continue to do so in 2021, reports Mark Dirks, senior director, global marketing and LPG products.
One is a relaunch of a product line it's had for a few years: Ready To Go valves. These come with a RegO Multibonnet assembly and a Presto-Tap fitting, built in. The Multibonnet assembly allows for replacement of the service valve packing without disconnecting gas service or evacuating the tank. The Presto-Tap fixture allows system pressure checks without breaking into the system. "This saves time that would be spent unhooking pigtails and reduces fugitive emissions," Dirks explains. As this was written, new website pages were about to be unveiled as part of the relaunch. The message of the relaunch, he tells BPN, is, "Save time and money; specifically ask for RegO tank valves when you buy or refurbish tanks."
Another ongoing project at RegO is the continued expansion of the number of regulators available with RegO's patented laser engraved bonnet. The laser-engraved information is easy to see and matches available stickers for Gas Check and record-keeping. "We've continued to expand that line, meeting local jurisdiction requirements and the needs of how the products are used," Dirks says. RegO's portfolio contains more than 220 standard regulator models for LPG, and the company adds a few to that number each year. "The 'See the Difference' promotion was started in 2018 in response to feedback from the market about needing an easier way to read the information required for the Gas Check documentation," he explains. "The patented laser engraving makes the information needed for the Gas Check form easy to read even after years of service."
A third focus this year is a growing offering of virtual training. Traditionally, RegO would train distributors and the distributors would go out and train marketers. This year, in response to the pandemic, the training has gone online. "We educate the industry about our portfolio of products, how they are used, and the benefits they provide," Dirks explains. "We also explain how systems are put together, and we share tricks of the trade we've learned in our 100-plus years in the propane business. We help marketers do their jobs efficiently and effectively." To register for virtual training sessions, marketers can contact their local RegO distributor.
For more information about these and other RegO products and services, visit regoproducts.com.
Rochester Gauges (Dallas) offers products that make it easy to read tank levels quickly, accurately, and remotely. The company's e-Dial,
e-Temp Sensor, and e-Dial App are available for bobtails, transports, and bulk storage tanks.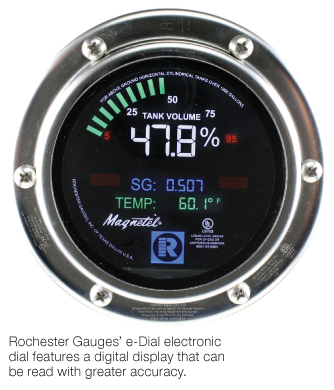 With the e-Dial electronic dial, a digital gauge indicator provides the temperature-compensated volume level of tank contents. With its digital display, it can be read with greater accuracy. The e-Dial also features two independent level alarms that can be programmed by the user. When the e-Temp Sensor is added, it provides continuous automatic temperature compensation of liquid levels. (Without the e-Temp Sensor, users must manually enter the current tank content temperature.) And, when the e-Dial App is downloaded to a handheld device, these levels are transmitted wirelessly through Bluetooth wireless communication.
"Now, drivers must calculate exactly how much content there is in the tank. It's cumbersome," Sam Fung, product manager at Rochester Gauges, tells BPN. "With e-Dial, there is a digital liquid display of temperature-compensated volume level.
"Another benefit is that the e-Dial has a digital liquid level readout, rather than a pointer dial. It's more accurate, because it removes the dial parallax. That's the distorted reading you get when, for example, you look at a speedometer while sitting on the passenger side of a vehicle," he explains.
Together, these products from Rochester Gauges enable drivers and office staff to read tank levels remotely on their handheld device. For example, a driver can see the amount of fuel in the tank of the bobtail or transport while on the road, and office staff can read the tank levels bulk storage tanks and any bobtails or transports in the yard.
The e-Dial is easy to install and set up. It retrofits any existing Magnatel and Taylor gauges.
For more information about the Rochester Gauges e-Dial, visit rochestergauges.com/product/e-dial.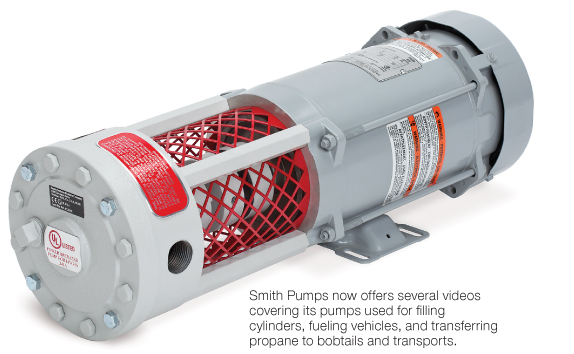 Smith Pumps (Newbury Park, Calif.) has been rolling out training videos over the last year and a half and has also added webinars. The manufacturer of liquefied gas pumps now offers several videos covering its pumps used for filling cylinders, fueling vehicles, and transferring propane to bobtails and transports.
"The videos started coming out before the pandemic, but they are especially needed now," C.J. Smith, vice president of operations at Smith Precision Products, tells BPN. "We prefer to do training in person, but during the pandemic we've been using these videos and hosting webinars with customers.
"One advantage of the webinars is that we can reach people in remote areas who couldn't attend our in-person training previously. We've seen from who attends that we are reaching people we didn't reach before as well as overseas customers."
The videos available on the company's website include the E-series pumps, which transfer 10-15 gallons per minute and are used in cylinder dispensers; the GC-1 series pumps, which are used in both cylinder dispensers and autogas dispensers; the MC-1044 series pumps, which deliver intermediate flow and are often used to fill multiple cylinders at one time; the MC-2 and MC-3 series pumps, which are used to fill bobtails; and the MC-4 and MC-5 series pumps, which transfer up to 250 gallons per minute and are used at propane terminals for filling transports.
"It's much easier to explain things when you can show people a photo or a video," Smith notes. "The online training covers the same materials we cover in our in-person training. During the pandemic, this is the easiest and most direct means possible."
The webinars are hosted in cooperation with distributors. To request an invitation to attend, contact your local distributor of Smith Pumps.
The training videos can be viewed from the company's Youtube channel via a computer, tablet, or smartphone device. Visit www.smithpumps.com and click on "Training Videos" or visit http://smithpumps.com/tutorials.php.