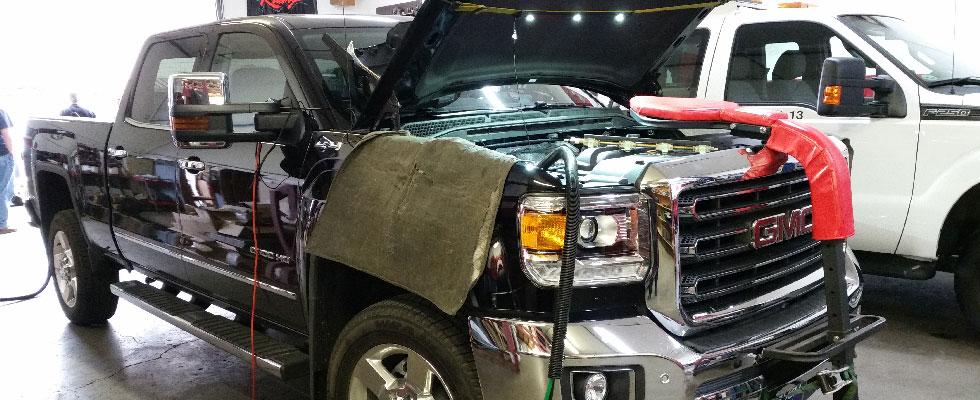 Auto repair shops share experiences working with autogas vehicles
One has a lifelong interest in alternative fuels and internal combustion engines. Another saw an opportunity to provide a service no one else in his area was offering. A third saw an opportunity to join a trend toward alternative fuel vehicles. A fourth saw a chance to help a local government save some tax dollars.
Those are some of the reasons four owners and managers of auto repair shops got into the business of servicing vehicles fueled by propane autogas. All offer autogas conversions and provide service and repairs for autogas vehicles. Representatives of these four shops shared their experiences with autogas vehicles and the benefits they have seen those vehicles provide to the fleets that operate them.
'Anything But Gasoline & Diesel'
When Dan Wolff studied automotive technology in high school, he focused on alternative fuels.
"I planned a career in anything but gasoline and diesel," he said. Today, Dan and Penny Wolff own an auto repair shop that offers a variety of services around propane autogas.
Wolff Specialties in Vancouver, Washington, is an ICOM dealer and works on other suppliers' systems as well. The shop offers autogas conversions for not only roadgoing vehicles, but also lawnmowers, Cushman products and agricultural equipment. "We want to put propane on every vehicle that will hold it," said Penny.
They will also train customers' staff on propane safety, operation, fueling and maintenance. "We take the mystery out of the conversion," said Penny.
Dan performed his first autogas conversion while in high school in 1975. He then went on to college but left when he was offered a job at a propane company. There, he converted light trucks and RVs to run on autogas. Eventually he was put in charge of the company's carburetion center and converted 380 school buses in Portland, Oregon.
When the propane company decided to get out of motor fuel in the early 1990s, Dan purchased all their equipment and parts and opened his own shop. There was a rough patch for the autogas industry in the 1990s, as vehicles transitioned from carburetors to fuel injection. But regardless of this transition, Dan said, "there were still a lot of people who were believers in propane."
There were also a lot of school buses running on propane. When autogas system suppliers developed new technology for the new vehicles, the market began to grow again.
When talking with potential customers, the Wolffs pointed out the benefits of propane. Among them: It can't be stolen, it's not a greenhouse gas, it's safe and it lasts. "After 20 years in a tank, it's as good as when you put it in there," said Dan. In addition, today's autogas systems last 200,000 miles, a lifetime for a municipal vehicle.
They also note the advantages of bi-fuel systems like those supplied by ICOM. These allow vehicles to run on autogas or gasoline, changing from one to the other at the flip of a switch. One benefit is reliability. "With bi-fuel, if one system is down, even in the field, you just switch to the other, continue doing the job and fix it later," Penny explained.
Another advantage is range. "Because of the capacity of the two tanks, it prevents you from running out of fuel," Dan said. "You can run either fuel. That's especially important to police cars."
When they talk about autogas with a municipality or a company, they find out what vehicles are in the fleets. They then determine which fuel would be the best solution for each type of vehicle.
"We believe certain vehicles do well on electric, others on compressed natural gas and others on propane," Penny said. "Every fuel has its spot. Propane is a good fit for work trucks, police cars and airport shuttles — those kinds of vehicles."
Carving a Niche
Bryan Haynes was asked by a customer if he would look at an autogas-equipped Ford F-150 and see if he could work on it. He could, and today he services not only that pickup truck, but the customer's fleet of autogas-fueled Ford Transit vans.
After looking at that F-150 in 2016, Haynes and his son were trained on the Alliance AutoGas systems. Haynes's shop, Haynes Automotive in Lucedale, Mississippi, now provides autogas conversions and maintenance for another fleet as well. He services autogas-fueled bobtails used by Blossman Gas, a founding member of Alliance AutoGas. He covers a 350-mile radius, traveling to Blossman Gas locations and working on the trucks on-site.
Haynes had worked on older autogas systems for carbureted vehicles years earlier, starting in 1998 while employed by a nursery and maintaining their vehicles. He opened his own shop in 2005 and continued working on that company's vehicles while also adding other customers. For a while, he maintained the vehicles of seven nursery businesses. When the housing crash in 2009 put six of those companies out of business, Haynes opened up his shop to the public.
When that autogas-equipped Ford F-150 drove up in 2016, Haynes saw an opportunity to carve a niche for his shop. "No one else around here was doing autogas vehicles," he said. "The owner of the F-150 had to call a guy from Atlanta, Georgia, to come down and work on it. That was expensive."
The older autogas systems Haynes had worked on were universal. They had to be adapted to each vehicle, which meant cutting and splicing wires. The newer Prins system used by Alliance AutoGas, on the other hand, is tailored and calibrated to each vehicle.
It is also a dual-fuel system, allowing the vehicle to switch back and forth from propane to gasoline. "That makes it an easy transition for a customer who is afraid of trying something new," Haynes said.
Haynes and Blossman Gas work together to promote these autogas systems to other fleets. The propane company trains the staff of fleets to fuel and operate the vehicles. If they have their own technicians, Blossman Gas trains them to maintain the vehicles. If techs ever need help, they call Haynes.
Since beginning to work on the modern autogas systems, Haynes has installed several on other vehicles. "The fleet that owns the Ford Transits is looking to buy new vans," he said. "I will do those, too."
Seeing a Trend
Bill Brown Ford, a dealership in Livonia, Michigan, saw a market trend toward alternative fuel vehicles. Knowing of a longstanding relationship between Ford and Roush, they decided to begin servicing ROUSH CleanTech propane units.
They saw an opportunity to be part of that trend, said Chris Greene, fleet center manager for Bill Brown's fleet department. "Given the market trend toward alternative fuels, the opportunity to be in at close to the ground floor seemed very appealing to us both monetarily, but more importantly to continue to be able to provide and solve clients' service needs in all capacities."
Having decided to pursue that opportunity, dealership staff were trained by the manufacturer of the autogas systems. ROUSH CleanTech's Customer Success team offers multiple training options for customers, dealers and service centers. These include online training, on-site training, factory workshop training at ROUSH CleanTech headquarters in Livonia and a full library of technical publications.
Equipped with this training, the Bill Brown fleet department will now service any Ford vehicle equipped with a ROUSH CleanTech propane system, as well as many other vehicles equipped with CNG systems.
"We've seen an influx in the number of vehicles seen," Greene said. "It is becoming far more common for companies to have multiple alternative fuel vehicles in their fleets. Some have become 100% reliant on alternative fuels."
Saving Tax Dollars
Kyker's Extreme Automotive offers a variety of products and services. The Greeneville, Tennessee, shop offers full automotive service and repair, tires, speed parts, lift kits and a variety of accessories.
For the past three years, it has also offered propane autogas conversions. Kyker's Extreme Automotive became a Certified Conversion Center for Alliance AutoGas in 2018. Dale and Lisa Kyker opened their shop in 1992. Dale had begun his career as an automotive technician 10 years earlier.
Kyker's Extreme Automotive started out doing mostly service and repair, but over the last 10 or 15 years got into classic cars, too. Today, the shop has seven bays devoted to servicing late-model vehicles and eight bays for doing custom work and restoring classic cars.
The automotive shop added autogas services when they were asked to convert some police cars using the Alliance AutoGas system. "I had done my first conversion in the 1980s, back when you would install a plate under a carburetor," Kyker said. "I said we'd be happy to do it."
He and three of the shop's technicians were then trained on the modern autogas systems. Their experience doing custom and performance work helped them quickly learn about the new autogas systems for today's computer-controlled, fuel-injected vehicles. "We're not afraid of trying new stuff," Kyker said. "We don't just bolt on new brake pads or water pumps; we help develop what's new and see how it works."
"Because these systems were going on city police cruisers, they would double their range, save tax dollars and not pollute more than they need to," he added. "Financially, it was income for us and tax savings for the town."
Having worked on autogas vehicles for three years now, Kyker is struck by how clean the vehicles run on autogas. "As a 36-year veteran of the automotive business, I like the cleanliness of it — not just the environmental benefits, but when you tear down an engine, the condition inside. It's amazing how much less sludge and hydrocarbon buildup you find," he said.
For operators of fleets, that translates into maintenance savings. The cleanliness makes for engines that last longer and oil filters and spark plugs that can be changed less often.
The Alliance AutoGas systems that Kyker's Extreme Automotive installs have another benefit: They are dual-fuel systems that allow the vehicle to run on both autogas and gasoline. For operators of fleets, that means if one system fails, the vehicle can continue running on the other. It also means that when both fuel tanks are filled up, the vehicle can travel twice as far between stops.
"When a municipal vehicle is at a jobsite, it can stay out there all day," Kyker said. "It's a no-brainer for police, fire and other fleets. It gives them that edge."