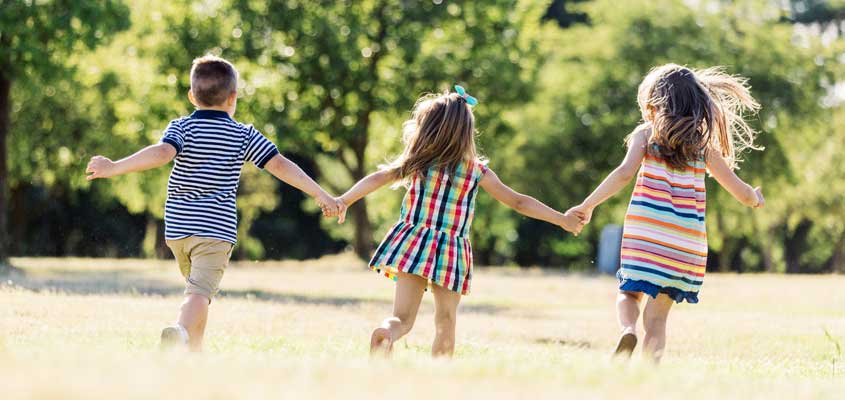 Industry colleagues reminisce on youthful memories & how they've shaped their lives today
Just when you thought you were getting to know some of our frequent responders, their childhood memories add a new dimension. Enjoy learning about what mattered to them in their youth and how these moments have colored their years since. In this column, adopted from the familiar "Heard on the Street" format, we offer our responders a chance to answer the question posed in the title. These are their replies reported verbatim.
Proud Moments
My best friend, Lori, got her ears pierced when we were in the second grade. She flaunted them to everyone and told me that I was definitely way too chicken to get my own ears pierced. I'm proud to say that 10 days later, my ears were also pierced. I'm also very thankful that later in life, I learned the difference between rising to a challenge and submitting to peer pressure.
Tonya Crow
GROWMARK Inc.
Bloomington, Illinois
I was a figure skater, and we were competing in the North Atlantic competition when I was a teenager. I had a free skate program to perform, and I was nervous and not confident I could do it. I wanted someone to give me the confidence, and I [eventually] had an 'aha' moment that I suddenly realized I had to find the confidence within myself. I had to face my fear and nervousness and go out and do my best. My best would be the best no matter what happened, and it was. I have carried that practice throughout my life!
Laura Irish-Jones
Irish Propane
Buffalo, New York
I was always the kid who was picked last in gym class for the baseball team, volleyball team — gee, any team. My family were downhill skiers, and I was pretty good at that, but my older siblings were better. Now, we had a summer cottage, and you would think that everybody could water-ski; but oddly enough, no one was really into it. So, one summer I decided that I would become the first person in my family to slalom water-ski — no matter that I was much younger than the others. And I did it! Funnily enough, after I pulled it off, my older siblings suddenly spent an inordinate amount of time working on their water-skiing skills, and of course, they were able to slalom in no time at all. But I was the first.
Leslie Woodward
Fairview Fittings
Oakville, Ontario, Canada
My proudest childhood moments centered around my dad. As a young teenager, I picked up many crafts, one of which was knitting. When my dad was delivering propane, he always wore big leather chopper mittens, but they weren't warm enough for the cold Minnesota winters. At that time, I made many pairs of mittens for my little nieces and nephews. My dad looked at me one day and said, 'If you can make mittens for them, can you make a pair for me to wear under my choppers?'
So, I decided to give it a whirl. I found out it took a whole skein of yarn just to make one mitten for him, and he needed a pair. He loved them! And it made me so proud. He would tell everyone, 'My daughter made these for me. Look how far up my arm they go. My wrists don't get cold! And they are so nice and warm!' Each year I would be proud to make my dad a new pair of mittens — sometimes twice a year because he was pretty tough on them. But it was a labor of love.
Susan Peterson
Rural Computer Consultants
Bird Island, Minnesota
One of my proudest childhood moments revolves around my youngest sister, Paula. She suffered from a severe form of a mental disability. She loved the times my siblings and I spent with her on our backyard swing, singing for her as well as our parents and neighbors. While it brought her enjoyment, we were the benefactors who learned about humility, compassion and love growing up with her. I remain grateful still today for those childhood experiences!
Rosie Buschur
McMahan's Bottle Gas
Dayton, Ohio
It is hard to pick one moment from my childhood that I am most proud of — not because there are so many to choose from, but because childhood seems so long ago and it's hard to remember. One moment that sticks out in my head is learning long division in school. For some unknown reason, I could not grasp the concept as it was presented.
Luckily for me, however, my grandmother was able to present the concept [in a different way] and it just clicked. It seemed like whatever the missing piece was just fell into place. I was proud to learn long division in those 15 minutes that she spent with me.
Jon Shepard
VK Inspections LLC
Mercer, Pennsylvania
One of my earliest childhood memories (which just so happens to be one I am most proud of) began in kindergarten when my teacher pulled me aside to ask if I would like to sing a solo as part of a performance for our school. Even at that young age, my love of singing was evident to those around me, and saying yes to that opportunity not only taught me courage but also the joy in embracing something you truly love to do. In that moment, I knew that my love for singing outweighed my fear of standing in front of a crowd. I still remember performing for my school at age six, and I believe that moment prepared me for repeated success throughout my life.
Jessica Johnson
ThompsonGas
Asheville, North Carolina
One of my most memorable moments during my childhood would have to go back to my 4-H days. My first love has always been horses, and I was given the opportunity to be president of a 4-H club that I helped start when my first leader retired. That club still exists today — @#% years later, I might add. For our awards banquet, I had to help get a guest speaker. I wrote a letter to the 1976 winner of the gold medal in that year's Summer Olympics, Tad Coffin. He won the three-day event on his horse, Bally Cor.
Although Tad was from Vermont, he was 'big time' in the show world, so I never thought I would even get a response. Well, to my surprise, not only did I get a response, but he accepted my invitation and was our guest speaker along with his dad. They brought the recording of his final ride, and because I was president at the time, I got to sit next to him at the banquet. It was one of the greatest thrills and honors of my younger days. I was very proud to have been able to have such an esteemed guest for our little Wind Riders club!
Judy Taranovich
Proctor Gas
Proctor, Vermont
I'd love to say that I accomplished something great for humanity, but as a child I was consumed by my dream of becoming a professional baseball player. I can say that I'm proud of playing on three championship teams and winning two league most valuable player awards while playing in the Southfield Khoury League. Although I never made it to the majors, I did continue playing ball through high school and on some nationally ranked teams in 16-inch softball as an adult.
Bruce Swiecicki
National Propane Gas Association
Tinley Park, Illinois
Pride Has Its Place
Thanks to our colleagues, we have some examples of defining moments in their lives that hopefully inspire you to dredge up long-past memories where a flicker of pride flashed before you. Small, prideful moments from long ago may have created lasting lessons and gratitude.