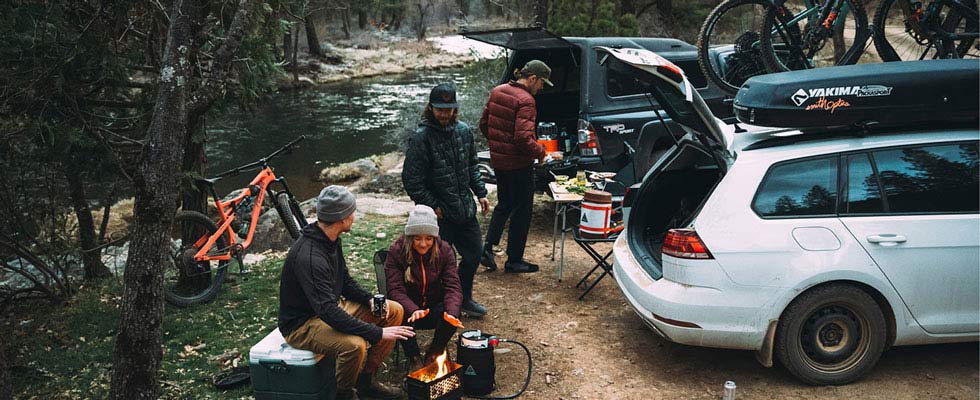 Ignik provides alternative offerings for propane on the go
"There have to be better solutions available." This was Graeme Esarey's initial thought, but the passing consideration would turn out to be the key driver in creating a new company and providing a sustainable solution to portable fuel for heating, eating and living in the outdoors. At the time (2018), Esarey, founder and CEO of Ignik Outdoors, was on a sailing expedition through the Northwest Passage with his wife, two daughters — then ages 9 and 12 — and more in the crew.
As an outdoorsman, propane has been a part of Esarey's life — or his pack — for a long time. And as an outdoor industry executive, Esarey became even more familiar with the solutions propane provides for life in the outdoors. Aboard the expedition sailboat they traveled on to the Arctic, they carried four aluminum Worthington cylinders to provide fuel for their needs.
Taken from Ignik's website (ignik.com), "With the rotating crew of Graeme's parents (in their 70s) and writer/photographer friends (in their 30s), this multigenerational team performed research on sea surface temperatures for NOAA, visited remote Native Alaskan settlements carved from the permafrost, and were followed by whales, chased by muskoxen, and, at times, enveloped by sea ice as far as the eye could see."
While on the expedition, the family stayed in a whaling camp that had a lot of temporary dwellings. The whalers who lived in them heated them with 1-pound, single-use bottles of propane. Because of the weather conditions, the camp went through a significant number of these bottles.
"The green bottles were all over the landscape surrounding that camp, but we also ran into them in various places throughout Alaska," Esarey said. The nagging thought kept returning: Better solutions must exist. Upon their return from the Arctic, that thought evolved into, "Why not us?" For people who are journeying long distances, whether by water or by land, refillable propane cylinders have long been an important factor in facilitating that travel.
"It's a fundamental aspect of our adventure," Esarey said. "But consumers don't always understand that refillable propane doesn't have to be scary or inconvenient."
While propane solutions exist in the form of larger, traditional refillable cylinders, they present obstacles in situations where a light, durable fuel source is necessary. And this challenge was the catalyst for Ignik and the development of its Gas Growler, a reusable, refillable 5-pound cylinder. The Gas Growler includes a carrying case, hose and adapter.
The goal? To show the outdoor market that propane cylinders are a safe, convenient and easily transportable fuel option — wherever you go. The 5-pound cylinder was Ignik's first product, but today the company sells five-pound, 10-pound and 11-pound cylinders, as well as a host of other portable fuel and heating solutions. Esarey said the team didn't have to invent a new product, but simply improve on one that already worked well for a variety of other applications.
The Gas Growler line is made up of both aluminum and composite cylinders, and each one is targeted to fill a specific need. All the growlers come with cases made of recycled materials and include straps to safely secure tanks in the customer's vehicle. The included hoses and adapters allow customers to customize the tank to their specific needs as well.
One example of that specific need is providing heat in areas where fire bans are in effect for much of the year. On the West Coast, with fire bans in many camping areas and parks, the Gas Growler connected to the company's Firecan Deluxe portable fire pit and grill provides both a heating and cooking solution that is safe and legal.
In the overlanding space, Esarey said people are willing to pay more for products and solutions that can go anywhere and do anything — or products that weigh less and are more durable. He mentions that safety and reliability are both important attributes for potential customers, but convenience is also paramount to determining the customer's decision to buy.
This point brings up one of the biggest challenges Ignik faces in selling the Gas Growler line — convenience of refilling. Since its inception, Ignik has worked to create a network of local and regional marketers that refill its products. But the responsibility of refilling is ultimately up to the customer, and it's a prevailing pain point that Esarey is trying to solve.
Refilling is far and away the topic of questions the company gets most from customers, Esarey said. "It's easy to understand what our product does, but I think the most challenging point is setting the customer up for that first refill. Once they've found their product and then the source for refilling and reusing, they're good to go," he said.
In addition to growing outreach to regional refillers, Esarey said much of the company's strategy for training and education lies in event-based outreach. He was recently at Overland Expo, where the 70,000-plus attendee list was a perfect opportunity to show the ease of use and safety provided by the Gas Growler line. "Not only do you have the chance to demonstrate the benefits of the product on the show floor, but also, at a show like that, many of the folks attending are camping or sleeping on the ground where the event is taking place," he said.
As for overcoming the challenges of convincing the customer of the value of the product and facilitating easier refilling, Esarey said it will take a combined effort between solutions providers like Ignik and propane marketers who refill cylinders. "Propane is safe, reliable and relatively inexpensive. If the problems are fear and complexity, the antidotes are convenience and simplicity, right? I live on Bainbridge Island [Washington], and we have two main propane retailers here. Their entire process is extremely service-oriented. You drive up; they take your tank out; they refill it for you; and you're on your way. Our job is to increase simplicity and knowledge of the product. We should be a part of the solution, not the problem."
What do we get in return? A more sustainable fueling solution that uses propane — another win for the industry and for the environment.