Wednesday, August 14, 2019
Can you recall these popular adages? "An ounce of prevention is worth a pound of cure." "It's better to be safe than sorry." "Safety doesn't happen by accident." Proverbs such as these likely resonate with the majority of propane marketers who understand the very existence of their business hinges on one critical factor—safety. Sayings like these stand the test of time because they serve as practical reminders to be careful, to play it safe, to not become complacent.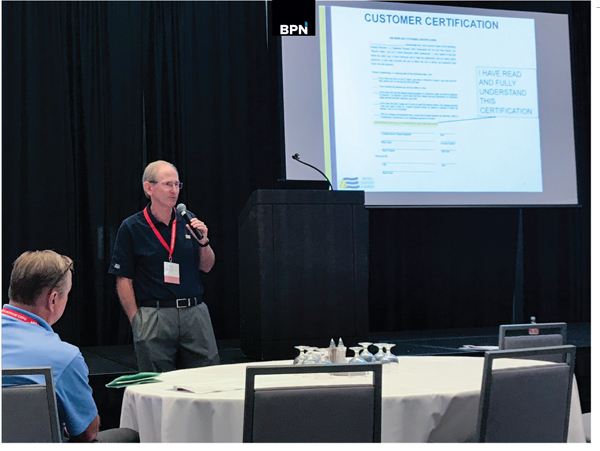 Safety underpins everything as it relates to the overall success of a propane business. In a recent seminar, trial attorney John G. Hansen of McCoy Leavitt Laskey LLC, a national catastrophic fire and explosion law firm, pointed out how many gallons would need to be sold to cover three realistic settlement amounts. It would take 10 million gallons to cover a $2-million settlement, 11 million gallons to cover a $2.2-million settlement, and 25 million gallons to cover a $5-million settlement. Nothing will repair the damage a safety incident can cause to a business' reputation.
When it comes to safety—there's nothing bigger than the little things. In his seminar at the Mid-States Propane Expo & Trade Show in Olathe, Kan., Hansen led a lively legal presentation that addressed the importance of creating a work environment in which safety is the highest priority; taking proactive, preventive safety measures that involve the entire staff; and acknowledging, sharing, and rewarding best practices. These, he said, are paramount to maintaining a thriving propane business.
Hansen, who serves as regional and national counsel for several clients including the National Propane Gas Association (NPGA) and the Propane Education & Research Council (PERC), prides himself on providing clients effective and efficient legal representation for 30 years, focusing primarily on defending catastrophic fire and explosion cases brought against gas suppliers and product manufacturers, and others. He has developed a particular expertise in propane cases in which he has represented retailers, wholesalers, transporters, and refineries in cases brought throughout the United States. Hansen has litigated hundreds of cases and has heard and seen firsthand how details in a case can get scrutinized under a legal microscope. He began his presentation by emphasizing the fact that no propane marketer ever wants to confront the worrisome question, "Did we do something wrong?"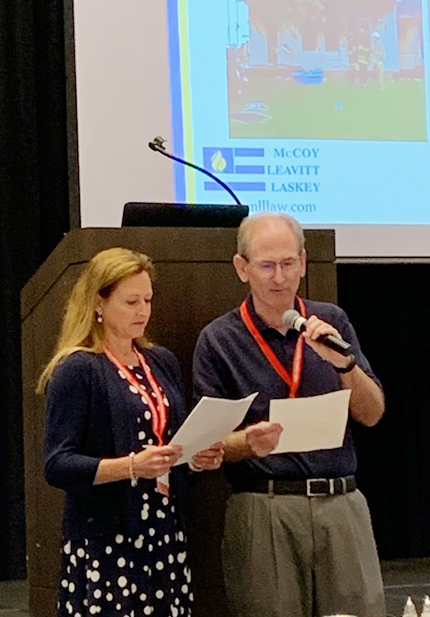 The propane industry prides itself on its safety record and does an excellent job with safety training and certification programs, safety materials, and other resources. Marketers are well aware that all it takes is one small mistake or wrong assumption to contribute to a potential accident and legal liability.
Hansen shared (gruesome) details from various legal cases in the news to help illustrate the severity of the burn injuries caused by an accident and helped the audience grasp firsthand just how, "there is nothing worse than a burn injury." Hansen's engaging presentation held the audience's attention especially during the role-play portions of depositions and court testimony. Hansen would pause to point out the areas where safety industry standards were not adhered to and offered the defense perspective with suggested actions to help avoid legal liability and the agony of worrying, "Did we do something wrong?"
Although juries are instructed to be fair and impartial, I realized after squirming through some of the injury details, it might be hard not to lean sympathetic to the pain and suffering of a burn victim. Ask yourself, when it comes to deciding between an injured plaintiff and the gas companies, who do you think jurors are more likely to identify with emotionally?
The following areas were among some of the topics addressed during Hansen's legal presentation that provided propane marketers insight about ways to implement safety measures to help reinforce their businesses against future liability issues:
CSRs—YOUR FIRST LINE OF DEFENSE
The critical role of a customer service representative (CSR) cannot be overstated when it comes to safety and accident prevention. Hansen remarked that customers expect CSRs to be knowledgeable and ready to give good advice. Many marketers, he added, still don't train their CSRs. Hansen frequently hears comments like, "They just take calls. They don't want to get involved. That's not their job. You can't expect them to know that stuff."
Hansen ardently disagrees, stating, "There are too many examples of when an accident could have been avoided if the call had been handled differently." He emphasized that it is crucial that customer service reps receive proper training. "CSRs are a first line of defense when it comes to fielding calls and giving advice regarding a potential safety situation. A CSR definitely should not make assumptions. It is important to remember that an employee may be required to give statements in a legal deposition or testify if a case goes to court, so it is your responsibility to arm them with all the tools they need to protect your business and represent you well."
Hansen recalled details from the deposition of a safety manager who was questioned for eight hours under oath. He replaced some of the safety manager's misstatements with correctly revised answers to illustrate how CSRs can be more empowered to strengthen safety efforts. Here are some of the suggestions that were discussed:
Make CSRs part of the safety team. Have them attend safety meetings. Make sure they comprehend the vital role they play regarding customer and employee safety.
Train CSRs so they are well informed about proper propane safety procedures and are trained to respond appropriately to customer calls.
Have a prepared script for CSRs and make sure they follow it.
If a CSR doesn't know an answer, encourage them to ask questions and seek information from other professional staff members.
Review proper safety materials with CSRs frequently. In a legal situation, an employee could be asked questions such as, "Have you read the PERC safety brochure? When was the last time you reviewed the safety brochure? Can you tell us what the next step is in the warning?" It's always a best practice for employees to be up-to-date and be familiar with safety materials.
REMEMBER:

If It Wasn't Documented, It Wasn't Done. Customer Certification Forms, etc
.
The motto of our litigious society, "If it isn't documented, it wasn't done," simply cannot be stressed enough! Document, document, document. If you are ever required to go to court, you can't prove anything was done properly unless you have the paperwork to prove it.
The majority of propane marketers in the audience agreed with Hansen that, "Every propane marketer should get a 'New Customer Certification' form on file that has been signed and dated by the customer stating that they received and read the PERC Propane Safety Information for You and Your Family brochure."
Understand the Difference Between an "Interruption of Service" and An "Out-of-Gas Situation"
There have been cases where a delivery driver thought the propane tank still had pressure so a leak test was not performed. Never assume anything! If you have doubts or questions, knock on the customer's door and ask more questions. Don't forget to document everything!
Where in the Code is "Out of Gas" and "Interruption of Service" Defined?
One of the biggest liability issues may not be well defined. Do you know where "Out-of-Gas" situations are defined? NFPA58? NFPA54? CTEP classes? Employees should be very clear about this and knowing the difference between an Out-of-Gas situation and an Interruption of Service and how to handle each, respectively.
5% Rule
No matter what, in the event that a propane tank gauge reads 5% or lower, always perform a leak test and always document it!
DUTY-TO-WARN SAFETY OBLIGATION
As you know, propane marketers have a duty-to-warn obligation to provide customers with the information they need to safely and comfortably enjoy all the benefits that propane can deliver. Typically, a PERC Propane Safety or Propane Safety Information for You and Your Family brochure is mailed to every customer annually, often by a third-party vendor that provides certification of service. The business should receive the mailing at its business mailing address. The unopened envelope should be kept on file along with the customer mailing list, U.S. postal reports, vendor, and other mailing documentation.
SAFETY QUESTIONS FOR RETAIL PROPANE MARKETERS
Here are some sample questions that might be asked during a deposition:
Does your company follow the warnings in the PERC Propane Safety brochure?
When was the last time employees read the PERC Propane Safety brochure? Do they know what it says?
Do you provide customers with a copy of the PERC Propane Safety brochure? Can you provide documentation that a duty-to-warn mailing was sent?
Have your employees heard of odor fade?
Is there ever a time when people can't smell the odor of propane gas?
Do you recommend installing a combination carbon monoxide and propane gas detector?
Hansen left the audience with this parting advice, "Know that attorneys will imply to a jury that the propane company doesn't care about safety. Now, if you are ever to encounter a situation where you must defend your business in court, you will have prepared beforehand and will be ready to provide well-documented evidence that proves your business does care and goes to great lengths to take every precaution."
Hansen wrapped up the presentation noting the industry's excellent safety record and the meticulous self-regulation and commitment to safety will likely put him out of business. And, he said he'd be happy if he never had to look at another burn victim photo. Maybe, he mused, "I'll take up a more uplifting career like divorce law."
In addition to his litigation practice, Hansen regularly consults with clients regarding safety, training, and warning issues, and proactively works with his clients to prevent accidents. He is also a frequent speaker at industry conferences focusing his presentations on practical advice designed to enhance safety. He is a past president and current board member of the Propane Gas Defense Association and has achieved the highest rating from Martindale-Hubbell (AV).
(Butane-Propane News, August 2019)