REMOTE TANK-LEVEL MONITORING. Otodata
is making large-scale remote tank-level monitoring affordable for all fuel marketers with its economical and reliable tank monitor. The unit is easy to install, compatible with all read-ready dial-equipped tanks, and the company offers free integration support into its customers' existing systems. For maximum efficiency, the monitors can be managed using
Otodata's Web-based dashboard
. Additionally,
a free mobile app for customers is available so they can consult usage history and request refills directly by using their smartphone
.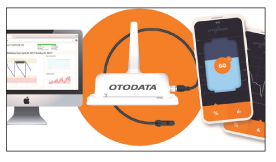 www.otodatatankmonitors.com


iOS, ANDROID APP FOR ENERGY MARKETERS. Blue Cow Software Inc. has released its Ignite Phone App 1.0. The company says it is the first all-in-one software provider to create an app that energy marketers can offer to their customers. The smartphone app allows the energy company's customers to log into their account, view their account information, order fuel, make payments, and manage their account. The app is branded with the energy provider's name and logo so it is easy for customers to find it in the app store.
www.bluecowsoftware.com
If your company has a new propane-related product or service it would like to introduce to the propane industry, please send a photo and brief description to
This email address is being protected from spambots. You need JavaScript enabled to view it.
.