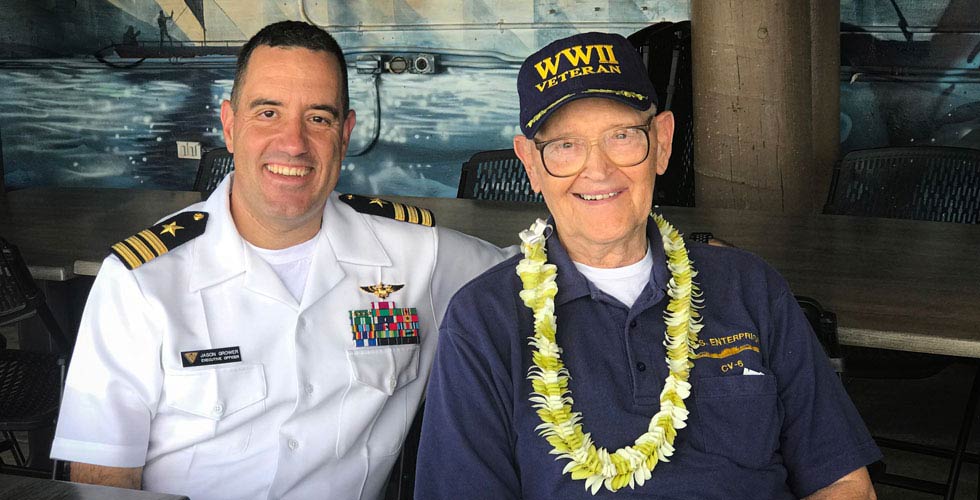 How Jason Grower is helping the same veteran programs that first assisted him
Monday, November 22, 2021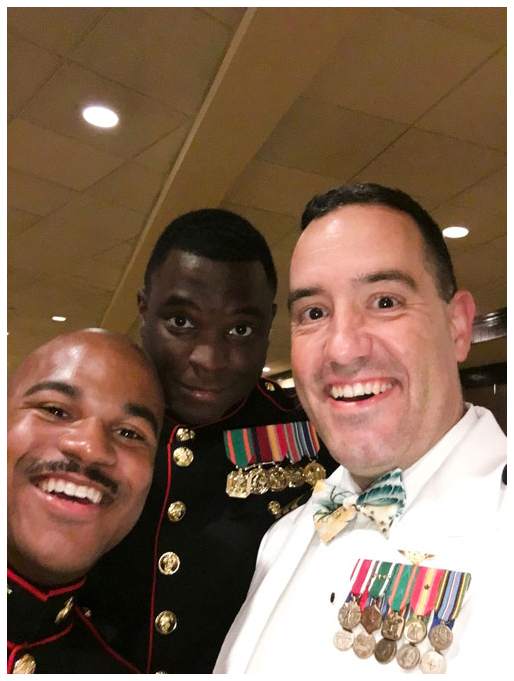 Jason Grower grew up in upstate New York, and his interest in military service began at a young age — 10, to be exact — when he decided he wanted to attend the United States Naval Academy and become a Navy pilot. These are just two of the goals he accomplished over the course of more than 20 years in uniform. He flew the P-3C Orion, a long-range anti-submarine warfare and maritime patrol aircraft, and the C-20G (the military's version of the Gulfstream G-IV).
Grower deployed several times around the world, serving in squadrons that included the "Red Lancers" of VP-10 and the "Golden Eagles" of VP-9. He also served on the flight deck of the USS Enterprise (CVN-65). He jokingly says he spent six years of his time ashore in the Pentagon "turning big rocks into little rocks." In reality, he's held some demanding jobs there, including working directly for the chief of naval operations, the senior officer in the entire Navy. So, when it comes to rolling up his sleeves and digging in, Grower said he is all about getting and staying close to the work — especially if that work includes making sure veterans find great employment.
For the past 18 months, I have had the pleasure of working with Grower on industry workforce development programs (GeneratioNext Propane Pros and Vets2Techs).
The first time I met Grower was at a Vets2Techs career event in Framingham, Massachusetts. It is worth noting that this event took place on a Sunday and was more than two hours away from Grower's New Hampshire home. This showed his passion and dedication for the veterans.
Upon meeting him, the first thing I noticed was his infectious charisma. His passion shines through during conversation, having a contagious effect on the veterans, all of whom were constantly engaged. Though it's possible the attraction came from the chocolate chip cookies and whoopie pies he was using to entice them to his table, I like to think that was not the case.
Grower's route to this industry was a bit circuitous, to say the least. After traveling cross-country for a job, only to have the job offer rescinded, Grower had a serendipitous encounter. At a Maine Hire-A-Vet event, Grower had the great pleasure of meeting representatives from Dead River Company. It was a match made in heaven. Dead River's commitment to veterans is well documented.
More than 10% of their workforce is comprised of veterans. It seems fitting that Grower is now helping the same veteran programs that assisted him in getting hired.
Since being hired at Dead River Company, Grower has become an ambassador for the veteran community. He prides himself in that role. He makes sure any interactions with veteran candidates are conducted in person or by phone, rather than virtually.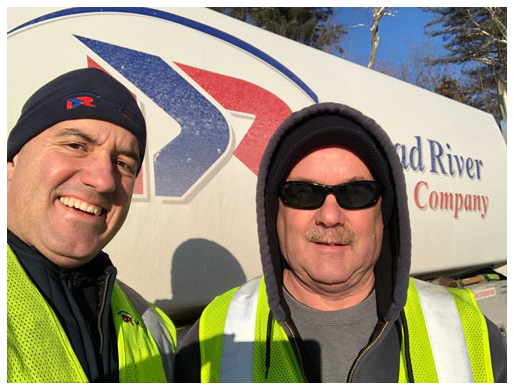 He wants these veterans to know that he understands the position they are in and what they are going through. But that's not all: Grower also helps veterans find employment in other industries. He works closely with the New Hampshire Department of Military Affairs and Veterans Services. He is involved in a forum in which businesses share best practices in veteran recruitment, hiring and retention, as well as finding help if anyone knows of a veteran in need. Grower's passion is not limited to just veteran placement. Recently, he was instrumental in helping achieve passage of a bill which protects consumer energy choice in New Hampshire. For his efforts, Grower and Dead River Company were recognized and presented with an award at a recent industry event.
"With Jason's experience working at the Pentagon, his lobbying efforts were extremely helpful in the passage of the Consumer Choice Bill in New Hampshire. This industry is lucky to have him on our side," said Leslie Anderson of the Propane Gas Association of New England, who worked closely with Grower in helping pass this bill.
Truer words could not be spoken. If this industry had more Jason Growers, we would have fewer challenges — and more chocolate chip cookies and whoopie pies.
The 2021 Corporate Capabilities Issue + Trends & Challenges Affecting the Global Propane Market