Tuesday, October 12, 2021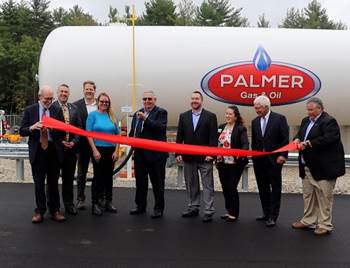 Somersworth, N.H. — New Hampshire Governor Chris Sununu, Senate President Chuck Morse, New Hampshire State Senator David Watters and Somersworth Mayor Dana Hilliard were all on hand this week to help Palmer Gas & Oil (PGO) Owner Bill Ermer and his team cut the red ribbon on the company's newest fuel storage facility in Somersworth, New Hampshire.
This latest storage facility ensures that there will be plenty of fuel on hand for PGO customers even during challenging supply times and harsh New England weather. Also on hand for the ribbon cutting were Allison St. Laurent, executive director of the Falls Chamber, and PGO General Manager Peter Iacobucci, along with Bill's son Charlie Ermer, vice president of business operations, and daughter Joanne Ermer, vice president of human resources and IT.
Palmer Gas & Oil has been in the Ermer family for four generations. "We've kept families warm for over 89 years," said Bill Ermer. "This new facility will ensure that we continue to keep them warm for the next 89."
In addition to facilities in Atkinson and North Hampton, New Hampshire, and this latest storage facility in Somersworth, Palmer Gas & Oil also has an additional storage facility in Raymond, New Hampshire. Family-owned Palmer Gas & Oil is one of the largest providers of commercial and residential fuel, service, sales and installation in the area.