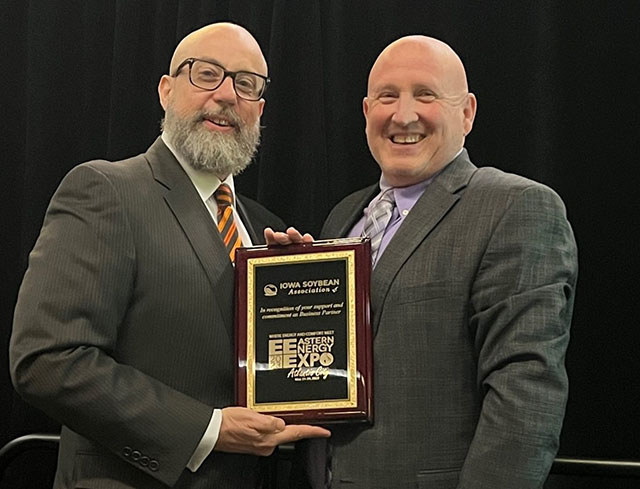 With attendance exceeding 2,700 participants and 216 exhibiting companies, Eastern Energy Expo recorded a successful convention and trade show at the Atlantic City Convention Center last month. More than 60 business and technical education programs were held during the event, as well as a packed Hospitality Night event, sold out Golf Tournament, and inspirational OESP Awards Dinner.
Scott Fenwick, technical director of Clean Fuels Alliance, accepted a plaque on behalf of business partner Iowa Soybean Association acknowledging their support as business partner to this year's event. Fuel Merchants Association executive vice president Eric DeGesero presented the plaque on behalf of Eastern Energy Expo.
The two-day trade show offered the latest in products and services for the energy and home comfort industry, including outdoor live fire exhibits. This year's expo concluded with a special prize drawing for $10,000, which was awarded to Kevin Snyder of Fredericks Fuel & Heating Service, Oak Ridge, NJ.