Wednesday, March 25, 2020
(March 26, 2020) — In the late 1980s,
Curtis Donaldson
(in photo at right) was selling wholesale propane for Conoco in Oklahoma and Missouri when the company decided to begin offering propane at its company-owned gas stations. At that time, President George H. W. Bush had signed the Clean Air Act Amendments and several larger wholesale companies believed selling clean-burning propane was a good plan for a future with more people likely using cleaner fuels. Industry veteran Larry Osgood was at Phillips 66 at the time and that company was also giving strong consideration to installing propane dispensers alongside gasoline dispensers at its company-owned stations. Conoco and Phillips 66, which would later merge into one company, decided to launch an infrastructure program in Denver in the 1990s and Conoco even partnered with Firestone to support making the conversion process simple and seamless.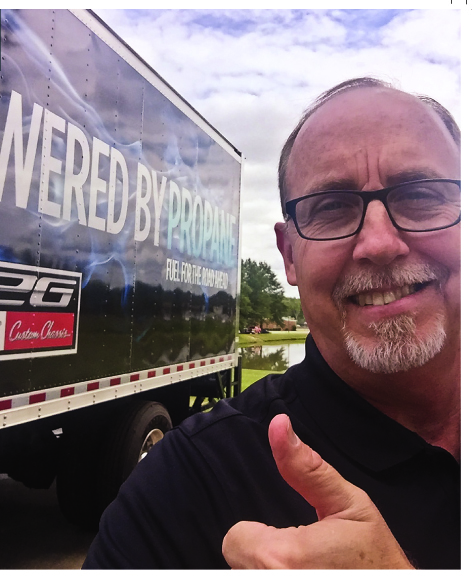 Other oil companies, large multistate marketers, regional propane marketers, and several smaller retail propane marketers were also taking an interest in propane as a motor fuel by 1991. Propane industry leaders including Donaldson; Osgood; Bob Myers, formerly of Petrolane; Tim and Jay Wood of Northwest Propane (Texas); Gerry Misel of Georgia Gas Distributors (Ga.); Steve Moore of Mutual Propane (Calif.); and Bill Platz of Delta Liquid Energy (Calif.) joined to form the LP Clean Fuels Coalition. The executive director was Rick Roldan, who later became CEO of the National Propane Gas Association (NPGA). This small band of brothers would take on the lobby efforts for the propane industry to promote propane as a clean transportation fuel and try to ensure equality amongst all the alternative fuels vying for market share.
At about the same time, the Department of Energy (DOE) had formed the Clean Cities Coalition, with 91 cities now participating. "The Clean Cities Coalition provided excellent support for our industry, primarily in deployment activities and grants," Donaldson said. "They were very helpful as we made decisions about how to go after the propane market for motor fuel." For Donaldson himself, he opted to depart Conoco and launch Clean Fueling Technologies (CFT) in an effort to provide propane dispensers that were seamless to the gasoline counterparts. "I'll never forget when I started trying to convince the industry we needed to move on from what they themselves would call a meter-on-a-stick dispenser to an electronic gasoline-styled unit." He thanks early adopters like Moore, Platz, and Wood as they help generate demand and challenge the industry to step up.
"We initially offered a simple electronic fleet unit, but migrated to high-hose style with card reader technology so fleets could self-serve—talk about a giant leap—then integrated propane hydraulics into a Gilbarco OEM gasoline pump for a total seamless operating unit at retail sites," Donaldson explained. "In those days, there would be trade shows where CFT would be the only company representing propane motor fuel and 50-plus companies focused on the CNG market. All the CNG entities came out of the gate with leading-edge technology. I think not having a history in the engine fuel market benefitted them to some degree…no baggage, if you will. It was overwhelming at times, but we tried to maintain focus on helping our industry jump technology hurdles to remain competitive in the eyes of the fleet customers. Despite the crowd of CNG players, CFT became busy very quickly with a contract to work with Northwest Propane to install 100-plus dispensers for the Texas Department of Transportation (TxDOT), which was in the process of converting 5000 of its 10,000 vehicles to propane."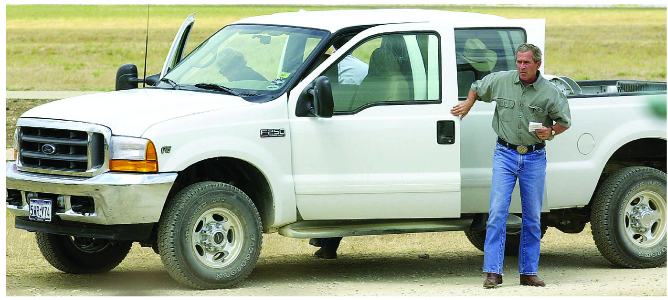 While the TxDOT/Northwest Propane project kept CFT busy for several years, the fact that there remained no original equipment manufacturer (OEM) for propane engines in the U.S. continued to limit the demand for vehicles and thus also for dispensers domestically. Donaldson made the decision that CFT would need to expand internationally. "We had to pivot to focus on international markets to stay alive in the mid '90s," Donaldson said. "Autogas was doing much better abroad." In the U.S., CNG was more coordinated and continued to grow.
"In the U.S. in the '90s, the most progress in growing propane motor fuel actually was accomplished by a Canadian company," Donaldson said. "Superior Propane, under the leadership of CEO Don Edwards, had added some 2000 fueling stations across Canada and had completed a lot of conversions as well. They decided to enter the U.S. market via acquisition of Skelgas and marketed under the brand of ATFI." ATFI shared the vision to make autogas seamless to the traditional fuels.
ALONG COMES PERC AND CLEANFUEL USA
With the passage of the Propane Education and Research Act (PERA) in 1997, the Propane Education & Research Council (PERC) was put in place to begin supporting the growth of the U.S. propane market. "Milford Therell, who led the process of getting PERA passed and [became] the first chairman of PERC, was a supporter of growing the motor fuel market," Donaldson said. "In the early days of PERC, funds were limited and not all in the industry saw the development of propane as a motor fuel a priority. Many independent retail propane marketers didn't see value in developing the market, but a handful of independents as well as several multistate marketers, including AmeriGas, Suburban, and Thermogas, began supporting the industry efforts for our fuel to be a player in the alt fuel mix. Also, several state LP-gas associations became very active advocates and they have certainly had a big impact as autogas acceptance spread."
In 1999, CFT partnered with AmeriGas and a few marketers to launch CleanFUEL USA. "The purpose of CleanFUEL USA was to target fleets and both private and public fueling, a one-stop shop of sorts," Donaldson explained. "By this time, PERC was rolling along in its second year and my friend Roy Willis, the CEO, certainly saw the impact this market segment could have for the retail propane marketers."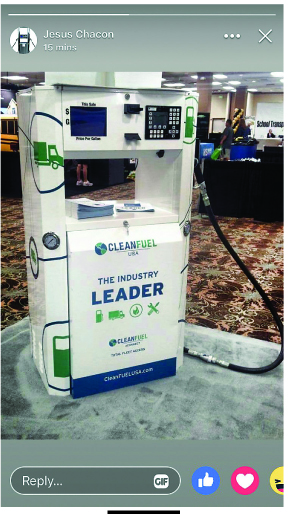 Nonetheless, there remained those on the Council who did not see the value. "I'll never forget the project to convert President George W. Bush's ranch truck to propane, the best project ever," he said. "I think the PERC vote was like 12 to 9. It always felt like we were pulling the industry along." Donaldson recalls talking to industry leaders about calling propane motor fuel what his international customers called it, "autogas." Although they didn't give the name much credence then, the industry eventually moved that direction a decade later to help gain a bit of a product differential in the marketplace. He also recalls trying to garner support to switch fueling connectors in the late '90s to the European style given it would be easier for customers to use when refueling. Again there was no buy-in at that time, for a variety of reasons, including lack of manufacturers and fear of not gaining NFPA approvals, but here we are 15 or so years later and it is becoming the fuel nozzle of choice for many fleets and marketers.
Challenges continued as the U.S. market only had conversion kits and no OEMs for propane engines. Warranties were being voided by 2002 if propane conversions took place. "We decided it was time to get into the propane engine business," Donaldson said. "We talked GM into offering a propane engine program with their Medium Duty G Series MD Trucks. There was demand for a propane-powered bobtail as well as for school buses in Texas. We introduced liquid injection into the USA OEM market by launching the 8.1-liter platform in conjunction with GM, Monroe as upfitter, and 27 GM Medium Duty Truck dealers across the country. The bobtail program launched in 2005 with 300 sold that year and 600 sold in 2006. In addition, PERC funded a $400,000 project to integrate the 8.1-L engine into the Blue Bird School Bus chassis. We sold 50 the first year, which was 2006-1/2, and in the first full year over 300 buses were sold." School districts in Texas and a few outside that had been using propane through the years were back in business with an OEM product this time.
Just when the autogas movement was starting to feel like it had a tailwind, GM filed bankruptcy in late 2008 during an economic downturn in the U.S. and the medium-duty truck business was shut down. Engines were pre-ordered to carry pending bobtail orders and Blue Bird ordered enough to carry them beyond 2010 when they switched to a Ford product. The engine eventually survived as GM emerged out of bankruptcy and industry advocates approached Freightliner Custom Chassis Corp. (FCCC) about continuing the medium-duty truck program on its S2 chassis for bobtails and the C2 chassis for Thomas Built school buses. PERC worked alongside FCCC on these projects as well as others to help get them across the finish line and launched into the marketplace.
The biggest moment, however, was in 2014 when United Parcel Service (UPS) opted to purchase over 1000 propane-powered package cars in its rural market centers. "It was the largest deployment of propane vehicles in history," Donaldson said. "There were some 1400 units by the end with over 60 fuel stations in eight states. It was a turnkey package with vehicles and stations closely organized and rolled out with plenty of support from propane marketers in each market."
Along the journey, ROUSH CleanTech entered the market and took care of Blue Bird transitioning from the GM engine to the Ford engine it still uses today. "They have done a great job helping expand the propane vehicle market," Donaldson said. "It has been important that multiple stakeholders have gotten involved in the propane autogas movement. At trade shows now we are a force to be reckoned with as an industry…no more is it one versus 50. PERC has helped organize our efforts and that's a real plus as far as how we are viewed collectively as a fuel. We have more propane vehicles on the road in the U.S. than ever before."
But Donaldson acknowledged the road to success for propane as a motor fuel has not been for the faint of heart. "A lot of us have been in the trenches together over the past 32 or so years in one capacity or another. I feel like it's been a marathon with different entities playing different roles, from those that are runners to others that are the supporters making sure we have water and energy bars and everything we need to finish the race. It's not easy and often you just want to quit, but passion for the market kicks in and you keep running"
Donaldson acknowledged the downturn of gasoline prices beginning in 2015 that lasted more than two years made the value proposition for propane a tougher discussion. "While we continued to press on, the lower gasoline prices slowed interest in propane as a transportation fuel," he said. "Nonetheless, there are plenty of incentives that today help drive the market including the recently extended tax rebate, ongoing state grant programs, VW grant programs nationwide, PERC marketing/education support, and savings versus diesel as clean air regulations make the cost to comply with diesel emissions requirements much higher."
JOINING AGILITY FUEL SOLUTIONS
In 2017, Agility Fuel Solutions acquired the assets of Clean Fuel USA and hired key members of the team, including Donaldson, Wayne Moore, and Calvin Thorn, to form its new powertrain systems business. With operations in Wixom, Mich., and Georgetown, Texas, the new division was off and running and able to provide propane fuel systems to its key partners and OEMs as well as continuing to take care of key customers such as UPS. "Agility brings propane into the mix of CNG and natural gas systems to be able to provide what works for most types of fleets to keep them going," he said. "It has been a good fit for Clean Fuel USA to move over to the Agility Fuel Solutions family."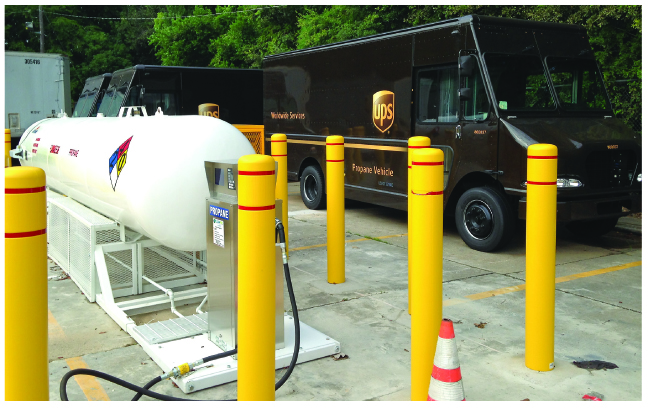 The move to Agility Fuel Solutions brought Donaldson back together with Brad Garner, his new boss, who had been at Superior when it decided to enter the U.S. autogas market a couple of decades earlier. After a stint with Superior, Garner worked for IMPCO Technologies, where again in the early 2000s he worked with both Donaldson and Moore. So, to some degree, a team reunited and grew stronger.
After 32 years, despite all the many headwinds that have affected propane autogas, Donaldson feels that much success has been realized and much more lies ahead for the propane autogas market. He notes we now have strong organizations in PERC and Clean Cities supporting autogas. We have multiple dispenser manufacturers, such as Superior Energy Systems; several OEM products, including all three school bus manufacturers; excellent suppliers like Agility Fuel Solutions that are here for the long haul; and fleets across the country that believe and have expanded their propane fleet vehicle population.
"If I had one suggestion to make based on lessons learned, it would be, we need to organize similar to how Agility Fuel Solutions approaches the market, which is to focus on the merits of the fuel, the service infrastructure, and the resulting customer ROI," Donaldson said. "Without this type of focus, especially regarding service, we will not optimize market potential and certainly lose market share to competing fuels."
"On a personal note," he concluded, "I think about the people along this journey who taught, who encouraged, who led, who followed, who inspired, and encouraged again and again—key industry leaders such as Bob Myers, Larry Osgood, Wayne Moore, Calvin Thorn, Dan Granger, Brad Garner, and so many others that have poured so much into not only keeping it alive, but help making it thrive. What an awesome opportunity it has been to build relationships and partnerships along the way; to see the industry grow and eventually embrace autogas; to see technology evolve, both for engines and stations, so we stay in the race; and to see so many new faces just in this last decade and see how the younger generation is now impacting our industry. I'm glad to have been a small part of a tremendous group of passionate people that started this market segment many years ago and kept it alive in the lean years and never gave up. The market has grown and with it an army of passionate stakeholders planting more seeds than ever. The propane industry is positioned to gather a great harvest." — Pat Thornton