The pandemic has led to cancellations of travel and meetings, but the propane industry can and should continue to advocate for its interests in other ways. Four members of Congress delivered that message during webinars hosted by the National Propane Gas Association (NPGA), June 8-10.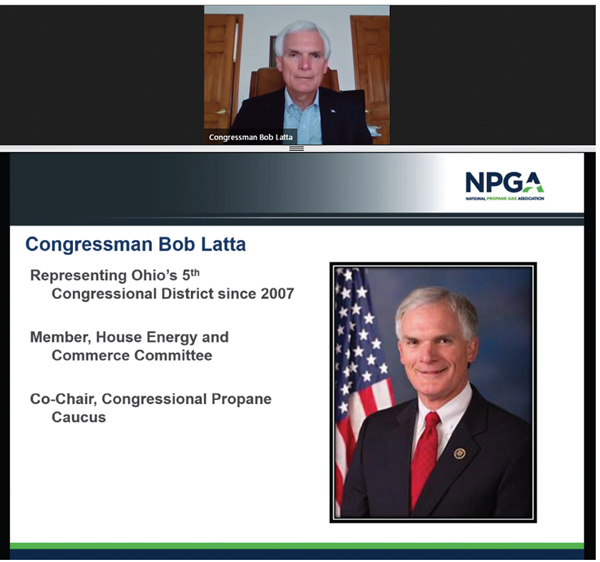 The webinars themselves were one way NPGA is carrying on its advocacy. Around the time members of the industry would normally have flown to Washington, D.C., for the annual Propane Days, the webinars allowed attendees to hear an industry advocate talk with the four representatives in a virtual forum.
"As we heard from the representatives, if they don't hear from us about our issues, they don't know what they are," Michael Baker, NPGA's director, legislative affairs, told BPN after he hosted the webinars.
The webinars featured members from both parties and representing districts in different parts of the country. They were Rep. Rodney Davis (R-IL 13th), Rep. Bob Latta (R-OH 5th), Rep. Kurt Schrader (D-OR 5th), and Rep. Xochitl Torres Small (D-NM 2nd). Each has a position of a key committee with jurisdiction over issues that directly impact the propane industry. Each has also shown a willingness to advocate for the industry in policy debates.
During the webinars, Baker asked the representatives about Congress' plans for future COVID-19 relief legislation, projected outcomes of the 2020 election cycle, and how the propane industry can advocate for essential legislative priorities during these unusual times.
Each of the four representatives said it is time to reopen the country and the economy, in a responsible manner. Looking ahead to the elections, each pointed to something that suggested good prospects for their own party, but added they are cautious about making predictions. On the question of advocacy, each said it is important for constituents to remain in contact with their representatives during the lockdown and when things are back to normal. It is always useful to build relationships with legislators and their staff, and educate them about the industry, so they can more quickly act whenever an issue comes up.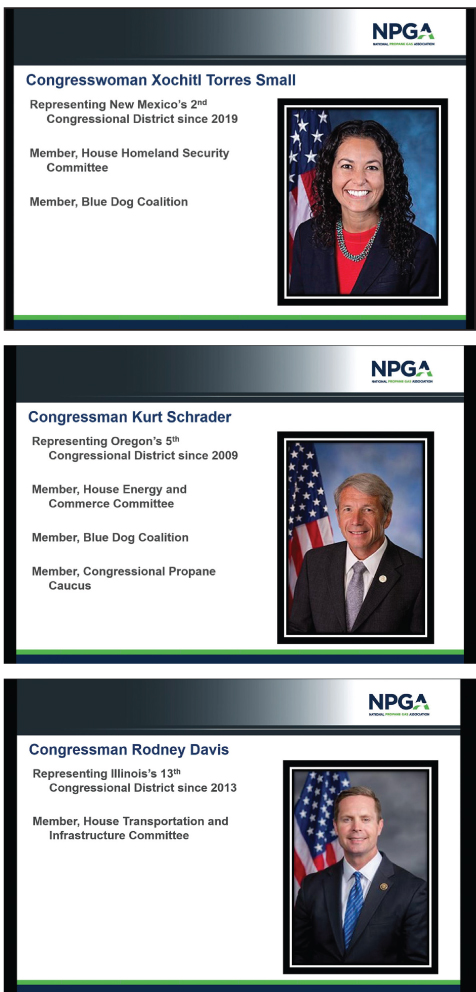 After the webinars, Baker shared with BPN his own thoughts on the issues he brought up with the representatives.
COVID-19 relief legislation: During the pandemic, NPGA has been busy working on emergency response. Relief legislation has been a part of that; the Paycheck Protection Program has helped businesses pay employees and get people back to work, and additional funding for LIHEAP has helped customers pay their heating bills at a time when many found themselves suddenly unemployed. "Overall, we're pretty happy with the government response so far," Baker said. "We will seek future legislation to help small businesses and, as winter nears, push for adequate funding of LIHEAP."
The 2020 election cycle: "We're keeping an eye on the election," he said. "We have a game plan, no matter the outcome."
Industry Advocacy: "The webinars were successful, but we are excited to do these meetings in person, when it is safe," he said. "We really want Propane Days to return to normal. Propane Days is one of the most valuable tools we have. That said, when virtual advocacy is called for, we will use phone calls and webinars."


Webinars like these were not new to NPGA. The association hosts quarterly webinars that enable supporters of its political action committee, PropanePAC, to communicate directly with members of Congress.
In addition, NPGA will soon roll out some new resources that will help facilitate propane marketers' facility tours and visits to Congressional offices in their home districts. Already, the association offers members details about the committees legislators sit on and the issues NPGA would recommend a marketer talk about during the meeting. Baker explains, "We can provide tailored advocacy information to make sure members are prepped to deliver their message."
"We can't impress enough how important it is to go to Washington, D.C.," he added. "It is nice to get updates, but it is more valuable to have over 200 in-person meetings on Capitol Hill. We are excited to get back to normal." — Steve Relyea