As people spend more time at home, many are browsing websites and looking for ways to upgrade their surroundings. So says
Richard
Constant,
a
product specialist
at
Bergquist Inc.
(Toledo, Ohio), a wholesale propane equipment distributor. His areas of expertise include fireplace and gas hearth products as well as outdoor products.
"With people staying at home, they are getting tired of looking at the same thing," he says. "They are ready to update."
Many are choosing to update by modernizing their indoor fireplace. "It looks like we're moving into a contemporary look and operation of the fireplace," Constant reports. "There's more emphasis on higher-end direct-vent fireplace inserts. People are also remodeling—tearing out the old brick-and-masonry units to gut and redo them."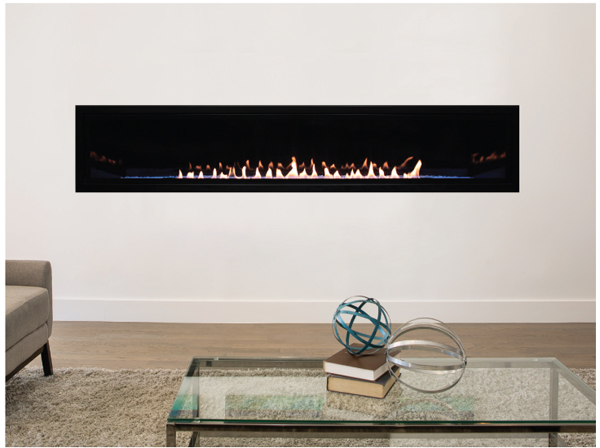 A contemporary look generally includes a clean, open front, with little trim and no louvers. It also includes an open flame or a rock or pebble option, rather than the traditional-looking gas log. Another contemporary option is LED lights that deliver under-lighting that fades in and out. "The new units look a lot classier," Constant says. "They are not obtrusive. They are still a focal point, but they're not flashy."
Contemporary operation of an indoor fireplace means remote control. Today's remote controls can light the pilot and change the flame height. A thermostat is available for consumers who use the fireplace for space heating as well as ambience.
The contemporary look is popular for outdoor fireplaces, too. Here, a common choice is to have the burner pan set in rock or bricks. Another option is to have a fireplace that is open on both sides, so it is see-through. "That makes it a real focal point and a gathering place," Constant says.
Both outdoor and indoor fireplaces are available in many styles, including the contemporary and the traditional looks. What sells varies by market. Since a local retailer can't stock and display everything, he recommends keeping in touch with builders in order to decide which products to handle.
"Not everything works in every region, so I'd recommended working with builders," he says. "Builders can tell you what is popular."
To promote the products to consumers, he says, "you need to keep it local." Local radio and TV are great options for those selling and installing these products. So is a Facebook page for the business.
There's also a right time to advertise: "For fireplace and outdoor heating products, the season runs from late spring, early summer to Christmastime. If they don't put it in by the first of the year, they put it off until spring."
"There's a huge market out there," Constant concludes. "A lot of it goes through the internet, though, so you have to go out and get the business." — Steve Relyea