Sunday, December 15, 2019
By Bill Stomp …
The propane industry is a commodity delivery business. Sure, some propane companies deliver additional commodities such as oil, diesel, or lubes. However, we are primarily a commodity delivery industry.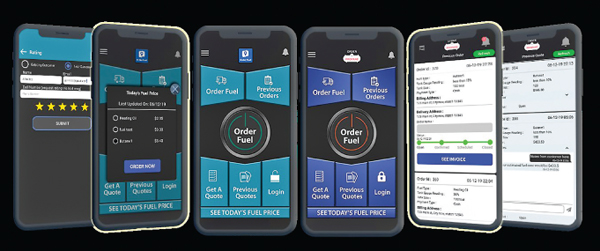 Did you know that Uber is in the commodity delivery industry too? It is, and it has some secrets that we in the propane delivery industry can exploit to improve profitability fast. But first, is Uber getting into the propane delivery industry? Not yet. So, let's take a look at the Uber business and what commodity industries it is disrupting. Maybe this will give us a glimpse into when or if it will be entering our sphere and what we can do to prepare for the changes ahead.
Now that Uber is worth more than $80 billion, what can we learn from it and its new version of what today's disruptive commodity delivery business looks like? Maybe we can discover a few of its clearly very lucrative secrets…
Quick background: Uber uses an app to completely disrupt the human and food delivery businesses, also known as the taxi and meal delivery industries. The company has a broader vision to enter every delivery industry and it has already begun the process of entering the over-the-road freight delivery industry with the aim to be the Amazon of delivery.
First, some amazing Uber facts:
Launched in 2009 and now does on average 17 million deliveries per day
Has over 100 million customers (over 10 billion deliveries in 10 years, all via an app)
Market cap is around $70 billion
Number of app downloads is over 160 million
Number of phone orders and customer service reps—zero. (All 17 million taxi or meal delivery requests completed without any phone calls and minimal website interaction…all via an app.)
Actively disrupting four delivery industries: ride share, food delivery, freight delivery, bikes/scooters, with more industries in its sights
What can we conclude from these facts? In just 10 short years, Uber used today's app technology to automate deliveries and has gone from zero to 17 million deliveries per day with a $70-plus-billion valuation. It embraces new technology to dominate its competition. Some will argue that it is not profitable yet; Uber counters that argument by pointing to Amazon, which also was unprofitable for a few years and now dominates its competition (think of how Sears, Kmart, and most U.S. malls have been impacted). It is undeniable that the new generation of commodity businesses like Uber and Amazon are using the latest in app technology to generate amazing sales, growth rates, valuation, and efficiency.
Americans who have a smartphone can use Uber to order a delivery (food or rideshare) almost anywhere and at any time, all from an app, which is extremely convenient. Close to 95% of the propane world has no app for customer ordering, making it substantially harder for today's convenience-driven market to get the fuel they need.
An argument can be made that ordering fuel is substantially harder than ordering one of thousands of food orders from a plethora of different restaurants via the Uber Eats app. Or that ordering a single product like propane is more complex than ordering an item from Amazon that offers millions of different products for same-day delivery. However, many people from both inside and outside the propane industry are questioning the validity of that logic.
Just about every propane company in existence has no customer-facing app, so has no app downloads; has customer service reps; and receives hundreds or thousands of phone orders and calls every day.
So, imagine a stodgy, outdated, and unsophisticated delivery industry that has a technology deficit—such as the taxi industry or food delivery industry. When Uber presented technology to that customer base, we were all surprised at the hunger among those customers for doing business via an app rather than the older, more familiar model of calling for a ride or a delivery.
What if that same hunger existed in our own industry? What will happen when all your competitors follow the Uber model (or for that matter, the Amazon model) and get apps to streamline their customers' experience? And, then what will happen when all your customers start downloading your competitors' apps? Won't your competitors obtain your customer list?
Based on conversations with hundreds of propane companies, my projection is that 34% will have an app by the end of 2020. They either are planning to roll one out by year-end 2019 or planning to do so next year. You are in a race. For example, at one time, no propane companies had a website. Now, every propane company has a website. Websites are now the Yellow Pages of today; everyone has one and they make little difference to your company. However, the Uber model is all app-based. So, like Uber and Amazon, those companies that have an easy-to-use fuel-ordering app and get it first to market will take market share, will obtain their competitors' customer list, will grow sales, and will reduce costs.
So, what are you waiting for? Every study shows that a customer-facing app will grow sales and reduce costs.
Here are your options…
Build an app yourself. Some of the larger companies may spend upwards of a quarter million dollars to perfect this (substantially less than Uber and Amazon spent on theirs). It will take you a year or so in time, and you will need to employ on-staff programmers to keep it working and updated in our constantly changing tech world.
Go to CustomFuelApp.com, and they will customize for you the industry-leading, easy fuel-ordering app that has already been built. You, too, can save a year of blood, sweat, and toil and be the first to market with something even the smallest propane companies can afford. This may be the easiest and most effective method to take, as you then do not have to become an app expert, but rather outsource that work to experts who thrive on software coding and technology.
Do nothing, and let your customers get poached by other companies, just like Uber poached a huge and growing portion of the taxi and food delivery industries.
Build out an Uber-like platform for propane delivery. You might consider contacting digitalsoftwareservices.net, a company that has already built out Uber-like solutions for food delivery, taxi delivery, parcel delivery, and propane delivery. It developed the propane safety app and specializes in the fuel delivery and Uber technology worlds.
Regardless of what you do, don't stand still, procrastinate, or remain in denial. Taking action to protect your customers and grab market share today is a journey that must be launched in order to stay competitive in today's technology-driven world. As a starting point, you might contact the people at CustomFuelApp.com to begin your journey. This smart step can help you beat your competition to market and take the lead before they all jump on board.
Bill Stomp is a war veteran; has helped over 200 propane companies improve sales, safety, and profits; and is an international presenter on these topics. He is a partner at TankSpotter.com and DigitalSoftwareServices.co.