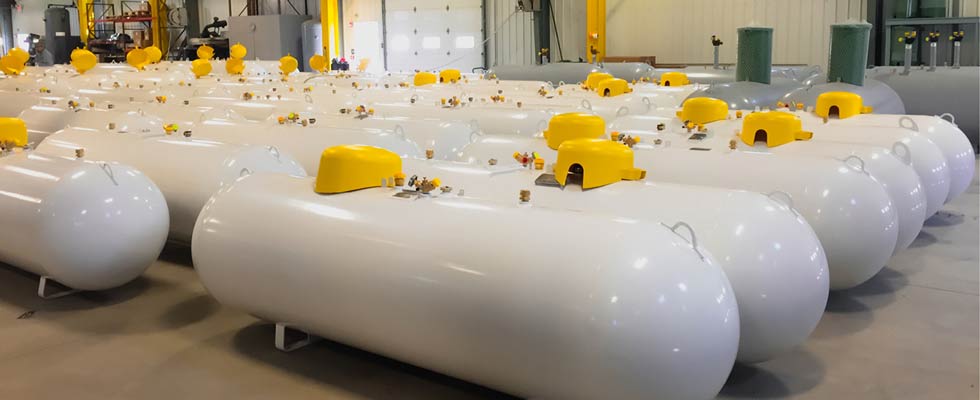 Being proactive in the refurbishment process can save you money & help the environment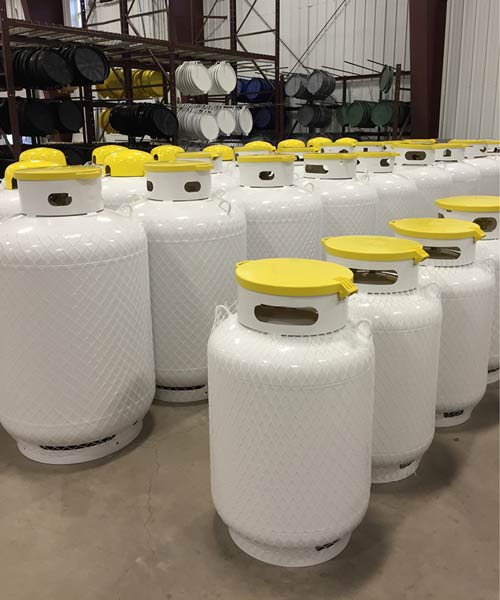 The key to the success of a propane marketer's field-storage strategy is the effective utilization of their existing tank assets.
Crucial to the management of these assets is the use of comprehensive recertification and refurbishment programs.
Recertification Considerations
Successful programs track the certification periods of Department of Transportation (DOT) cylinders and schedule the returns to be sent to a qualified facility for testing and refurbishment. The standard test for a DOT cylinder is a hydrotest performed by a qualified recertification facility. The results are then documented, and the cylinder should be refurbished with new valves installed.
While American Society of Mechanical Engineers (ASME) vessels do not have a definite time period to be recertified, tank refurbishment should be an integral part of a marketer's brand appearance.
What Refurbishing Equipment Looks Like
In order to properly repaint the tanks, the existing paint must be completely removed using commercial-grade blast equipment. The blaster provides a surface profile for an OEM paint finish to be applied to the vessel. Vessels that do not receive the appropriate surface removal are prone to rust sooner or have issues with paint adhesion.
After the hydrotest, the refurbisher also needs to take steps to ensure any moisture is removed from the cylinders before new valves and gauges are installed. Further, a qualified refurbisher may make certain repairs, such as replacing foot rings, collars and pinholes, in welds on DOT cylinders to improve the longevity and use of the cylinder. Technicians are trained to identify potential issues that a marketer might miss during a field inspection. Returning the refurbished product in pristine condition to the marketer should be the goal of the tank refurbisher.
Marketers should be careful to select a processor that uses well-maintained transportation equipment to collect and return the finished product. Additionally, the use of protective nylon netting on DOT cylinders during the return process is highly recommended. The shipping saddles used to transport ASME vessels must also be in good condition to protect the coatings of the vessel in transportation.
Make Time for Pre-Inspection
Not all tanks and cylinders will pass inspection and will therefore be scrapped. The following are standards which, if not met, would cause a tank or cylinder to be scrapped:
Must have fully legible data plates
Must have data plate "U stamp"
Data plates must be free of corrosion
Data plates must be firmly attached
No visible damage, dents, bulges, excessive corrosion or scratches
Marketers should consider not submitting tanks that do not meet the above criteria. Through carefully pre-inspecting tanks for refurbishment, you can avoid potential costs to scrap tanks, which are not suitable to be refurbished.
Refurbishing Is Profitable & Green
By refurbishing tanks and cylinders, marketers are extending the life cycle of an existing asset and reducing the energy and resources needed to mine, transport and produce new steel. This is a sustainability story that should be shared.
Many marketers have excess tank inventories that can be refurbished and placed back into service. Refurbishing can save considerable expense when compared to the cost of purchasing new tanks. To ensure tanks are ready when needed, marketers should implement an asset management plan that includes scheduling refurbishing in advance.
Through careful planning and partnership with a qualified recertification and refurbishment company, the marketer can maximize the utilization of their assets and better use their capital for growth. Tank refurbishing and recertification should be an important component of a marketer's tank asset program and can lead to a more profitable organization.