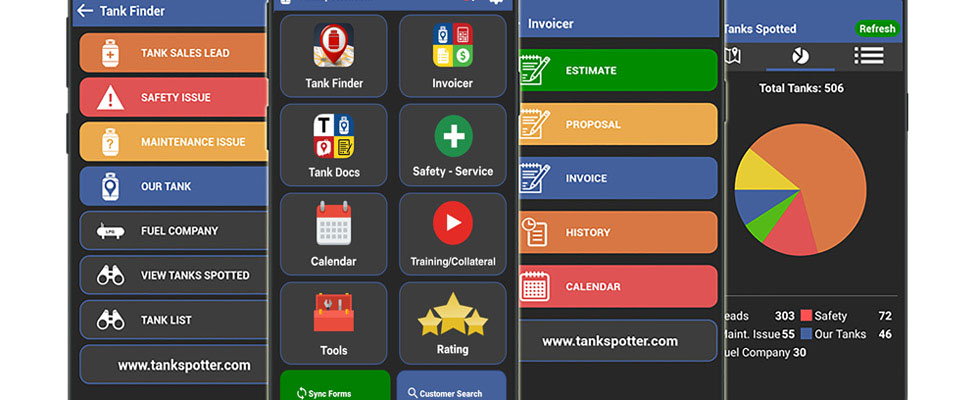 The tools for compliance at your fingerprints
Friday, September 22, 2023
In the propane industry, paperwork has long been a source of frustration for business owners, service technicians, delivery drivers, safety representatives, sales personnel, managers and office staff.
Instead of devoting their time to serving customers and advancing the industry, they find themselves bogged down by administrative tasks.
However, the adaptation of comprehensive technology solutions offers a way to streamline operations, improve safety and achieve greater efficiency throughout the propane business ecosystem.
Leveraging the convenience of smartphones or tablets to mobilize critical information can yield significant cost savings for businesses, potentially amounting to tens of thousands of dollars.
The Importance of Safety
Safety stands as the cornerstone of the propane and heating oil industries. Complying with rigorous regulatory standards, performing regular gas and leak checks, ensuring tank maintenance and managing accurate records are all essential components of guaranteeing a safe environment for communities and consumers.
Keeping abreast of the latest National Fire Protection Association (NFPA) 58 regulations is essential for maintaining compliance and adapting to any changes that may impact business operations. When businesses adhere to the highest safety standards, they not only protect their customers but also promote industry growth and long-term success.
The Mobile Advantage: Streamlining Services
In a world increasingly dominated by mobile devices, the mobilization of critical information through smartphones and tablets holds the potential to save propane businesses substantial resources.
Embracing comprehensive technology solutions can lead to real-time updates, enabling professionals to proactively identify and address potential problems before they escalate into crises.
The ability to ensure that fuel tanks function without any risk to the environment or surrounding communities is a significant benefit, safeguarding both people and the planet.
The Comprehensive Technology Solution
A comprehensive technology solution tailored to the propane industry liberates professionals from the shackles of traditional paperwork. This next-generation technology integrates sales, maintenance, compliance and safety management into an all-in-one platform.
It empowers business owners and fuel providers by delivering important insights to them, inspiring them to take proactive measures. Through streamlined operations, reduced paperwork and digitized essential materials, businesses can enhance their productivity and profitability.
Enhancing Safety Through Automation
A key advantage of adopting comprehensive technology solutions is the ability to automate safety procedures, inspections and paperwork. This automation ensures that essential documents are never lost or misplaced, bolstering businesses' legal defenses and reducing potential liabilities. Moreover, real-time alerts and interactive dashboards offer managers valuable insights, highlighting areas that require immediate attention.
By providing a 360-degree view of the safety landscape, these technology solutions enable stakeholders to make informed decisions and safeguard their assets effectively. On top of that, the advanced features embedded in this technology act as early warning systems, alerting professionals to potential issues before they escalate into major problems.
These real-time updates empower workers to ensure fuel tanks function seamlessly without posing any risks to the environment or the surrounding community.
Learning From Successful Delivery Companies
To optimize efficiency, propane businesses can learn from successful delivery companies like Amazon and Uber, which have revolutionized the industry through customer-facing apps. By developing their own branded apps, propane businesses can provide customers with a seamless experience for ordering, accessing past orders and receiving updates and promotions.
Additionally, such apps can serve as cost-effective alternatives to traditional tank monitoring systems, allowing customers to enter their readings directly, further streamlining operations.
The Advantages of 'Everything' Apps for Employees
Within the propane industry, comprehensive "everything" apps can drastically reduce paperwork, form filling and time wasted on administrative tasks. By consolidating all necessary tools and functionalities, these apps empower employees to work efficiently, boosting productivity and profitability. As digital documentation becomes standard, businesses can enjoy enhanced legal protection in case of disputes, ensuring accurate records and increased transparency.
The Power of Native Apps for Flexibility
To maximize the benefits of technology, it is crucial to choose true "native" apps that can operate on both Apple and Android devices. Encountering an app that seamlessly operates on both of these devices is a rarity, but when it does happen, it's a delightful surprise.
To ensure the best possible experience, it's necessary to work with solutions that are true native apps, capable of functioning on both platforms. This choice reflects the backing of a robust software technology company and demonstrates their comprehension of the unique needs and preferences of the propane industry.
By doing so, propane businesses can ensure wider coverage and adaptability, particularly in rural areas where cellular signal strength may fluctuate. The ability to access the technology regardless of network conditions ensures seamless operations and consistent data availability.
Embracing the Transformation
By adopting comprehensive technology solutions, propane businesses can improve safety, efficiency, accuracy and customer satisfaction. The results are undeniable, and the rewards are substantial. Embracing this transformation will build a safer, more efficient and prosperous future for the propane industry.
Comprehensive technology solutions present a transformative opportunity for the propane industry, enabling businesses to streamline services, enhance safety and boost overall efficiency. By embracing these solutions, propane companies can revolutionize their day-to-day operations, thereby reducing paperwork and improving safety compliance.
Leveraging mobile technology allows real-time updates, making it possible to address potential issues proactively, safeguarding both communities and the environment.
Through comprehensive technology platforms, businesses gain valuable insights, automate safety procedures and streamline operations. Employee-facing, "everything" apps mitigate risks and boost productivity, while customer-facing apps enhance the user experience and facilitate ordering and service requests.
By making a strategic shift toward comprehensive technology solutions, propane companies can elevate their operations to new heights, ensuring a safer, more efficient and customer-focused future for the industry.
Embracing the power of technology is not only a matter of competitive advantage but also a crucial step toward sustainable growth and success in the ever-evolving energy sector. As we move forward, we have a responsibility to extend these technologies to those who stand to gain the most from it. It is our duty to make this transformative solution available, beginning right now.