(March 24, 2020) — By Todd Mouw…A largely untapped opportunity that shows long-term growth for propane is the on-road vehicle market. It's a lucrative market that continues to mature. In 10 years,
ROUSH CleanTech
has put more than 20,000 propane vehicles on the roads, including commercial fleet vehicles and school buses. How does this relate to increasing propane sales? Well, fueling just one school bus with propane autogas equates to an average propane load for five residential homes per year combined.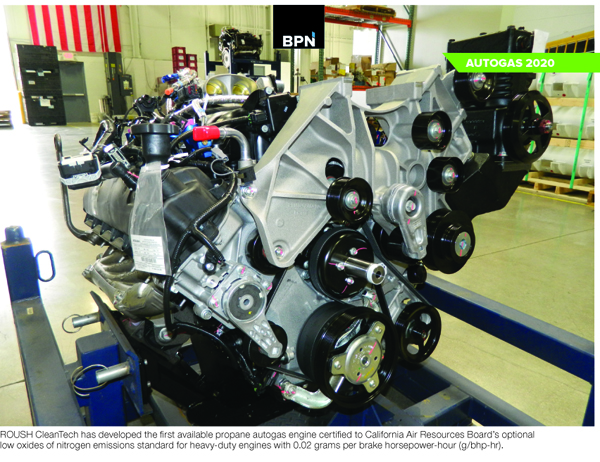 The latest
Propane Market Outlook by ICF International
, which forecasts through 2025, predicts propane consumption in the propane autogas sectors to rise steadily to more than 1.6 billion gallons by 2025. This report also forecasts that propane vehicle sales will grow to more than 50,000 units.
Here are the top tips to help you support the sale of propane autogas vehicles with the goal to increase your propane autogas sales.
Targeting your customers. Tap into your existing client base. A local company that uses propane for its forklifts also operates trucks. What about the residential customer who owns a contracting business?
Look to the public and private sector that run commercial vehicles, such as transit and airport transportation. Light- and medium-duty propane trucks, vans, and shuttles are available through fuel system manufacturers, upfitters, and dealerships.
School districts are another popular market for propane. According to the
Propane Education & Research Council
(PERC), more than 18,000 propane school buses transport 1.1 million students among 930 school districts across the nation. This presents an opportunity to talk to local school district fleet managers about their current school bus manufacturer or contractor and explain the emission-reducing, cost-saving benefits of propane autogas. There is a huge potential economic impact over the next decade as conventionally fueled buses are replaced with alternatively fueled buses like propane autogas.
And, keep in mind that the school bus market is not limited to yellow school buses, but also includes all other school district vehicles. Explain available federal and local incentives they could receive by purchasing alternative fuels like propane autogas.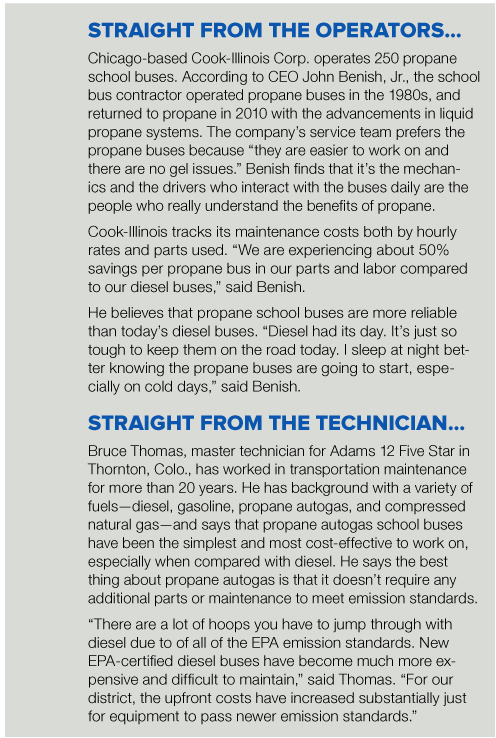 For additional sources, many fuel system manufacturers have case studies showcasing successful deployments and happy customers. Both PERC and the Energy Department's Alternative Fuels Data Center also have studies showcasing successful propane autogas fleet deployments. Your local Clean Cities or your state propane gas association can direct you to existing success stories in your area.
In-house, you can conduct on-site visits to local businesses or school districts to present the benefits of propane autogas vehicles. You can host workshops at your facility to provide fueling demonstrations and to familiarize attendees with propane infrastructure options. If the prospective customers still have questions regarding propane for their vehicles, you can direct them to a propane fuel system manufacturer who can offer their services. This could be tours of their facilities, workshops with the mechanics to introduce propane technology, etc.
Get to know propane fuel system manufacturers. Do you know which technology companies offer propane autogas fuel systems, and for which vehicle manufacturers those systems are designed? Which ones are certified by EPA and the California Air Resources Board (CARB)? Find a complete listing of all certified fuel systems and vehicle platforms on PERC's website, or go to CARB's Alternative Fuel site.
Also, look into original equipment manufacturers' (OEM) offerings to see available gaseous fuel options. For instance, Ford offers a full line of commercial vehicles equipped with engines prepped from the factory to successfully run on gaseous fuels. Plus, the factory warranty coverage on the vehicle is maintained once it is converted by a Ford Qualified Vehicle Modifier.
Since all vehicles need maintenance, make sure the fuel system provided has a robust service network in place or are able to provide training. Visit a local dealership and offer your knowledge and support. They'll think of you the next time a customer asks about a propane distributor.
Partnering with manufacturers. Every purchaser of propane vehicles needs to find a propane fuel source. Fuel system manufacturers are constantly talking to potential customers about their fueling needs as well as their vehicle purchases. Establish a relationship with these companies to learn what they can offer to your customers.
By maintaining this relationship, you will have access to sales training, marketing materials, and additional support to help diversify your own company's sales efforts. If you make introductions to customer prospects, manufacturers will be more likely to do the same for you.
An energy expert on market trends said, "If you are a propane company and you choose not to embrace propane autogas, you might be out of business in a few years."
This market is growing, and so can your sales, if you invest time and resources toward propane as a transportation fuel.
Todd Mouw is president of ROUSH CleanTech, an industry leader of alternative fuel vehicle technology. Mouw has served as president of the NTEA Green Truck Association. Reach him at
This email address is being protected from spambots. You need JavaScript enabled to view it.
or 800.59.ROUSH. To learn more, visit ROUSHCleanTech.com