Just days before the COVID-19 virus turned the world upside down, leaders from key segments of the propane industry were invited to the
Propane Education & Research Council
's (PERC) Propane Markets Summit in Orlando in late February 2020 to discuss ways to grow gallons in the U.S. "The goal for the event was to look at the propane markets holistically," said Bridget Kidd, PERC's senior vice president, industry relations. "This included bringing in experts from outside the propane industry, including manufacturing and marketing people from companies that create products that utilize propane. Customers were also represented. Ultimately, we wanted to discuss ways to grow gallons with a wide range of perspectives."
The program was conducted in a "world café" structured conversational process for knowledge sharing. The process includes groups of people discussing topics at several tables, with individuals switching tables periodically and getting introduced to the previous discussion at the new table by a "table host." The invited participants were people with expertise in one or more of five areas: agriculture, commercial, off-road, on-road, and residential. "To maximize efficiency, webinars and PowerPoint presentations were provided so that members would come together having reviewed important information prior to the meeting," Kidd explained. "Very focused discussion was key to successfully getting input from these various industry experts."
During the first afternoon, participants attended a general session and then participated in a leadership panel led by Jennifer Goldbach of Rhoads Energy (Lancaster, Pa.), Michael Hopsicker of Ray Murray Inc. (Lee, Mass.), Tom Knauff of Energy Distribution Partners (Chicago), Andy Peyton of Superior Plus Energy Services (Rochester, N.Y.), and Dan Richardson of Conger LP Gas (Tifton, Ga.). Market Breakout Sessions for the five areas were held for the duration of the summit, with participants able to move from group to group.
"Having been to many PERC advisory meetings over the years, I was pleasantly surprised at how the Propane Markets Summit was designed," said Steve Ahrens, president and CEO of the Missouri Propane Gas Association and the Missouri Propane Education and Research Council. "Participants were assigned homework to do beforehand, which was essential to focus on specific issues rather than veer into irrelevant conversations. Given the pace of the Summit, it was necessary to stay on task. We didn't spend time reviewing existing dockets, but instead used an aggregation of viewpoints to seek out opportunities to meet the needs of current customers. While not a networking event, the presence of many non-propane industry partners provided important new perspectives from beyond the usual propane voices."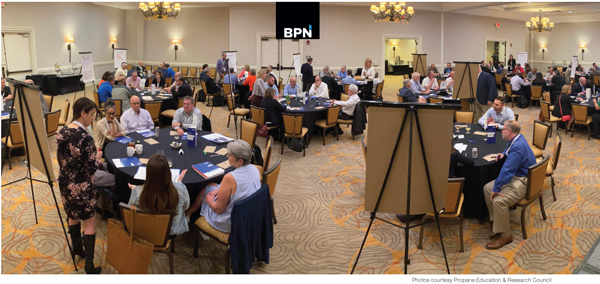 Goldbach added, "It was a refreshing couple of days during the 'non-winter' of 2020 to spend with like-minded people trying to find new ways to build gallons regardless of the weather." Ed Hoffman, president of Blossman Services, agreed. "It had a lot of free thinkers and problem solvers. It was exciting to be there."
"It was good to have people involved in manufacturing and sales there as well as the propane marketers," said Richardson. "The manufacturing people gave us many ideas that can help us. For instance, it was pointed out that with 3500 retail propane marketers, if a large portion could each commit upfront to buying one propane vehicle, it would make production very worthwhile." Richardson also noted that there was a lot of good meat to the discussions. "We talked strengths and weaknesses. There were views and opposing views. It was not just a lot of industry cheerleading."
Shari Pedersen of N & S Tractor Co. (Yuba City, Calif.) also has a lot of retail propane experience after 16 years with Allied Propane (Dixon, Calif.). "I had never attended a PERC meeting or event," Pedersen said. "Michael Newland [PERC's director of agriculture business development] invited me. It was a great opportunity to meet with people from all over the country." Using the knowledge gained from her years on the job in California, she shared examples of propane being a great alternative to electricity due to many rolling blackouts. "With all the fires we've had, PG&E [Pacific Gas and Electric] has turned the power off on many occasions. Farmers want to go off the grid, and propane engines provide a great opportunity for that. PERC wanted to know how we felt they could help us. We discussed the importance of continuing farm incentive programs and providing the right marketing materials." Pedersen feels that what's happening in California may once again spread nationwide. "More farmers across the country may decide defying the 'electrify everything' movement and going off the grid is the right thing to do. This will likely happen anywhere when power rates escalate."
Pedersen also noted that Tier 4 diesel engines are now the only option for diesel as older ones are discontinued. "These engines have been problematic and expensive. They have been difficult to run and this presents an opportunity for propane."
"I really enjoyed the insight from builders," said Lindsey Stansfield, director of marketing for Paraco (Rye Brook, N.Y.). "We are hearing a lot about zero net energy, but successful builders say consumers really want a 'healthy home' and propane can be a major component in that process." With both architects and builders in attendance, Stansfield believed a lot was learned about the latest thinking of experts regarding where propane can truly fit into the picture for current and future homes. "Many felt it was not reasonable to expect homebuyers to just use one fuel. With propane always a great backup during power outages, we need to show we can be that backup but also much, much more. That's the secret the electric world knows but doesn't want to share."
Paula Laney, director of safety and training for Energy Distribution Partners, agreed that the zero net energy movement is a recipe of problems for the homebuyer. "With all the additional codes this will impose on housing, the homebuyer will foot the bill for all the compliance." She believes that homebuyers will also be pushed to consider wind, solar, and other types of renewable energy. "We need to be aggressive about how we can be a benefit to the homebuyer in order for propane to stay in the game."
Stansfield mentioned Bill Owens of Owens Construction (Worthington, Ohio) who attended the summit as being particularly helpful. BPN caught up with Owens in Flagstaff, Ariz., where he is working for a magazine on a promotional home that will eventually become his retirement home. "After 40 years of building homes, it has really been during the last four years that I have been introduced to the benefits of building with propane," Owens explained. "With my business in Ohio, I've more recently been working on this Arizona home, which is being built near the end of the grid. I learned that propane is a good fit for the backup generator, backup furnace, and backup heat pump for sure.
Along the way, I have found it can be very useful in many more ways. The more I learned about propane, the more I felt that homebuilding has a very solid place for propane. I had not realized its distinctions from natural gas." Owens is concerned about the movement toward full electrification of the home. "Looking at the blackouts in California, we can see quickly we don't want to put all of our eggs in one basket, but the diatribe of the 'green meanies' is all or nothing and they wear it on their sleeve. Just as in politics, some won't be your friend if you don't agree on this issue."
Laney was also critical of electric propaganda that suggests fossil fuels should play no role in the use of electricity. "They use coal to produce electricity and that sends much more carbon into the atmosphere than propane does. This is like telling us that hamburger doesn't come from a cow." Laney believes well-trained propane personnel can educate consumers and other stakeholders. "I felt the meeting was a great opportunity to get the process rolling. CSRs should be able to recite the basic argument for propane. We need the next generation to think of propane as central to their future, not just grandpa's fuel."
Laney also found the discussions on autogas enlightening. "There were representatives from the Fulton County School District in Atlanta. They talked about the importance of encouraging schools to at least dip their toe in the water. They said school boards listen to numbers, both dollars and safety statistics. Once they see a way to have savings as well as safety, they are pleased to shift funds to compensating more quality teachers."
"It will be interesting to see how the results shake out," Ahrens said. "I'm expecting that the process will identify many familiar opportunities, but with new strategies and engagement suggested by the diversity of viewpoints." Ahrens feels the Propane Markets Summit signals the Council's renewed commitment to generate new gallon growth across the board however possible. "This may happen by deploying additional resources strategically, setting aside lower-priority programs, and leveraging the many benefits that propane offers right now," he added. "There is a sense of urgency, of not missing our moment, and I believe that the PERC team will develop several unique responses to the challenges we face."
Unbeknownst the roadblock that would halt their progress, according to Kidd, the Propane Council wanted to use the ideas from the meeting to further hone its action plans moving forward to fund and execute plans to sell more gallons. A 16-page document of recommendations was later prepared for the various PERC advisory committees to consider and decisions about next action steps are still being considered. "Ultimately, we brought together some new participants to hold a positive event and get some good ideas for action plans going forward."
The COVID-19 pandemic delayed some in-person meetings of advisory committees where the 16-page document was to be discussed. Once the next steps are formulated and approved, BPN will report on the progress. — Pat Thornton