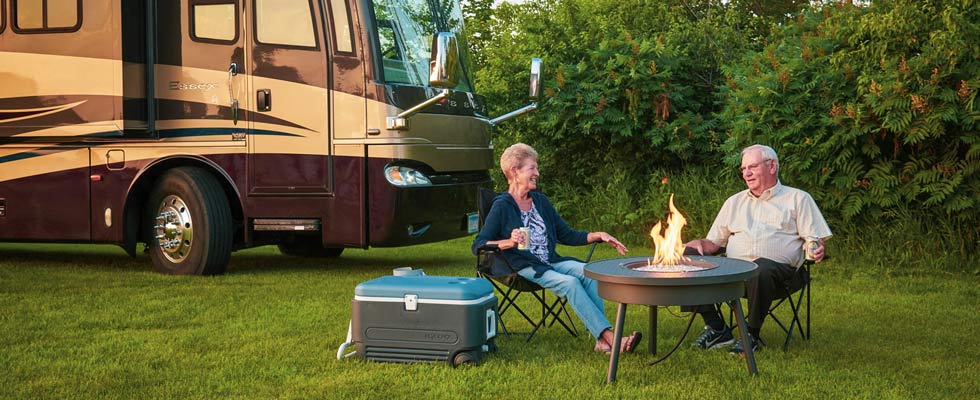 Industry leaders comment on the current outdoor living products market & what marketers expect in the remainder of 2022
In the February 2020 issue of BPN, an article titled "Propane and Innovation Keep the Party Outdoors" discussed the growing market for outdoor living products. This was a short month before the COVID-19 pandemic shut down most of the world.
As the 2020 issue went to press, there were no clear signs that most of the world economy would soon shut down, but the outdoor living products market would soon get busy — and stay that way. The article focused on The Outdoor GreatRoom Company, based in Minneapolis, Minnesota.
"Just like indoor gas fireplaces, people like the convenience of gas grills, gas fire tables and conversation pits on the deck and in the backyard," Eric Hawkinson, vice president of operations told BPN at the time. "They haven't always enjoyed just hanging out around the gas grill, so we've come up with products that are more like an open fire to sit around and enjoy."
He noted that 85% of the company's products sold are designed to run on propane. "Our products run largely on 20-pound cylinders, but many use propane or natural gas directly from a hard-plumbed pipe." As 2020 was beginning, Hawkinson had already seen tremendous growth in the outdoor living market since joining The Outdoor GeatRoom Company in 2010 and the firm had expanded to serve a worldwide market.
As the new decade began in 2020, he noted that homebuilders were just starting to really put an emphasis on their abilities to add outdoor living features onto the homes they build.
"They are starting to realize these features can set them apart from the many builders who do not promote such features," Hawkinson said.
The Pandemic Hits
The COVID-19 pandemic soon made it clear the uptick in interest in outdoor living was about to bump up several more notches. As the entire world began to shelter in place, sports betting took an immediate $261 billion hit as games were cancelled. Similar losses affected airlines, cruise ships, hotels and movie theaters, and massive job losses were taking place. The dollars that were not being spent on vacation, travel and other entertainment were, in many cases, redirected to upgrading homes with more people staying at home.
Warm Thoughts Communications, a business serving the marketing needs of home-heating companies, including many retail propane marketers, soon showed that organic traffic to digital clients' websites was up significantly. Sales of tankless water heaters and outdoor living products saw some of the biggest growth.
"In May 2020, we made a switch to a much stronger focus on home renovation," said Emily Willis, director of marketing for Blossman Gas, which is based in Mississippi and has 88 locations throughout the Southeastern United States. "Page visits regarding outdoor living products were soon up as much as 60% in some cases, and even 100% to 400% for certain products. Strong interest in outdoor living products soon meant availability became a problem — and we had to keep focus on what was available."
Having spent 20 years as a firefighter, 10 of which were as a battalion chief, Tim Laster joined Blossman Gas full time in 2017 as a product consultant and the branch manager. "As a firefighter, I am trained to adapt to every new situation quickly, and the COVID-19 pandemic was a new situation that we as a company had to adapt to," Laster said. "With people immediately spending more time at home, the phone calls kept coming. With social distancing, we did a lot more selling via phone and email. Based on phone discussions, we often put together an email with pictures and links to the products they were most interested in."
With COVID-19 social distancing policies, Laster's team began assembling products that customers could pick up by appointment at the back door. "We didn't do the loading. The customers had to bring helpers to get it loaded and we thanked them from 10 feet away," he said. "At least 50% called back, very appreciative of the process to get the products."
For Blossman Gas, the pandemic caused a lot more communication between branches about how to handle all aspects of the pandemic. "We used Microsoft Teams software to meet online and talk through best practices for how to handle all of the demand and meet customer needs," Laster said. "Some locations in areas where outdoor temperatures were still low immediately sought patio heaters to allow for more outdoor dining. With patio heaters sold out everywhere, we were able to use the limited supply we had to rent the units to some restaurants on nights they were having a particularly big event."
For a few months, the rental units were in constant demand. With the patio heaters in short supply, there were other products that helped to meet the need. "Rinnai makes a nice heater to hang on the ceiling, which can put out heat for 15 feet," Laster said. The company had to devise a plan for safely refilling cylinders. "We had signs telling customers to call when they pulled in. Cylinders were sprayed with sanitizing solution and payments were taken by credit card only," Laster said.
In November 2020, BPN spoke with Christina Armentano, third generation and executive vice president at Paraco Gas in New York. "We have observed a spike in the overall outdoor living category as the coronavirus canceled summer vacations and travel plans for many at home. We've seen an increase in demand for barbeque grills, outdoor heaters, firepits and pools. All of this adds up to more propane usage at home."
Andy Mirchin, national accounts manager for Paraco, said, "In my 35 years, I can't think of another time where propane played a more crucial role in keeping people in business," Mirchin said. "With restaurants not able to operate at capacity, many are adding space outside. This may be outdoors or in a large tent, but it is allowing for more space to serve more customers safely."
Armentano felt propane was the unsung hero of the mom-and-pop businesses in the restaurant industry. "My heart goes out to all those impacted by the pandemic," she said. "But, if there is a silver lining, it is that more people are seeing the benefits propane can provide at a time when there are forces trying to steer people away from propane with electricity and other energy sources."
Tucker Perkins, president and CEO of the Propane Education & Research Council (PERC), agreed with Armentano's assessment when he spoke to BPN in December 2020. "We follow our strategic plan pretty diligently," he said. "Often, forces in the marketplace cause us to adapt to challenges and opportunities. Who really thought a year ago (beginning of 2020) a pandemic would have us all working from home and gaining a lot of attention for propane through high demand outdoor living products?"
Perkins asked. "We're glad propane is playing a role in keeping small businesses open. This gives us a chance to also shine a light on many more things propane can do."
He noted that during the pandemic, reporters from The Wall Street Journal, The New York Times, Forbes Magazine, and the Financial Times had been learning more about propane and its many benefits as they write stories focused on heating products for restaurants that allow comfortable services outside.
As the Pandemic Subsides
Blossman's Willis notes a plateau of outdoor living product sales began at the end of 2021. "This made sense as more people were feeling comfortable doing more and more things outside and away from the home again." She believes that despite continued supply chain challenges, there is much more normalcy in the outdoor living space than back in 2020. "There are definitely less horror stories like the huge shortage of outdoor heaters back then."
Growth in outdoor living products is expected to continue to occur. The global casual and outdoor furniture market is expected to reach $22 billion by 2026, an increase from $17.1 billion in 2020, according to a study published by market research firm Global Industry Analysts.
Carol Daus, managing editor of Patio & Hearth Products Report, commented on the current situation. "There continues to be buyer interest as the trend for extending living space into outdoor residential areas keeps growing," she said, adding that in addition to installing outdoor kitchens and outdoor entertainment centers, "some customers have even set up outdoor offices for remote work and outdoor 'bedrooms' in warm climates."
Strong demand for various products is among the factors creating global shortages and rising raw materials prices on items, including foam, fabrics, wood and metal. All are key parts of outdoor furniture and accessories.
Bryan Cordill, director of residential and commercial business development for PERC, agrees that outdoor living sales have hit a plateau. "I believe the focus on the outdoor living habit will continue," he said. "We do have a few factors that will likely slow the growth, though. Family budgets are shifting back to more spending on vacations, stimulus money is no longer adding to cash flow and inflation is weighing on everyone."
Cordill noted that many parts for outdoor living products come from China and port to port transportation for containers are up from $4,000 to nearly $22,000. He believes big box stores will play a big role in how much focus remains on outdoor living products for the masses. "The strong outdoor demand won't go away but growth may slow down," he said.
The Outdoor GreatRoom Company, featured in BPN just before the pandemic, continued its growth and in December 2021 was acquired by Hearth & Home Technologies.
"We are pleased to welcome the employees and customers of The Outdoor GreatRoom Company to the Hearth & Home Technologies family," said VP Berger, president of Hearth & Home Technologies. "Outdoor living is not just a trend, it's now a core design element as consumers appreciate the benefits of moving outside the four walls of their home to relax and entertain. We are optimistic that the talented team members and extensive product offering of The Outdoor GreatRoom Company will put Hearth & Home Technologies in a leadership position in this important growth segment."
"There has definitely been an uptick in demand that is continuing," said Dan Richardson, president and CEO at Conger LP Gas in Georgia. "We are adding a new display at our Tifton location in response to the increased interest. The outdoor living options are becoming more of a staple for new homes. People continue to like having places at their home to hang out, be socially distanced and still see people."
Richardson also noted that the delays of outdoor kitchen area builds are decreasing lately. "There are more options now to have outdoor kitchens that are custom and can be put together at the customer's home in six weeks, rather than six months," he said.
Blossman's Laster agrees that outdoor living features are becoming more and more typical offerings with new home construction. "New home construction is booming and 70% of customers are wanting to incorporate outdoor areas."
In addition to the outdoor kitchens, fire pits, outdoor heaters and grills, Laster believes two items that are becoming high-demand features are new pizza ovens and new ovens that can cook a steak in three minutes — two more features to help keep the party outside.