Celebrating its 40th anniversary this year, LPG & NH
3
Supply (Buffalo, Minn.) got its start when Gary Koch left his position at Gas Supply. It was early 1976, and Gary started his own company, LPG & NH
3
Supply. Gary was later joined at LPG & NH
3
Supply by his father, Herb Koch, after he also left his position at Gas Supply. In the beginning, LPG & NH
3
Supply specialized in bulk plant construction. Over time, the company's focus turned to wholesale equipment distribution, but plant construction remains part of the company's business.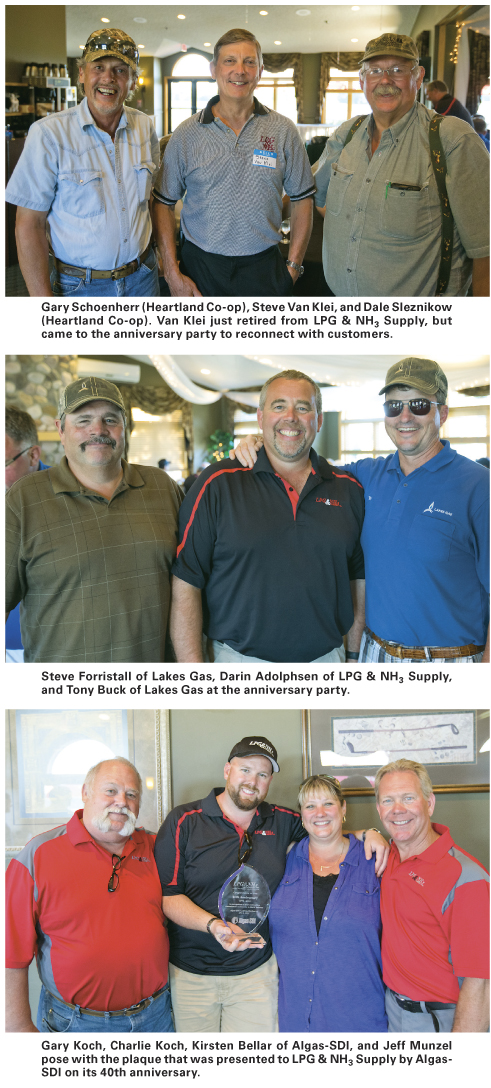 Now the third-generation company offers a complete line of propane and anhydrous ammonia equipment from manufacturers such as RegO Products, Blackmer, Corken, Algas-SDI, Modine, Alternative Energy Systems, and L.B. White. The business provides propane and anhydrous ammonia plant construction and service and also designs and installs propane/air standby systems.
Jeff Munzel joined the company in June of 1976, and today he serves as vice president and part owner. "What kept the boat afloat at that time was plant construction," Munzel said, but the percentage of the company's sales slowly evolved from almost 100% plant construction to more equipment sales.
Jeff Munzel's father, Harold Munzel, who had a long career in the energy industry, joined the company in 1982. He had previously worked for Midland Cooperative, which is now CHS. "He had a lot of name recognition in the industry," Jeff Munzel said of his father. "When he came on board, he helped us solidify distribution of some of the major manufacturing equipment in the industry." Harold and Jeff Munzel, along with Herb and Gary Koch, oversaw the business as it began to grow and gain distributorship of various lines of equipment. The plant construction business grew as well.
Gary Koch's son, Charlie Koch, joined the company in 1996 and is now co-owner of the company along with Jeff Munzel. They describe the business as a key propane equipment distributor in the Midwestern United States. Its outside salesman travel full-time, covering the states of Minnesota, Wisconsin, North Dakota, South Dakota, Iowa, Illinois, and the Upper Peninsula of Michigan. The company primarily distributes propane equipment to those states, but it regularly ships equipment to all 50 states. "Our outside salesmen tend to visit every customer every six weeks in that area," Charlie Koch said. Chad Pendill manages the staff of three outside salesmen and three inside, and the company employs 25 people overall.
Its expansive product line includes regulators, cylinder and service valves, multi-valve assemblies, pumps, compressors, valves, LP-gas meters, and many other products such as CSST tubing, copper tubing, and brass fittings, and cylinder storage cabinets.
Pendill noted that sales of propane autogas dispensers have been taking off as of late. The company builds its own dispenser, retrofitting the Gasboy refined fuel dispenser to propane. The unit features fuel management capabilities such as transaction reporting. Pendill, who has been with the company for 19 years, stated that the company overall has experienced "tremendous growth" over the years, noting the company's recent expansion of its Buffalo, Minn. facility last year to 33,000 sq ft, and a 17,000-sq-ft outdoor tank yard was added.
"With our warehouse capacity and our knowledgeable people, we're set up to experience great growth," he stated.
The company recently began distributing a new product, the Ventur-Evac, from Jetmark LLC, invented by Mark Grave. It is a tank evacuation unit for pumping propane from residential and commercial tanks. Tests confirm 10- to 11-gpm consistent flow rates during evacuation. However, flow rates of up to 16 gpm have been seen in warmer weather/higher pressure conditions. LPG & NH
3
Supply showed a prototype of the product at the National Propane Gas Association Southeastern Conference in April. Charlie Koch noted that the Ventur-Evac is a small, 6-lb unit that is easy to use and move around, as opposed to the current compressors that the industry uses for evacuation, which he said weigh about 80 lbs. Charlie Koch added that the product requires only two hoses to hook it up; the current compressor requires three. Because the Ventur-Evac and a pair of hoses fits easily in the toolbox on any propane bobtail, it can be carried in every truck, and only one driver is necessary on site for tank evacuations. The light weight of the Ventur-Evac ensures that it can be carried and used by only one person, reducing the chance of Worker's Comp claims for back injuries. "The tank evacuation procedure is now a one-person operation rather than a two-person operation, freeing up your resources to handle other jobs," Charlie Koch explained.
Darin Adolphsen, salesman for LPG & NH
3
Supply, praised the company's willingness to try out new ideas like the Ventur-Evac. "They gave me the go-ahead to go out and sell it. They gave me free rein to do it," he said. "Other companies take a long time to get changes approved."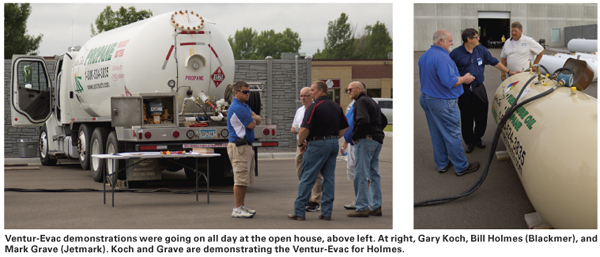 Leaders at the business believe in supporting its state associations, the National Propane Gas Association (NPGA), and the state and national Propane Education & Research Council (PERC). Five employees currently serve on state association boards and committees, and past employees have served as president of the Minnesota and Wisconsin associations and have served on the PERC council.
"We're a service-oriented company," noted Charlie Koch, adding that the business focuses on "order in, order out, the same day."
"We ship 95% of our orders out the same day," he noted. "We keep a large inventory on hand, so we hopefully have everything a customer would need. We can ship the order complete the same day. We've partnered with three different package shipping carriers as well as many different truck lines. If you called us at 2:30 p.m. our time, if you're in our next-day area, which is basically all the Dakotas, Minnesota, Iowa, Wisconsin, Illinois, and the Upper Peninsula of Michigan, you would have your order complete tomorrow morning."
The company held a two-day celebration for its 40th anniversary, including an open house at its warehouse, and 13 of its vendors set up tables to talk to customers. The event included a golf outing and a lunch served on a grill made out of a propane tank. — Daryl Lubinsky