Wednesday, February 26, 2020
(February 26, 2020) — When a customer is operating a greenhouse, the propane marketer's service is a key to success. Proper installation of the heaters and the system that fuels them, a steady supply of fuel, and the availability of service around the clock are needed for the customer to keep those plants alive.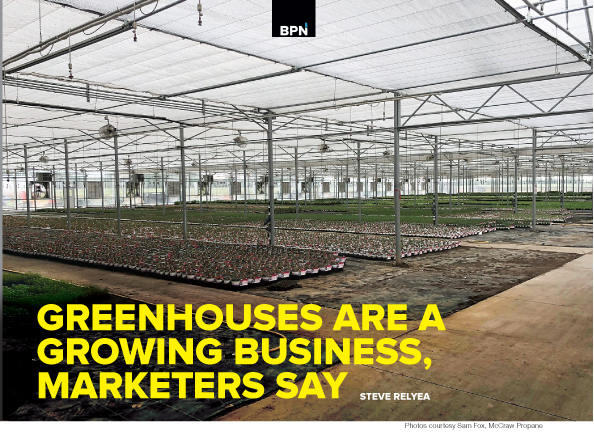 "During the winter, the grower's business is in the propane marketer's hands," says Sam Fox, director of business development at
McCraw Propane
(Bonham, Texas). "If they lose heat, they can lose their crop. For the same reason, it is also very important to be available for emergency services after hours."
McCraw Propane offers a turnkey program for growers that includes site planning, permitting, system design, installation, and training.
"An improperly designed system can lead to poor combustion," Fox says. "Poor combustion can produce carbon monoxide, which is toxic to humans. It can also produce ethylene, which can damage and even kill plants. So it is very important to properly size each component to the Btu load that it will carry."
Once the greenhouse is up and running, McCraw Propane offers remote fuel monitoring.
"Tank monitors provide a high level of security for us and the customer," Fox notes. "Being able to check the percentage offsite and schedule deliveries efficiently makes taking care of greenhouse customers much easier than in previous years."
A Niche Market
In Southern California,
Ferrellgas
works with greenhouse installers and contractors. The contractors install the heaters, while the propane marketer puts a propane tank on a concrete foundation or block, runs pipes underground, and places bollards around the tank.
"We don't install heaters; we work with the contractor to make sure it is done according to code," says Ted Olsen, account manager at Ferrellgas. "We do the pressure test, fire up the heater, and document that everything is working. We do a GAS Check. We don't just hook it up; we are there for the whole process."
"Greenhouses are a niche market for the propane industry," Olsen adds. "If you have good contractors or greenhouse installers you work with, you can be very successful."
Both of these propane marketers see greenhouses as a growing market.

"As the Texas population continues to grow, we see a lot of local nurseries expanding to meet the demand from the construction boom," Fox says. "As they add greenhouses to increase production capacity, they are also adding heaters, which increases propane demand. In this scenario, a marketer gets a better return for the investment in tanks and equipment that is already on site."
McCraw Propane currently has a handful of greenhouse accounts, he adds. Some are local operations serviced with bobtails, while one is a large operation set up to take transport deliveries.
In Southern California, Ferrellgas, similarly, has a dozen greenhouse accounts of different sizes. "Some are big, some are small. We have some who are huge and use a huge amount of propane," Olsen reports.
"Some greenhouses use tens of thousands of gallons, but when it's warm they use none. It depends on the weather," he adds. "It's hard to predict; it's not like autogas."
Overall, Olsen says, "It's growing. We see a lot more contractors building greenhouses, so there is definite growth."
The Best Choice
The marketers agree that propane is often the best choice for greenhouses, especially when they are located beyond the mains. Propane is both economical and efficient.
"In the south, the other choices are natural gas or electric," Fox says. "Natural gas can make sense if it is available to a grower. I don't know that electric heat really makes sense in Texas, but possibly out in California."
"When greenhouses are outside the reach of the natural gas lines, propane is, in my opinion, the only economical choice for growers," he adds. "They appreciate how quickly and efficiently propane heats the air. Some growers also use hydronic heat to warm the root systems by running warm water through pipes inside the beds; these systems are typically powered by propane as well."
In Southern California, Olsen has some customers who heat for growth, and others who just want to keep the plants from freezing. In its pitch to growers, Ferrellgas notes that greenhouse gas heaters powered by propane can be installed or portable, allowing the grower to customize the set-up.
"Propane is the best choice for greenhouses that are beyond natural gas," he says. "It is affordable, cost-effective, and easier to install. You just place a tank and run the pipes. The portability of propane is key, whether it's in a cylinder or a bobtail."
"Electricity is the other option, but it's more expensive," Olsen adds. "Plus, propane burns hot, so it is effective at producing heat."
"My customers use propane for other applications too. They may have a house on the property or they may use a forklift. So, in a lot of cases, we serve other uses or add other applications. Many are farmers, so they are accustomed to using propane." —Steve Relyea