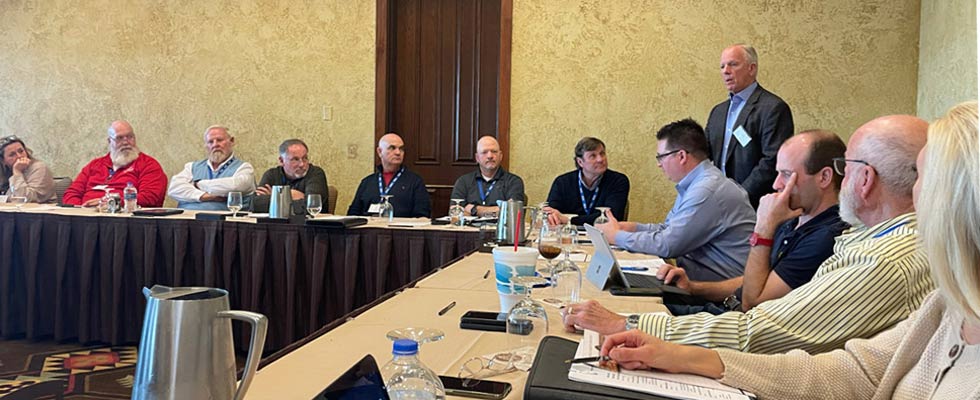 How state leaders plan to play a role in driving industry growth in 2023 & beyond
Great ideas are amplified when shared with others. Leaders from five state associations, propane marketers and industry suppliers met at the Midwest Propane Summit at Big Cedar Lodge near Branson, Missouri, in early January to discuss the state of the propane industry and plan for the future.
This collection of talent and experience shared best practices and set big goals. In a constantly evolving industry, the group marshaled their resources and talent, embraced change and explored new ideas. Complacency can be detrimental to any industry, and with that as the backdrop, summit attendees openly discussed the future and their collective responsibility to position propane as an indispensable energy source for the future.
Collaboration & Urgency 
The overarching message repeated by the 30 attendees was that solving big problems requires big solutions — and is only possible through collaboration. The group discussed putting aside various differences and instead focusing on cooperation and growth.
Tucker Perkins, president and CEO of the Propane Education & Research Council (PERC), and Stuart Weidie, PERC chairman and Blossman Gas president and CEO, were also in attendance. The pair shared their decades of experience, a review of the PERC resources that are available for state agencies and laid out a sense of urgency for the industry's current mission.
Setting the Tone
That urgency was reflected by the following committees that were formed to address what the group identified as the best use of interstate assets:
Regional Approach to a Demo Shuttle
School Bus Ride and Drive Events
Regulation Consistency Across State Lines
CSR Training Program
Each committee has a lead member who is responsible for checking back and giving updates to the group. The committee chairs are Mark Porth (who leads two committees), Derek Poe and Becky Swartz.
Autogas
Autogas adoption plays a crucial role when surveying the future of propane. Opportunities abound with beverage fleets, resorts, municipalities, paratransit and school buses. Since many fleet managers, business owners and school board members are unaware of the benefits of autogas, summit attendees concluded that education and outreach are necessary. Demonstrating this, Steve Ahrens of Missouri Propane Gas Association (MPGA), offered MPGA's autogas van for ride-and-drive demonstrations for those in the fivestate geography.
The group agreed that autogas adoption requires passion and forward thinking. The business approach to convert new customers cannot be set in the past; it requires an entrepreneurial mindset. In addition to increasing gallons, autogas adoption can help normalize sales numbers during the historically slow summer months.
Chassis shortages, infrastructure and ongoing maintenance were presented as hurdles that must be overcome to increase autogas sales.
School Buses
The summit also uncovered ideas and suggestions for converting school buses to autogas. On average, the nation's schools purchase 30,000 school buses annually. Attendees were reminded that ROUSH CleanTech and Blue Bird will offer ride-and-drive events and are willing to come to any state. Ride and drives boast a highly successful conversion rate.
Kris Sanders, Oklahoma Propane Gas Association executive director, found this session helpful and said, "As a result of the summit, we now have two board members working to get propane buses into the school district's fleets."
Ahrens agreed. "The world of autogas is coming to us because of the emissions standards that diesel can't hit," he said.
Legislative Hurdles
Just among the five states that were represented — Missouri, Oklahoma, Arkansas, Illinois and Kansas — there are opportunities to establish commonalities and operational efficiencies. Safety training and the Certified Employee Training Program (CETP) were used as examples.
For instance, Missouri, Kansas and Illinois all use CETP, while Oklahoma and Arkansas do not. Missouri accepts Arkansas training, but not vice versa. For companies that operate near state lines, these inconsistencies present unnecessary challenges for providing adequate training.
The individual states may feel threatened by universal training requirements that would eliminate their ability to set mandates for training. One of the committees formed is already striving to solve the problem by working with the states to explore how regulatory agencies can continue propane's legacy of safety in a more universal manner.
Perfect Setting for the Summit
It was fitting that the summit took place at Big Cedar Lodge, which is billed as "America's Premier Wilderness Resort." It was on these 4,600 lakeside acres that propane advocates approached Big Cedar Lodge with a better solution for their fleet of 38 shuttles.
While autogas offers cost savings, Big Cedar Lodge was most interested in reducing its carbon footprint. With the help of the Missouri Propane Education & Research Council and Alliance Autogas, Big Cedar Lodge has converted its entire fleet to autogas, which illustrates the power of effective messaging to the right audience.
Looking Ahead
The use of bio-propane is on the rise, and it's becoming more available. It can help decision-makers make the move from either diesel or electric to environmentally friendly bio-propane. Just because it may not be available in your market yet does not mean the conversations currently happening regarding bio-propane should be ignored. Bio-propane can steer the conversation away from fossil fuels and toward renewable energy.
Propane is here to stay. At the event, Perkins set forth an industry goal of dramatically increasing the gallons of domestic propane sold annually. With the help and teamwork of those attending the summit, that goal is achievable.