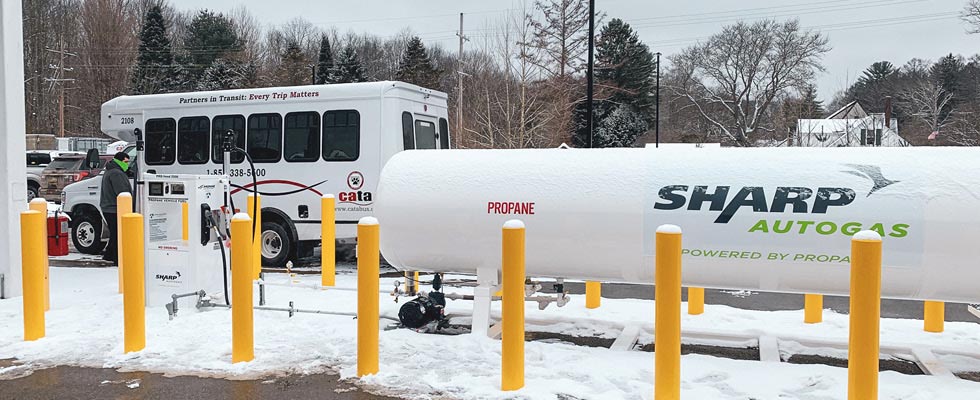 Answers to the most common propane autogas questions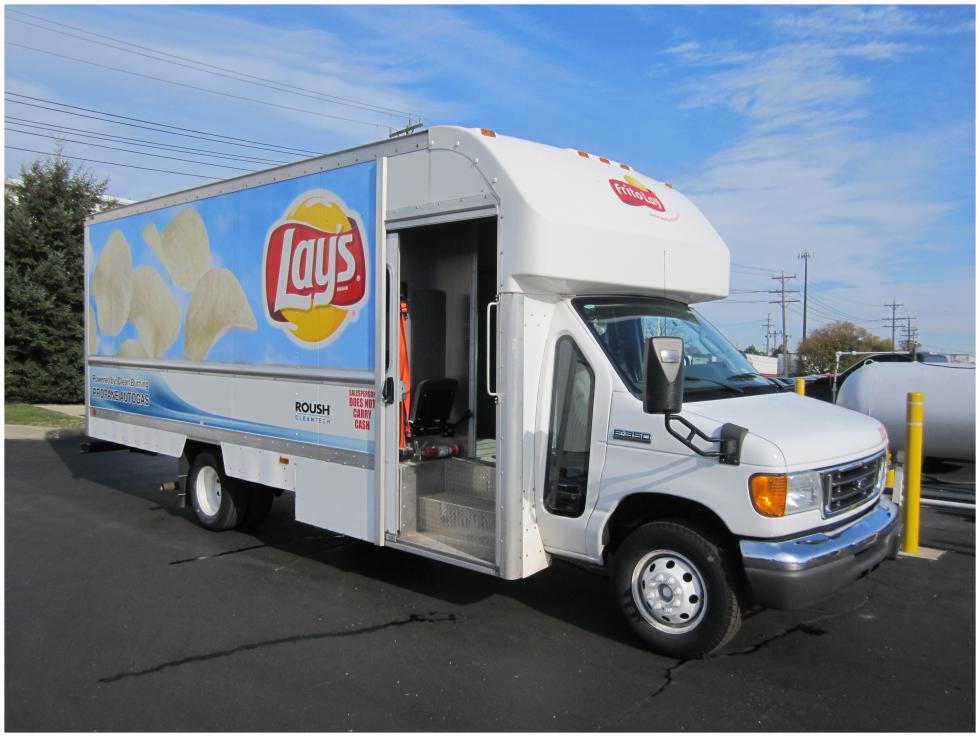 Is it possible for American industries that require consistent, long-term transportation of people and/or goods — like parcel delivery, transit/paratransit and food delivery — to easily and quickly meet new United States emissions standards? The answer is yes.
It's true that the long-term solution to dramatically reducing greenhouse gas emissions by 2035 is multifaceted. But a key piece of the puzzle right now is fleets that are fully fueled by propane autogas.
Most people don't know that vehicles can run on propane autogas. But the truth is that many fleet operators in the U.S. have already transitioned entire fleets to operate exclusively on propane as an affordable way to cut emissions, improve budgets and easily meet federal guidelines. There are more than 20,000 trucks, vans and buses equipped with Roush CleanTech propane autogas fuel systems across the U.S. and Canada today — and that number is growing.
To clear the air about how fleets in every industry can adopt propane autogas as a main fuel source, we're offering answers to the most common questions about vehicles fueled by propane.
Q: Are propane vehicles more expensive than diesel or gasoline vehicles?
A: The quick answer? No. The longer answer: Despite a low initial additional cost associated with a propane upfit for trucks and buses, the long-term savings on fuel and maintenance lower the total cost of ownership over the lifetime of the vehicle. In fact, fleets typically see savings of up to 50% on fuel and maintenance in the first year. Here's how purchasing a propane vehicle works: The cost of a propane truck or bus starts off the same as it would for an equivalent gasoline or diesel model. Once a business opts for propane, the commercial vehicles are then upfitted with propane fuel systems.
Q: What is the difference between a propane truck and a gasoline or diesel truck?
 
A: On the outside, there aren't many visible differences on the vehicle. For example, ROUSH CleanTech's propane autogas fuel system seamlessly integrates into the vehicle. Internally, the fuel lines follow the OEM routing, and the fuel tank generally replaces the standard tank location. The system delivers propane to the engine in liquid form, ensuring zero compromise in vehicle performance. Depending on the application, there may be a propane tank visible on either side of the truck. Another difference about the internal structure is that propane fuel systems are clean from the beginning. Therefore, propane trucks don't require complex and costly after-treatment systems, and propane vehicles eliminate the need for components like diesel particulate filters, EGR coolers and SCR parts.
Q: What differences in performance or range can be expected with a propane vehicle?
 
A: Fleet operators can expect the same performance and range with a propane vehicle as they would with a diesel or gasoline model. In fact, performance actually increases for fleets operating in cold weather because propane autogas doesn't run the risk of gelling. Vehicles equipped with propane fuel systems maintain the same horsepower, torque and towing capacity as those fueled with diesel or gasoline. They also have comparable range without compromising the operation. Check with the propane fuel system manufacturer for specifics.
Q: How do I know propane trucks will make financial sense?
 
A: At a quick glance, it's easy to see where propane vehicles are more cost-effective than diesel or gasoline. On average, propane fuel is 40% less expensive than gasoline and about 50% less than diesel. Most fleets lock in an annual, per-gallon fuel cost for propane so price and supply remain consistent, allowing for better budgeting. Reduced maintenance costs and less wear and tear on the engine and components result in dramatic savings, too. There are online tools to help calculate and compare potential savings, like the fleet cost calculator from the Propane Education & Research Council.
Q: Is servicing propane vehicles burdensome?
 
A: No. Propane vehicles are not complicated to service, and technicians report a high level of enjoyment working on propane vehicles. In-house mechanics can quickly learn how to service propane vehicles and often find them more enjoyable to engage with. Technicians report a better day-to-day experience with propane autogas because the system is easier and cleaner. They don't have to deal with fuel leaks or spills, and they don't smell like gasoline or diesel at the end of the day. Unlike diesel, specialized technicians are not required to work on propane vehicles, so they're easier and less expensive to hire. Existing standard diagnostic equipment can be used or propane trucks can be taken to a service center. Be sure to ask your propane fuel system manufacturer if there's a certified service station near you.
Q: How and where will I fuel a propane truck?
 
A: There are multiple, easy-to-use options to fuel a propane vehicle. Many fleet managers elect to install low- or no-cost on-site fueling infrastructure, eliminating trips to off-site stations. Most people don't know that propane fueling infrastructure costs less than any other transportation energy source — conventional or alternative. There are also several federal and state incentive programs available to offset infrastructure costs.
Mobile fueling — where a supplier comes directly to you to fill up vehicles — is another option. In addition, there are thousands of propane fueling stations across the U.S., with stations in every state. When connecting with a local propane marketer, they can help walk interested parties through the options that make the most sense based on fleet size, routes, budget and facility space.