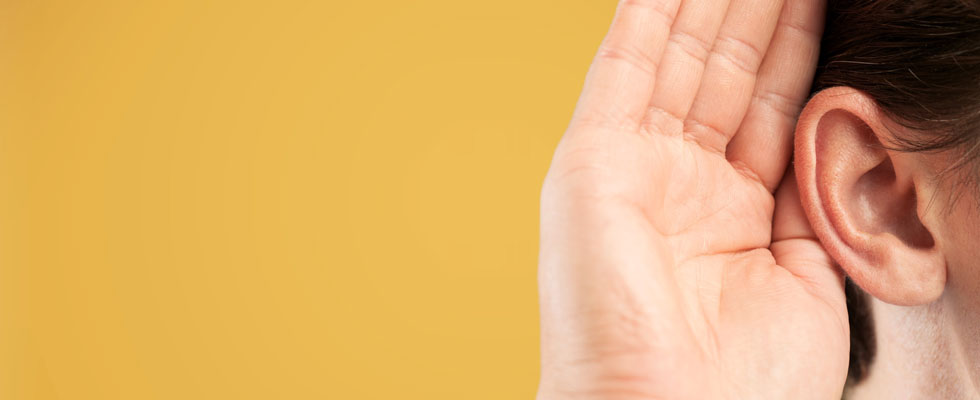 Your colleagues get honest about their listening skills & what they do to become better listeners
Wednesday, November 2, 2022
Are you an active listener? Do you use body language to show you are listening? Do you withhold judgment? How do you really listen to someone? Well-known writer and lecturer Dale Carnegie, who developed courses in self-improvement and salesmanship, advised, "Be a good listener," and, "Ask questions the other person will enjoy answering." There are many pieces of advice on listening skills. Our industry colleagues share their insights below.
In this column, adopted from the familiar "Heard on the Street" format, we offer our responders a chance to answer the question posed in the title. These are their replies reported verbatim.
Can You Hear Me Now?
I don't think anyone wants to say, "I'm a terrible listener," but in the effort to provide a truthful answer, I will admit I sometimes have my questionable moments. When the topic is of interest to me or I'm on my best behavior, I will ask a ton of questions. I really enjoy hearing people's opinions on a multitude of subjects. Yet, when I'm the other half of what I consider a boring or repetitive conversation, I have a habit of checking out. This mostly happens with family members — LOL.
I realize I tend to do this, so I do try to stay focused. But unfortunately, the bird outside my window could be getting a lot more attention from me than my conversational partner.
Leslie Woodward
Fairview Fittings
Oakville, Ontario, Canada
Listening is a skill I continue to work on daily. I thought I was a good listener but realized I didn't hear everything. I used to be an impatient listener. I would listen for a minute and assume what was coming next. That did not work well. I was giving the impression I did not care what the person was saying. I did not consider the speaker's perspective.
I noticed as I became a better listener, it became easier to communicate with others. I look directly at who is speaking without distractions. That way I respect the person speaking and I can focus.
Whether it's friends, family or coworkers, it helps to really understand what someone is saying. One of my former bosses always said, "God gave you two ears and one mouth. Use them proportionally!"
Ed Varney
Top Line Management LLC
McKinney, Texas
When I am multitasking or in concentrated thought about something, I may hear a few words and think I am listening, but I'm really not. When I am fully present and nothing else matters, I am listening.
Julie Johnson 
Ted Johnson Propane 
Baldwin Park, California
I believe I am a good listener, but I am not. However, I am a good conversationalist! I'd rather listen than talk (OK, I know that will be hard for some of you to believe!), but I have never been one who is good at starting or carrying a conversation. If a topic is on the floor in a meeting, I am not afraid to share my opinion, but casual conversation is not my strength.
I believe I did learn a great skill from my mother, as she was a wonderful go-to person when friends needed to just talk and knew it would never go beyond her four walls.
I'd like to think I have inherited that skill of a good friend willing to listen when someone needs an ear to hear!
Judy Taranovich
Proctor Gas
Proctor, Vermont
Focus With Eyes,  Ears & Attention
For the most part I like to think I'm a good listener. I've found that especially as I age, I need to really focus on listening and avoid multitasking while someone is talking. I try hard to listen and understand what someone is saying. I listen, then ask questions to clarify and make sure we're on the same page. To be a better listener, I need to be a more patient listener and not ask my questions until the other person is totally done talking! Always room for improvement!
Susan Peterson
Rural Computer Consultants
Bird Island, Minnesota
As a naturally empathetic person, my listening style changes slightly based on the type of person I am speaking with and the topic being discussed. It is usually evident if someone needs a listening ear versus turning to me to ask for solutions or ideas. For me, there is a big difference in hearing someone and truly listening. Attentive listening and asking follow-up questions are always a sure way to improve communication, no matter the subject. Regardless of how you listen, the importance of eye contact and your full attention are paramount.
Jessica Johnson
ThompsonGas
Asheville, North Carolina
I feel like I am generally a good listener and try to be very attentive when I am engaged in a conversation with someone. I think it's one thing to be a good listener and another to retain what you are hearing. Sometimes you must listen more and talk less so you actually hear what the other person is saying. And I suppose if I am not hearing what I would like in a conversation, I may not listen as closely! Nevertheless, I enjoy talking with people and always appreciate the opportunity to do so!
Rosie Buschur
McMahan's Bottle Gas
Dayton, Ohio
The Power of Listening
The way I listen to others has evolved over the years and frankly, I think it has improved immensely. When I was younger, I'm sure I was listening as I was formulating my response and likely missed a lot of what was being conveyed. Listening to things that were difficult to hear or in conflict with my own beliefs probably predisposed my responses.
Today, I like to think I am an active listener and I find myself asking questions so that I really understand what's being communicated and the contributing factors. Only then do I provide my response, and many times I'll bring in more of what I'm interpreting from the communicator than just the specific issue as appropriate.
Steven Covey says, "Seek first to understand, then to be understood." I think using his words of wisdom when listening to someone express themselves on whatever the topic or issue is has served me well.
Boyd H. McGathey
Energy Distribution Partners
Parkville, Missouri
I wish I could say I am a good listener.
I, along with the rest of the world, could do a much better job of listening rather than forming my response. I learned in a communications course in college that you should repeat to yourself what the person just said to you and then formulate your answer. It gives space and thought to a proper response. I have also learned to just listen and let the person finish before I respond. Listening is a life skill that always needs improving!
Laurie Irish-Jones
Irish Propane
Buffalo, New York
Listening More?
Author and public speaker Fran Lebowitz said, "The opposite of talking isn't listening. The opposite of talking is waiting." Waiting for one's own turn to talk during a discussion is not an unfamiliar occurrence. While we're waiting, are we listening?
I'll sign off with the observation of former American statesman Bernard Baruch: "Most of the successful people I've known are the ones who do more listening than talking."