Wednesday, January 13, 2016
By Brooke Behrendt . . .
Over the past decade, Tier 4 emissions regulations mandated by the Environmental Protection Agency (EPA) have had a significant impact on the agricultural and propane industries. These regulations require that emissions of particulate matter (PM) or oxides of nitrogen (NOx) from non-road diesel engines, such as irrigation engines, be reduced by 90%. To abide by these new requirements, agriculture producers and equipment manufacturers are taking steps to upgrade their irrigation engines.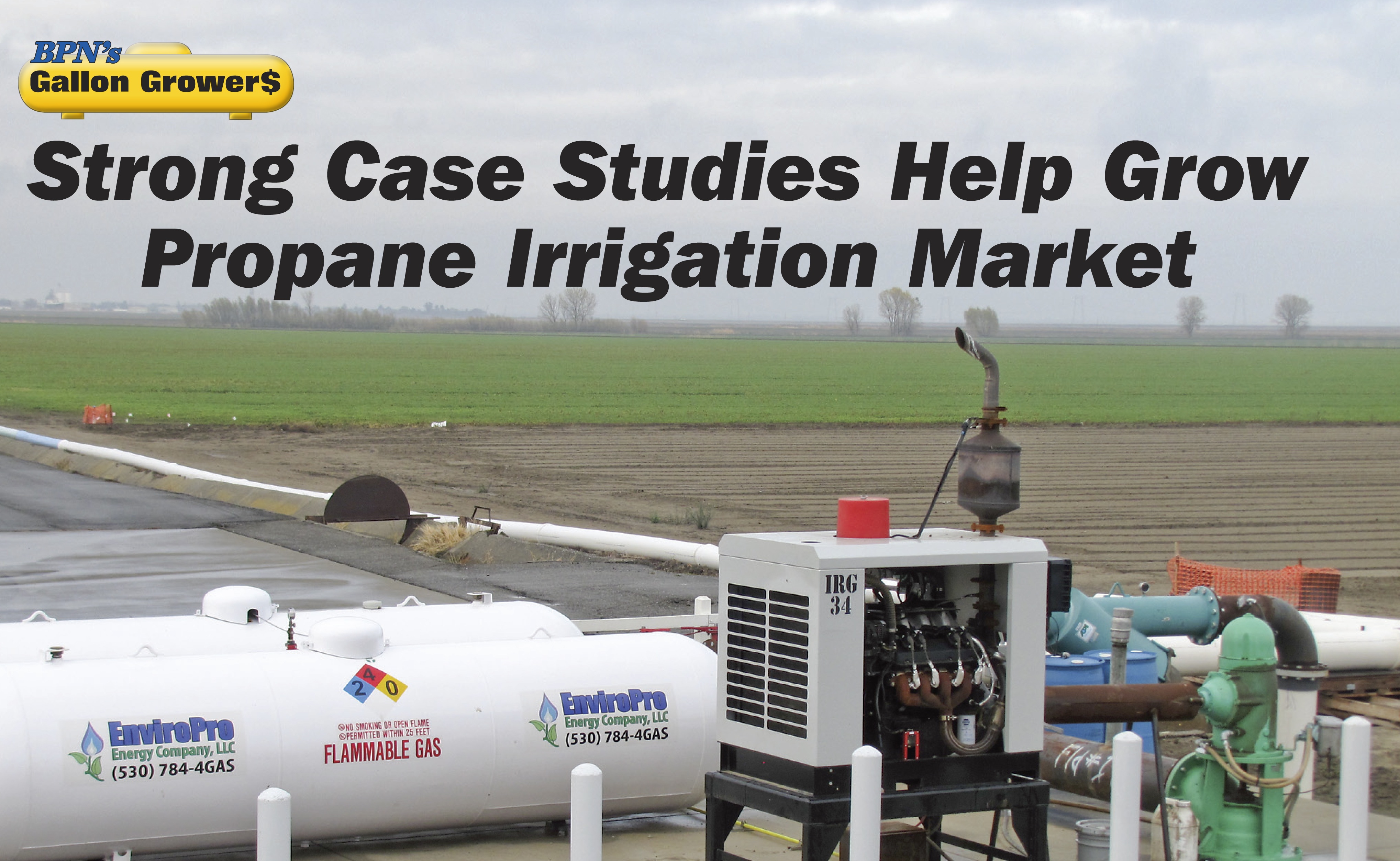 One way to improve emissions is to switch from engines fueled by diesel to those powered by propane. While diesel has long been the fuel of choice for many farmers, increasingly strict emissions regulations and new propane equipment technology are making propane-powered engines a more cost-effective, convenient, and efficient choice for farm irrigation.
Increasing Efficiency and Reducing Costs
As EPA's emissions regulations have intensified over the years, diesel engine manufacturers have spent significant amounts of time and money to develop irrigation engine technology that complies with the new Tier 4 standards. EPA- or CARB-certified diesel irrigation engines enable growers to meet strict emissions regulations but often at an added cost, as the high production costs translate to higher purchase prices for producers. Furthermore, growers must take the time to learn proper Tier 4 engine operation and maintenance. There's a great opportunity for alternative fuels such as propane to replace Tier 4 diesel technology.
EPA-certified propane irrigation engines provide an affordable alternative, as they generally cost less upfront than their diesel counterparts. Propane is also less expensive per gallon than diesel, and propane-powered engines have lower maintenance costs. These factors can add up to substantial overall savings.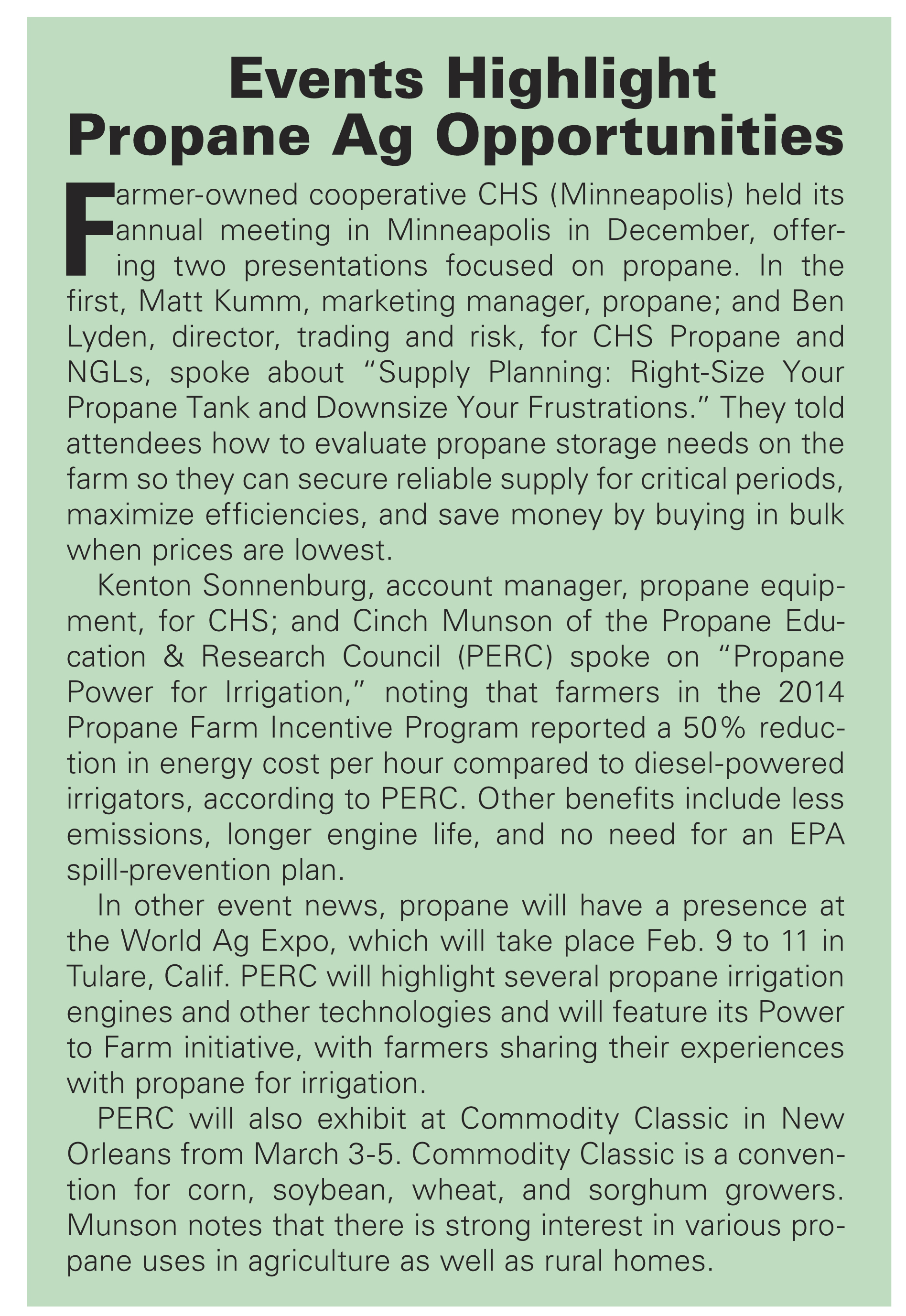 To meet the rising consumer demand for new EPA-certified, propane-powered engines, the Propane Education & Research Council (PERC) has partnered with several engine manufacturers over the past few years. Together, they have commercialized a new generation of propane engines that are highly efficient, reliable, and of course, emissions-compliant.One of the biggest benefits of using propane irrigation engines, especially with regard to environmental standards and emissions compliancy, is that propane is approved by the Clean Air Act.
Approximately 40% of U.S. farms currently use propane to run their pumps and engines, heat buildings, and dry and process crops. While propane has always been an excellent fuel source for irrigation, grain drying, agricultural heating, and more, new propane irrigation engine technology and Tier 4 regulations have made propane-powered irrigation engines even more attractive.
"For farmers who haven't looked at propane recently, now is the time to reconsider this equipment," said Cinch Munson, director of agriculture business development for PERC. "Propane-powered irrigation engines reduce gas emissions by 11% versus diesel and by 20% when compared with gasoline. At the same time, they cost less to purchase and operate, and their performance is exceptional."


Efficient, Innovative Propane Technology
New spark-ignited propane engines feature closed-loop fuel controls that keep them running at peak load efficiency, optimizing fuel use without sacrificing horsepower or performance. Modern propane engines consume about 1.56 gallons of propane to generate the same power as one gallon of diesel. In addition to already being in compliance with the EPA's Tier 4 emissions regulations, these new propane-powered engines are more efficient than older propane models and can provide farmers with lower fuel costs than diesel or gasoline engines.
More than 30 models — and growing — of propane-powered engines are available in a variety of sizes and horsepower ranges in all 50 states. The engines can also be outfitted with the latest telemetric technologies for remote monitoring and control via tablets and smartphones.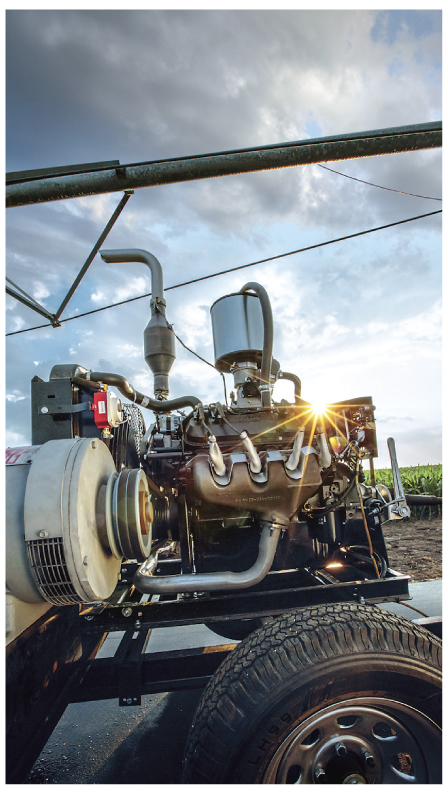 "New propane equipment is built from the ground up to run on propane and is more efficient, reliable, and long-lasting than ever before," Munson noted. "The equipment performs as well as diesel options but at a lower cost."
Increasing Your Bottom Line
Those interested in switching to propane irrigation can determine their individual savings by using PERC's Irrigation Cost Calculator app, which can estimate potential fuel savings and ROI when switching from conventional fuels to propane. The engine size, horsepower, estimated hours of usage, and more can be customized for a look at potential savings of switching to propane in one year, five years, and even 10 years. These cost calculators are available online at propanecostcalculator.com, as a desktop tool, or mobile application for cellphones and tablets.
Although new propane-powered irrigation engines cost less than EPA-certified diesel engines, they are still a major purchase. To help offset the upfront cost of new propane engines and increase overall savings by switching to propane technology, PERC offers incentives for qualifying engine purchases, as do many state associations.The Propane Farm Incentive Program offers growers up to $5000 toward the purchase of new propane irrigation engines in exchange for performance data and feedback for one growing season. This information helps PERC gauge performance, gather insight, and further improve new propane technologies that will benefit agribusinesses nationwide.
Learn more about eligible engines, explore grower testimonials, and apply for incentive programs at propane.com/farmincentive.
Brooke Behrendt is a public relations associate for Swanson Russell.