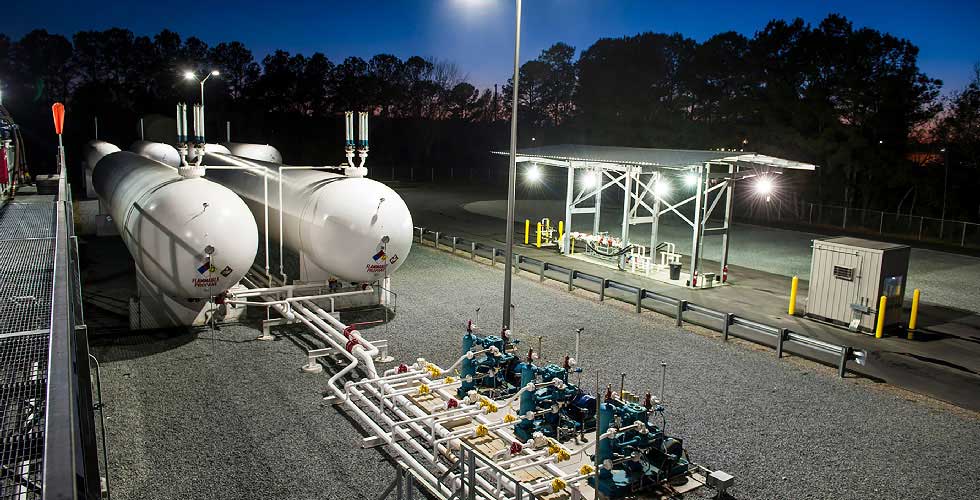 A master plan for getting fuel supply to the right place at the right time
Thursday, October 7, 2021
It's a truism that propane moves from lower-valued markets to markets where value is much higher. This economic reality is always balanced by the key tenet of any building project: Location, location, location. In other words, propane must be located where marketers can acquire reliable product supply in the most cost-efficient manner.
Strategically placed railroad-to-truck midstream terminals across the United States, particularly in the eastern and mid-Atlantic regions and all the way to the mid-continent (i.e., near new and existing shale plays), meet both criteria.
As propane industry infrastructure changes and demand increases, the market reacts with new terminals that provide reliable supply and affordable pricing versus the alternatives. For example, in its 40-plus-year history, Superior Energy Systems has built 50 midstream propane terminals across 24 states. But it's important to take a deeper look.
Since 2007 alone, the company has added seven midstream propane terminals ranging from Arizona to Davisville, Rhode Island, to Winona, Arizona, for a total strategic storage of more than 1.4 million gallons. Three of those terminals were subsequently expanded, resulting in a total storage of nearly 2 million gallons.
Ultimately, placement of a new midstream propane terminal must be economically viable for the producer, the railroad, the midstream marketer and the third-party marketers it will serve. It needs to offer end users economic value versus alternatives while providing an acceptable economic return to the producer and asset investors.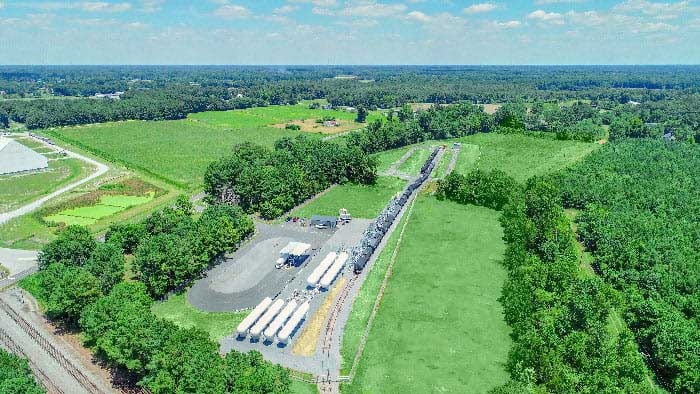 The Need for New Terminals
New rail-to-truck midstream propane terminals support market voids and/or pricing situations where that new capacity fits two needs:
Marketers require it to fill a supply void or correct a pricing inefficiency.
A midstream marketer views the market as opportunity-balanced with the capital investment beneficial to the producers it serves. The railroad must provide service and freight rates to justify long-term viability.
The ideal site for a midstream propane terminal will be served by two Class A railroads with the final delivery by a "shortline" offering with 24/7 service that meets the opportunity embedded in seasonal demand. Typically, those railroads move propane from the production site to markets where existing supply makes for less practical long truck hauls.
The peak of winter trucking capacity will always be best where delivery to the midstream marketer's plant is within a 35- to 50-mile radius. Of course, the proximity to shale plays and the resulting freight and trip time also create value for the midstream marketer and producer with lower cost. Meeting these needs has also created new business for the railroads. Four factors make up the need for a rail-to-truck midstream propane terminal:
The market value is determined by the predictable selling values versus other alternatives with the value returned to the supplying producer. Typically markets where there are fewer alternatives result in the more desirable sites.
"Closed" midstream marketer terminals usually serve just one marketer's supply needs, while larger "open" terminals are designed to serve multiple marketers. The larger a facility is, the better the railroad can service it with increased cars delivered per switch.
The terminal size relative to the annual volume planned for the market is an important factor. Trucks should load in less than 20 minutes.
The simplicity of permitting is also important. Many of the areas where terminals are needed most are big challenges to permit with local governments. Conversely, permitting is usually not a challenge in more rural markets.
It also bears mentioning that markets with saturation of supply alternatives are typically not good spaces for midstream propane terminals.
Infrastructure Evolution
How does the midstream propane infrastructure evolve over time? The simple answer is that industry infrastructure development follows the new production as origins and market opportunity for the destinations.
For example, Superior Energy Systems began building midstream propane terminals associated with new shale production — from Maine to Florida and deep into the heartland at the same time — when imports were higher in cost than its own domestic production. Maintaining that approach has allowed the industry infrastructure to change dramatically over the past five years.
Pipelines also get repurposed to serve new production and open doors for the development of new terminals. The price dynamic is constantly changing as production seeks new higher values. The best long-term balance for marketers and producers is a market with logical infrastructure that creates both investment opportunity and supply reliability versus the other truck alternatives.
Keep in mind, too, that serving on various committees within the Propane Education & Research Council (PERC), the National Propane Gas Association (NPGA), the National Fire Protection Agency (NFPA) and various state propane gas associations creates relationships, which directly translate to infrastructure development.
Why? It brings a terminal supplier like Superior Energy Systems into almost daily interface with all areas of the industry and affords real-time understanding of production trends and midstream marketer needs. Often, understanding all the safety options can create a safer terminal at lower cost.
Supply Challenges & Opportunities
It's challenging to anticipate domestic and global propane supply needs, especially winter forecasts — which is why NPGA is best positioned to supply that information for midstream marketers and third-party marketers. Suffice to say that there will always be growth opportunities with changes in supply.
Large regional propane rail-to-truck terminals — like Crestwood's Montgomery, New York, terminal — can deliver 100 trucks per day at the peak of winter market demand.
Development of these terminals — where all the right factors for success are not often present — has allowed the propane industry to grow considerably over the past 10 years in fulfilling these needs. This will continue, as the market and demand are almost always in flux. At the end of the day, the success of new terminals depends on the big four factors mentioned, but ultimately, a great marketing effort makes it happen best when the facility is built to operate safely in a very cost-effective effort.
The railroad delivers the producers' propane, and the midstream marketer makes their capital bet. And ultimately, the local marketer team makes it happen. Because these elements continue to change, the terminal dynamics and success are constantly challenged and evolving. The best result always involves all of the players.
By the Numbers: A Case Study
For an example of the evolution of midstream propane infrastructure, look no further than the Targa Resources terminal in Winona, Arizona. The terminal opened in 2007 with 433,500 gallons of on-site and rail propane storage. That breaks down to 229,500 gallons (in three, 90,000-gallon tanks) and about 204,000 gallons in eight rail spots. Loading transport trucks took 20 minutes.
Its expansion was completed in 2020 (significantly, at the height of the COVID-19 pandemic), thus adding 102,000 gallons with the addition of four rail spots. Today, the terminal can handle up to 14 rail cars at a time. Loading transport trucks now takes 14 minutes. Rail car unloading is done in 10-hour shifts, but transport trucks can load 24 hours per day, seven days per week. The terminal services trucks from Arizona, Nevada, Utah, Colorado, New Mexico and California.
Conversely, consider the Crestwood Services terminal in Rose Hill, North Carolina, which opened in 2016. It was an upgrade of an idle five-acre, rail-car-supplied midstream terminal originally built for peak shaving. It maintained two existing aboveground 60,000-gallon storage tanks, four 30,000-gallon storage tanks and five rail spots, for a total of 331,500 gallons.
A 2017 expansion tripled capacity to 586,500 gallons, exceeding the initial track and adding two new rail spurs for additional on-site storage of 10 more rail cars. Additionally, a Trackmobile was added that moves rail cars internally, providing daily access to 15 rail cars and offloading up to 15 rail cars per day. All in, the terminal can load up to 65 transport trucks per day.