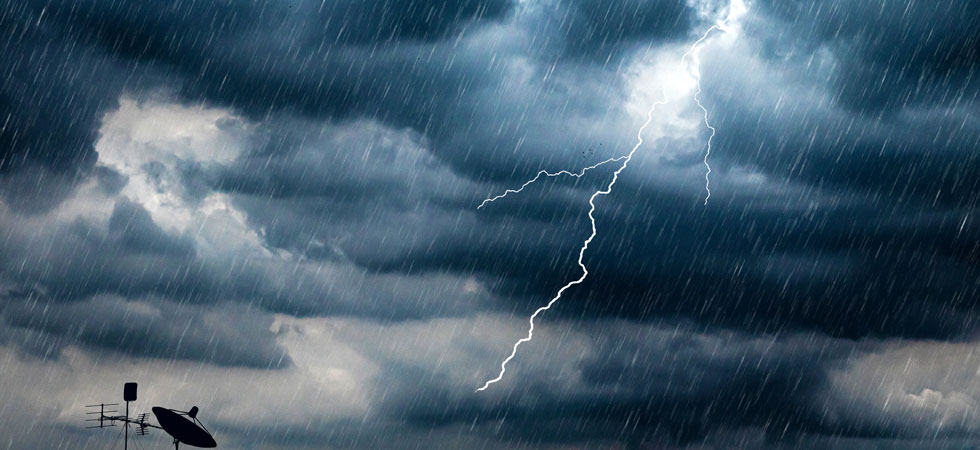 Ensure your customers are prepared when weather events threaten the safety of their propane systems
Tuesday, January 18, 2022
Each year, severe weather events put families and property in harm's way. Mother Nature can wreak havoc — sometimes within minutes — on propane homeowners' daily lives and leave them searching for better ways to prepare.
The unprecedented wild weather that dominated headlines in 2021 underscores the importance of persistently preparing customers for the worst. Here's a sample of the weather events North America experienced last year:
A massive storm deluged the West Coast with record-breaking rain, flooding and mudslides across California and Washington state last October. The deadly "bomb cyclone" ended a record dry streak of 212 consecutive days with no measurable rain that worsened regional wildfires.
A Nor'easter raged up and down the East Coast with a dangerous mix of heavy rain, high winds, hail and tornadoes from Maine to Georgia.
Last February, Winter Storm Uri — the costliest winter and ice storm on record — triggered blackouts to 10 million people and claimed at least 237 lives from northern Mexico through parts of Canada. Plummeting temperatures and loss of electricity throughout Texas added layers of crisis with food and water shortages, no heat and carbon monoxide poisoning.
Meteorologists and climate experts expect severe weather conditions to worsen in the years ahead, which makes the need for weather safety preparedness ever present.
The Propane Education & Research Council (PERC) safety team has updated a library of severe weather safety tips, guidelines, videos and how-to instructions for propane providers to keep families safe and avoid potential dangers before, during and after severe weather hits. The downloadable materials are available at no cost to propane providers under the "Safety" tab on propane.com.
Customers look to propane providers for guidance to keep their families safe. Storm preparedness resources arm propane professionals with tools they can use to help customers with questions regarding their propane systems. Each region of the country has its own unique natural disaster and weather safety considerations. Extreme heat and wildfires pose different threats to customer safety than hurricanes, earthquakes or high snowfall.
But they all can trigger similar issues — such as system leaks, damaged gas lines and appliances, and dislodged propane tanks — that can lead to dangerous scenarios.
It's critically important for PERC's safety messages to be clear and consistent, which can be a challenge with 3,500 propane companies responding to all types of severe weather threats nationwide. With the unpredictability of weather across the nation, marketers can readily deploy weather-specific materials in a variety of formats in multiple channels that best fit their needs.
Marketers are encouraged to promote weather safety awareness to customers throughout the year. All PERC materials can be added to your company website, posted on social media channels, included as a link in emails or printed for distribution as seasonal mailer reminders.
In 2021, the newly created weather safety resource page on propane.com had almost 1,400 page views with more than 500 downloads. Materials about winter storms, hurricanes and wildfires were in greatest demand, reflecting the most prominent weather events in 2021.
It's important to emphasize that marketers should routinely remind customers to prepare for the unexpected. For example, power outages can occur during any season and can range from being a simple inconvenience to, in some cases, a life-threatening situation.
Almost any type of weather-related event can cause a power outage, ranging from snow and ice storms to thunderstorms, hurricanes and extreme heat. By planning ahead, residents put their families and homes in a better position to ride out storms as safely and comfortably as possible — giving them peace of mind during and after any weather-related event. A few universal steps that all families should heed in preparation of severe weather include:
Create an emergency plan that details steps to take if they smell gas inside or outside the home, and post written instructions for turning off their propane, electricity and water if an evacuation is necessary
Install propane gas detectors and carbon monoxide detectors
Prepare a family disaster supply kit with food, water, blankets, flashlights, batteries, and a battery-powered radio so they can stay informed as conditions change
Never use outdoor appliances or portable generators indoors or in enclosed areas
Never store propane cylinders indoors or in enclosed areas, such as sheds or garages
Never use a gas oven or range to provide space heating
Never attempt to modify or repair any propane components themselves
It's crucial that your customers know that by taking a few simple, propane-related safety precautions and discussing them with their families, they can reduce the potential for property loss and personal injury.