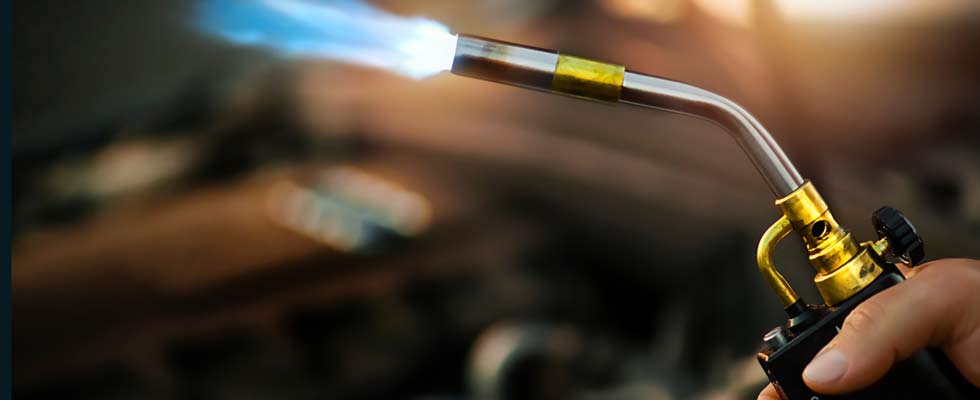 Plaintiff's lack of admissible expert testimony on an allegation of defect leads court to dismissal
On Jan. 13, an Arizona federal court granted a defense motion for summary judgment in favor of the manufacturer of a small propane torch and cylinder unit in a personal injury lawsuit. The plaintiff sought recovery for injuries he sustained when he was using the torch to light a fire in his fireplace. The case is Peralta v. Worthington Industries.
Propane Torch
In late 2015, Jason Peralta purchased a BernzOmatic propane torch and cylinder unit manufactured by Worthington Industries. The unit consisted of a small cylinder with an approximate 1-pound propane capacity and a detachable torch unit.
Peralta took the unit to his home in Mesa, Arizona, and visually inspected it. He ignited it to make certain that it worked. He later testified that he did not smell propane when he did this.
Over the next several months, Peralta used the BernzOmatic torch regularly. He claimed that he used it as many as 10 times a week to light fires in his fireplace and barbeque grill. All of this, he said, was done without any incident. He denied smelling propane on any of these occasions.
Burned Hand
However, on Feb. 5, 2016, Peralta returned home at about 4 p.m. and decided to light a fire in his fireplace. He crumpled up some newspaper and then placed wood on top of the newspaper. He then used the BernzOmatic torch to light the newspaper. 
Again, he smelled no odor of propane and did not notice anything unusual about the torch. He also testified that he did not hear anything unusual; all he heard was the torch working as usual. But after the paper ignited, and while his arm was still inside the fireplace chamber, Peralta felt a burning sensation in his hand. In that instant, he concluded that this must have been because the BernzOmatic was leaking. 
So, he threw the device to the ground, and then turned and ran away from the fireplace. He later testified that as he threw the BernzOmatic, he "probably" saw flame coming out of it from a location other than the tip of the torch. However, he did not believe that the unit was "trying to fly out" of his hand.
Lawsuit
As soon as the device hit the ground, it "blew up," according to Peralta's later testimony. He ran toward his girlfriend, who helped him treat his injured hand and arm with cold water and wound dressings. He apparently never went to a hospital or a doctor for these injuries.
Peralta sued Worthington. He claimed that Worthington was negligent in its design and manufacture of the torch cylinder unit. He also claimed that Worthington committed a "civil battery" against him by producing and selling the BernzOmatic with actual knowledge that it was defective. 
Worthington filed a motion for summary judgment, asking the court to dismiss the lawsuit.
No Evidence
The court first addressed the negligence claim. It held that, in order to prevail, Peralta had to show that Worthington acted unreasonably in its design or manufacture of the BernzOmatic. However, no evidence was presented on Worthington's conduct in this regard. For that simple reason, the negligence claim was dismissed. The court stated:
"Absent any evidence of unreasonable conduct from which a juror could conclude that [Worthington] failed to take reasonable precautions in designing a safe product or otherwise failed to act unreasonably at the time of design or manufacture in light of the foreseeable risk of injury from use of the product, plaintiff has failed to demonstrate that there is a genuine dispute of this material fact. Therefore, summary judgment for [Worthington] on plaintiff's negligence claim is appropriate."
The court then turned to the civil battery claim. Battery, which typically happens when one person physically strikes another, requires that the defendant causes a "harmful or offensive contact" with the plaintiff. 
To say the least, this type of claim is unusual in propane liability litigation. In 50 years of law practice, I have personally never seen it raised against a propane distributor.
Intent to Cause Injury
The court first noted that civil battery is an "intentional tort." This means that the plaintiff had to show that Worthington actually wanted to cause injury to consumers like Jason Peralta, or at least that it was "certain or substantially certain" that such injury would result from the manufacture and sale of the BernzOmatic torch. 
"Without any evidence of [Worthington's] conduct at all," the court stated, "there cannot be a genuine issue of material fact as to whether [Worthington's] conduct was intentional." For this reason, summary judgment on the battery claim was granted.
The court added another reason for dismissing the lawsuit. It examined Peralta's claim that the cylinder was defective. A genuine issue for trial on this point could not be "based solely on subjective belief." Credible evidence
is required.
Common Understanding
Peralta claimed that the cylinder that was part of the BernzOmatic was defective because "the area where the thread housing was brazed onto the top of the cylinder breached at the steel, at the outer edge of the braze compound." 
This, he said, caused propane to leak from the top of the cylinder. However, the experts that he named in support of this theory had been disqualified by the court as unreliable. Despite this setback, Peralta attempted to create a trial issue on the alleged defect in several ways. 
First, he noted that he felt a burning in his hand after he ignited the torch. 
As such, he reasoned, there must have been a leak from the cylinder and therefore a defect. 
Second, the cylinder ruptured when it was thrown from a height of less than 21 inches. It therefore must have been defective. He argued that no expert testimony was needed on these issues. The issues, he said, "are within the common understanding of jurors."
Sympathy
The court rejected these arguments. "This is not the kind of case," it said, "where the issues are within the common understanding of the jurors." Peralta simply did not produce any admissible expert testimony on his allegation of defect to create an issue for trial. The court stated:
"Although the court has sympathy for Mr. Peralta, the fact that he was injured does not speak for itself. [He] must be able to produce some reliable evidence of a defect that caused his injury for the court to send this case to a jury."
As this month's issue went to print, Peralta has appealed the decision to the United States Court of Appeals for the Ninth Circuit.