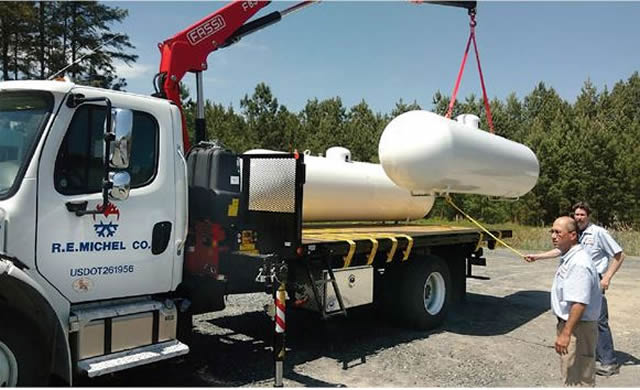 Nine distributors that serve propane marketers describe how they've adapted
Wednesday, March 10, 2021
Wholesale distributors have a unique perspective on the propane industry. They work with large numbers of both manufacturers, on the one side, and propane marketers and other retailers and installers of the products, on the other.

Over the past year, of course, they have had to deal with many changes. In the following pages, nine distributors that serve propane marketers describe how they've adapted and what products and services they've added in response to the pandemic and the constantly evolving needs and wants of their customers.
1. Bergquist Inc.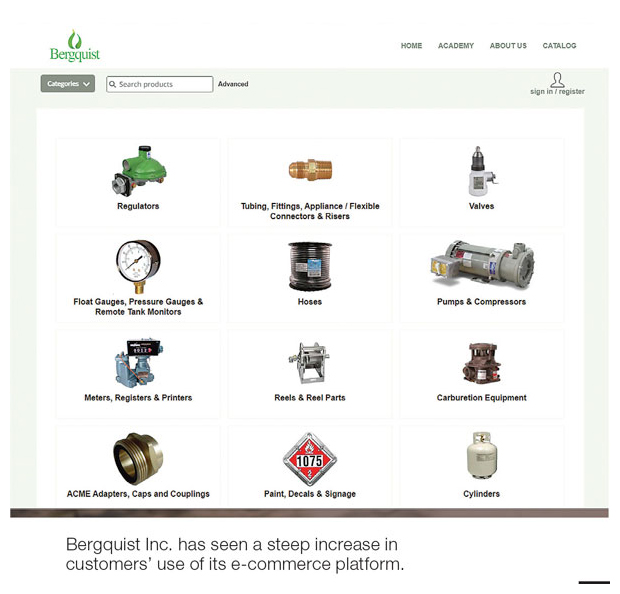 Bergquist Inc. (Toledo, Ohio) has seen a steep increase in customers' use of its e-commerce platform. "It has grown exponentially since March," reports Don Montroy, vice president of marketing. "People are using it to shop, not just to purchase. They are accessing information, imagery, availability, and pricing."
Even those who do not use the e-commerce platform to order, use it to shop and gather information. They then call to ask any questions and to order. "We find that twice as many customers use it to shop as to buy online," Montroy tells BPN.

Bergquist stocks more than 12,000 items related to propane, high-pressure gas valves, and anhydrous ammonia. The company handles parts, equipment, and supplies from dozens of manufacturers. It operates out of two area distribution centers and five regional sales centers.

At the beginning of the pandemic, Bergquist added a series of monthly training webinars. The webinars have been paused during the heating season, but will restart in April and will continue beyond the pandemic.

"As much as we'd like to get back to in-person training, we will follow the customers' lead and wait until they are comfortable meeting face to face," Montroy explains. "But the webinars will continue. They may be more convenient for customers, so we will produce webinars as long as customers attend them."

Another service launched by Bergquist in 2020 is inventory management. Accessed through the company's e-commerce storefront, this enables customers to manage their inventory of Bergquist purchased items using min and max quantities and item quantities on hand.

"Customer service is our philosophy—to be the most convenient propane equipment distributor," Montroy says. "We have the inventory, we ship same day, we make shopping convenient, we create invoices that are as convenient as possible to read, and we treat customers the way they want to be served."

He adds that, as a distributor, Bergquist provides value to manufacturers as well as customers. While serving as a sales arm for manufacturers, distributors learn about the needs of the customers and pass that information along to those who build the products. "Most of our salespeople have years of propane experience," Montroy concludes, "so they know what our customers are going through and they understand the products that offer a solution."
2. Gardner Marsh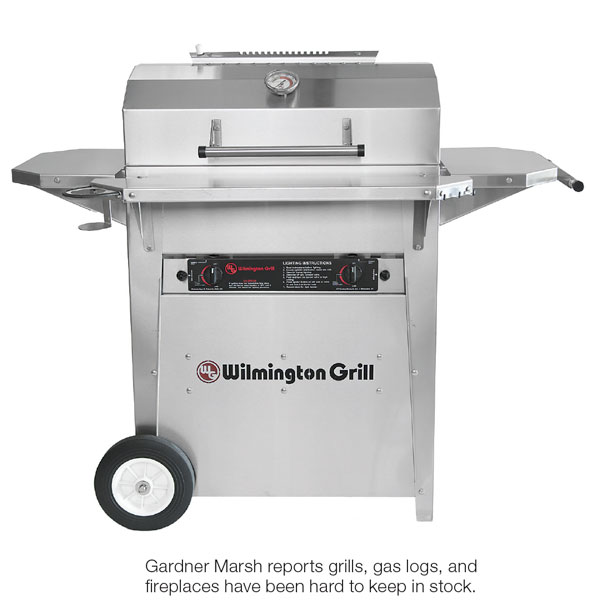 Gardner Marsh (Raleigh, N.C.) is working on a new website and online catalog and expects to roll out both at the beginning of the second quarter. The new website will include more detailed links to product specs, so that when you click on a product, you will immediately be shown a spec sheet, brochure, and other resources. The online catalog will be updated and made more user-friendly.

"People are using these more because they are working from home or behind closed doors," Angi Harris reports. "So the website will be a one-stop place with everything anyone needs to know."

Harris and her sister, Laura Kedzierzawski, purchased Gardner Marsh in January from their father, Dale Gardner. Harris, who started with the family business in 1994, is now CEO. Kedzierzawski, who joined in 1999, is chief financial officer.

Gardner Marsh is a wholesale distributor providing gas equipment, propane tanks, gas appliances, technical assistance, product specification, and training. The company serves its customers from a corporate office and warehouse in Raleigh, N.C., and an ancillary office and warehouse in Florence, S.C.

Training, Harris notes, is one of the key roles of distributors. They provide customers a single source of information and products from many manufacturers, while enabling the manufacturers to focus on making things rather than stocking and shipping them. "That allows everyone to do what they do best," she says.

"As distributors, we all sell the same kind of products, so what differentiates you is what you can do for your dealers," Harris says. "We pride ourselves on shipping every in-stock order the same day." Other examples include performing grill demonstrations and offering in-person training after hours, when drivers are back from their routes and can see the products.

During the pandemic, Harris adds, "The key word is 'flexibility.' This past year has been challenging, but also creative. We've had to think outside the box, learn new ways to do things, and find new ways to meet customer needs."
3. Gas Equipment Co.
Gas Equipment Co.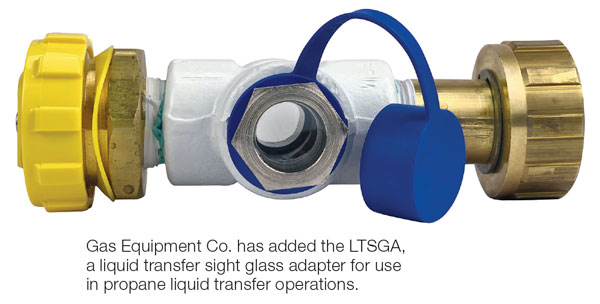 (GEC; Dallas, Texas) hired a software developer in 2020 and released automated solutions for terminals and for customer delivery and trucks. The customer delivery and truck automation solution, EZ-Link Office, is middleware that links off-the-shelf accounting software with the delivery truck's mobile computing system. That means software such as Quickbooks, Sage, and others can be integrated with systems such as Liquid Controls, BASE Engineering, Midcom, EZ-Count, and others.

"This affordable, web-based solution allows small- to medium-sized marketers the ability to access customer account information remotely, dispatch deliveries from any mobile device to drivers/trucks, and communicate with their drivers with integrated text messaging—increasing productivity," J. R. Anderson, marketing manager, tells BPN.

Kevin Pruitt, director of integrated systems, adds, "Users are happy with it because they don't have to spend tens of thousands of dollars on a tool to have live dispatching and integration, plus they can use their existing accounting package."

The terminal automation solution, similarly, integrates Toptech terminal products with the accounting system or reports used by propane marketers. These are examples of the things that make GEC a "value-added distributor," Anderson says. GEC is a warehouse distributor that serves six market segments, one of which is LP-gas and NH3. The company distributes products covering each phase of product transfer, including terminal loading, transportation, storage, and delivery to the ultimate consumer. It operates from 11 warehouse sales branches.

"We're always adding new parts and pieces," Anderson reports. Three recently developed products are UG-Anode-Test, an underground tank anode test decal for NFPA 58-required cathodic protection tests on buried anodes; LTSGA, a liquid transfer sight glass adapter for use in propane liquid transfer operations, and ParaSCALE Lite-SL, an automatic stop-fill retrofit kit that was developed for many Fairbanks model 1124 beam scales currently being used for filling propane cylinders. These and other products are featured on the company's dedicated Youtube Channel.
4. IPS Equipment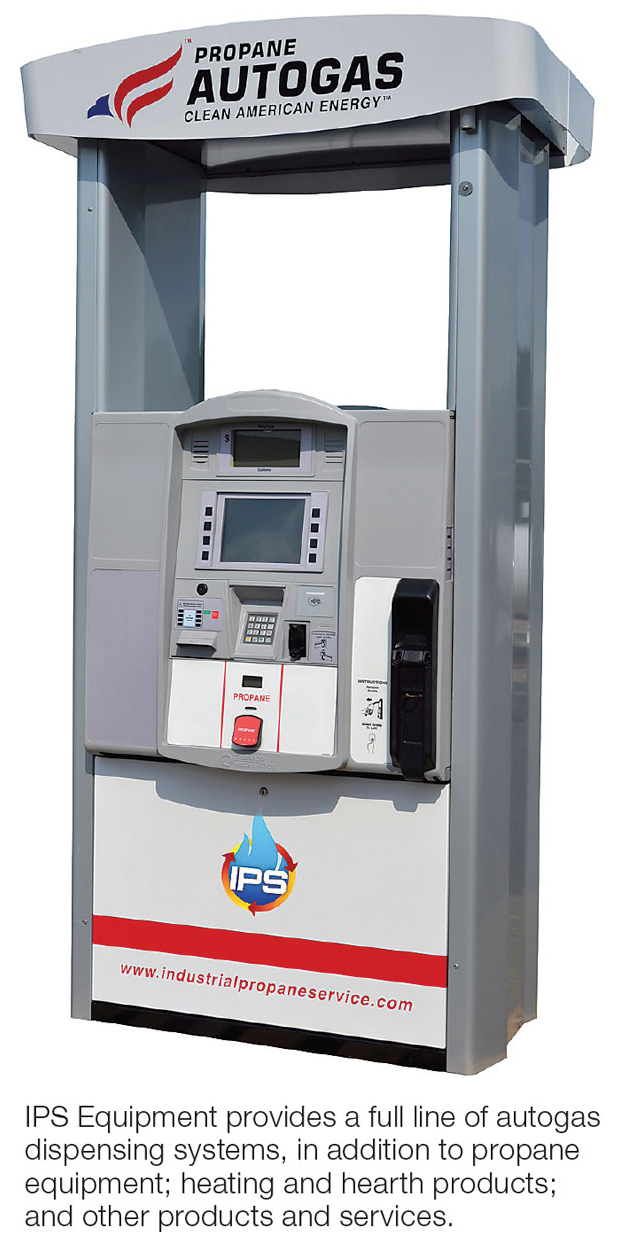 IPS Equipment (Byron, Mich.) has kept in contact with customers throughout the pandemic using emails, phone calls, webinars, and new digital tools. "We have just really been trying to keep information flowing to customers while also trying to stay in contact with them as much as possible," Kim Godlewski, vice president, tells BPN.

The new digital tools include the new RegO app, the upgraded IPS online store for online ordering, and email blasts that deliver weekly and monthly specials. Through webinars offered in cooperation with RegO and other suppliers, IPS keeps customers informed by sharing new product information and training. Utilizing emails and phone calls, the company lets customers know about new items and company specials.

IPS Equipment is a full-line distributor of propane equipment and heating and hearth products. The company provides the equipment from three warehouses.

"IPS is one of very few companies that can handle just about any kind of propane need or issue," Godlewski says. "Our complete catalog has RegO products, heaters, plastic pipe, copper tubing, risers, and just about anything a propane retailer needs. IPS can also service bobtails, from building new to upgrading existing that can include going to customers' locations for testing, meter inspection, and repairs. Our construction service department can upgrade and build new plants with added storage and/or bring existing installations up to code. In addition, we have a full line of autogas dispensing systems."
5. LPG & NH3 Supply Inc.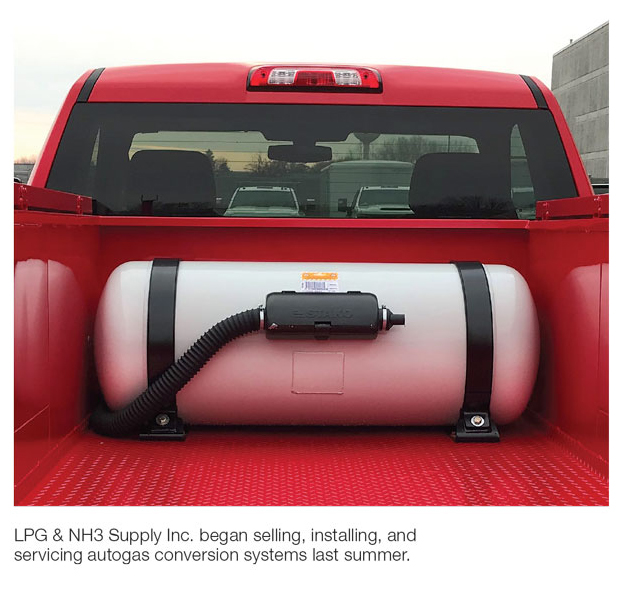 LPG & NH3 Supply Inc. (Buffalo, Minn.) began selling, installing, and servicing autogas conversion systems last summer. Jeff Head, sales and marketing manager, tells BPN the PRINS systems the company handles are EPA-certified, designed for specific vehicle platforms, backed by a limited warranty period of as much as five years or 100,000 miles, and are bi-fuel, so the engine can operate using gasoline or propane.

"Propane is an option for everyone," Head says. Most of the company's sales of autogas conversions have gone to propane marketers who are using them to lower their operating expenses and further promote the fuel that they sell. It's also looking at other sorts of fleets.

Autogas conversion is the latest addition to LPG & NH3 Supply's offerings, which also include distributing a complete line of propane equipment; constructing bulk plants and terminals; and fabricating loading/unloading and measuring systems. Head explains, "We're always interested in how we can best serve the market. We listen to what our customers say. If we can solve a problem in a way that satisfies them and us, we'll do it. We have no preconceived notions of what we can or can't do."

LPG & NH3 Supply has been fabricating cylinder-filling dispensers and autogas dispensers for decades. Today it offers dispensers in those configurations as well as one that combines the two. The combination unit has an autogas dispenser at one end and a walk-in cabinet with a scale for cylinder filling at the opposite end. For autogas, the company offers the Gilbarco Atlas for fueling commercial fleets and the Encore 700 for retail customers. "The Encore 700 has an intuitive user interface; if you can operate an ATM at a bank, you can use this," Head says. "A quick-connect nozzle, together with a K15-type fill valve, make refueling with autogas as easy as pumping gasoline into a vehicle."

Over the last year, LPG & NH3 Supply has also seen an increase in its customers' use of the virtual training and the online ordering it offers. Head expects both to keep going strong after the pandemic.

"Virtual training is more convenient and it requires less travel and time away from the job. I think that's something that's going to stay with us a long time. As people do more things online, they also become more comfortable ordering online. The majority of people still call us, but a growing number have an interest in ordering online."
6. Meeder Equipment Co.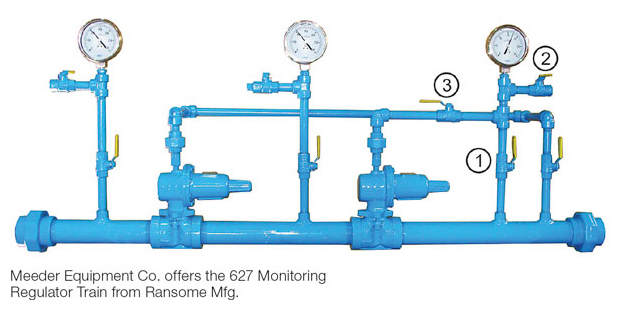 Meeder Equipment Co. (Fresno, Calif.) has seen sales increase in a number of product categories in recent months. The company is a distributor of propane equipment with offices and warehouses in six locations in five states.

One fast-growing category is propane tanks. Arch Hudelson, special projects director, western region, at Ransome Mfg., explains, "There's a lot of new home construction, so that's part of it. And, people have been building bigger square footage houses and installing more equipment, so people want larger tanks. Also, you can only refurbish a tank so many times, so people are buying new ones."

Similarly, regulators are moving fast. In this category, Meeder Equipment offers a solution from Ransome Mfg. that is specific for jurisdictional systems as well as an alternative where multiple relief valves would be required. It's called the 627 Monitoring Regulator Train. "If we use the monitoring regulators, we no longer have to install relief valves downstream for over-pressure protection," Hudelson explains. "We pre-build these Monitoring Regulator Trains and put them in the Meeder catalog. We put gauges before, between, and after the regulators to see if they are working properly. They are pre-plumbed, simple, and easy to use. We even mount them on a base assembly, so they are plug-and-play, like a Lego setup."

Another product category that's popular is high-efficiency heaters. "With higher energy costs, people are very cognizant of the efficiency," Hudelson says. "They don't want their money going up the chimney."

Generators have been selling well, largely due to the rolling blackouts and power outages that have been experienced in the west. "Generator manufacturers are selling those things like hotcakes," Hudelson reports. "We get a lot of calls from people who don't work with generators often, and we help them with sizing regulators and determining vaporization rates."

That kind of training is part of the service offered by Meeder. Before the pandemic, Hudelson went around putting on schools for Ransome distributors, mostly about vaporizers, regulators, and engineering for pipe sizing. Now, of course, he's having to deliver that help via phone and email.

"We try to be of service, not just sell parts," he says. "The dollars our customers spend with us also give them access to all the education and tips we can offer."
7. R.E. Michel Co.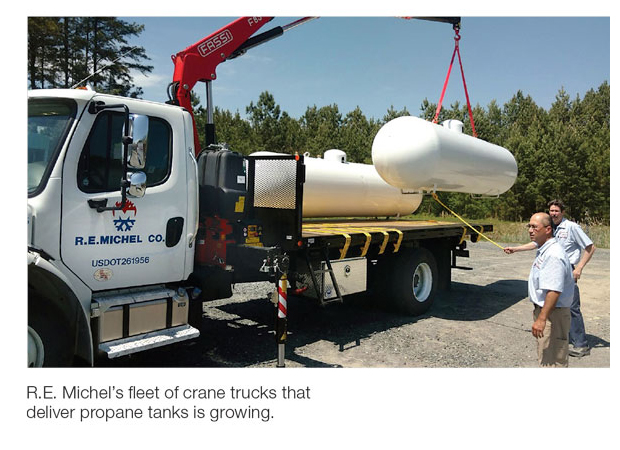 R.E. Michel Co. (Glen Burnie, Md.) launched several new initiatives to support its customers over the past year. Ray Kazakewich, national propane manager, tells BPN that these value-adds include the following.

Prerecorded virtual training is offered in 11 modules that focus on areas of study such as cathodic protection and proper gas line sizing. "Customers can go in and do the training at their leisure," he reports. When individuals complete a training module, they receive a certificate from R.E. Michel.

Marketing resources, too, are available to help the company's customers sell products and grow their business. "Our customers purchase gas logs, furnaces, and other appliances from us to resell to their customers. So, we help them do that," Kazakewich says. "Our service doesn't end when we sell the appliance to the gas company; instead, we help them sell it."

Collaborative inventory management and order fulfillment is another new and growing service. R.E. Michel will manage customers' inventory not only in their storeroom, but also in their trucks. For example, when technicians remove a regulator from their truck, they can report that through an app in their phone, or just scan a bar code, and R.E. Michel will replenish the inventory automatically.

R.E. Michel's new mobile warehouse concept vehicle visits customer offices and jobsites and displays, demonstrates, and sells products on the spot. "The prototype has been a great success and we've just bought another one. It allows our customers to see the stuff in person, instead of on a catalog page, and compare products side by side."

The company's fleet of crane trucks that deliver propane tanks is growing. "We want to deliver more tanks to our customers or their customers," Kazakewich says. "We can deliver directly to a jobsite if the gas company wants that."

R.E. Michel Co. has more than 300 locations from coast to coast. The company is a distributor of air conditioning, heating, propane, and refrigeration equipment, parts, and supplies. It also has an affiliate, Dealers LP Equipment (DLPE), that is dedicated solely to the wholesale distribution of propane equipment. DLPE serves its customers from warehouses in Louisville, Ky.; Hickory, N.C.; Memphis, Tenn.; Dothan, Ala.; Jackson, Miss.; Pomona, Calif., and Davenport, Iowa.

"We consistently roll new initiatives into the marketplace," Kazakewich says. "The pandemic seems to have accelerated the requests for value-adds, which we have responded to."
8. Ray Murray Inc.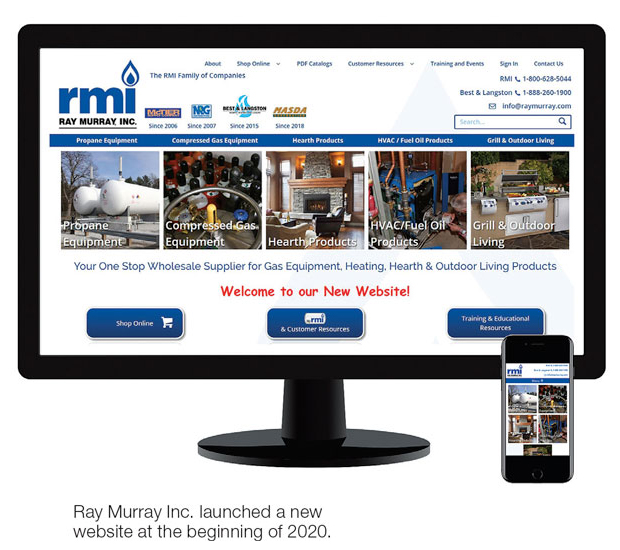 Ray Murray Inc. (RMI; Lee, Mass.) launched a new website at the beginning of 2020. At the new site, anyone can view all of RMI's catalogs as well as its training schedule, technical services, product manuals, and product application and reference guides. Customers who log into the website can also view price and availability, and the MyRMI section allows access to their past orders.

"The new website has taken off significantly because it is easy to use and allows you to order simply with the click of a button," Mike Hopsicker tells BPN. "But it's not just a point-and-click catalog; it's a resource for the industry. There is a lot of information on the products, including purchasing information and product specifications." Hopsicker recently acquired 100% ownership of RMI, completing a transition of ownership that began in 2005. He has been the majority owner since 2014.

Soon after the pandemic began forcing the postponement of in-person events, the company also expanded its other digital communications. In April 2020, RMI kicked off its Coffee Talk live online training sessions. The company also stepped up its social media content, posting videos that are between one minute and three minutes long and offer product training. Then, during the summer, the company hosted a virtual trade show series covering hearth products.

"We hope to resume our in-person, hands-on, tear-apart-equipment training in 2021, but we will have to plan and adapt," Hopsicker noted. "Our virtual training will continue. One reason it will continue to be used is, it's a tool to enhance the number of trainings we can have. It costs a lot of money for a propane company to send people to in-person training. In-person training is valuable, but we can expand the virtual training too."

RMI covers two segments: gas equipment and heating, hearth, and outdoor living products. The company recently expanded its offering of parts and pieces HVAC and oil servicemen need. These include valves, fittings, and other furnace and boiler parts. Another recent addition, available only in the company's Southeast and Midwest territories, is Warming Trends products. These include burners that produce twice the flames and are constructed of solid brass for corrosion resistance.

RMI serves the Eastern U.S., primarily, and ships products from four warehouses. "We have four convenient locations close to our customers, so they will get their orders faster," Hopsicker says.
9. Teeco Products
Teeco Products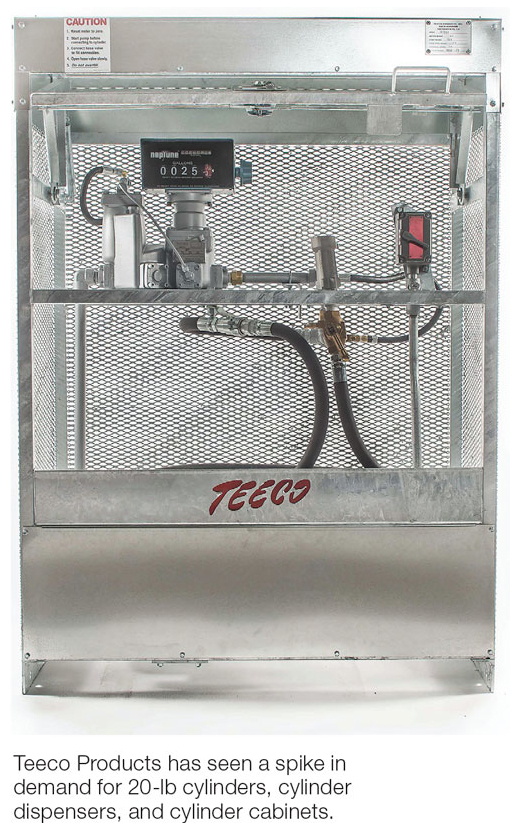 (Irvine, Calif.) has seen a spike in demand for products related to heating outdoor spaces during the pandemic. These include propane heaters as well as all the equipment used to deliver fuel to those heaters, Jay Stephens, president and CEO, tells BPN.
The demand is coming from customers who want to heat patios for outdoor dining, and tents for celebrations or for COVID testing. For the same reason, there has been demand for 20-lb. cylinders.

Cylinder manufacturers have been rationing those because consumers are hoarding them and because there's been a shortage of rolled steel and, therefore, the cylinders that are made from it. "We tell the manufacturers, 'We'll take every one you've got,'" Stephens says.

There's been a run on cylinder dispensers, too. "Every corner gas station wants one now," he reports. "We used to ship dispensers same day; now we need four weeks. We're fabricating them as fast as we can." Similarly, cylinder cabinets have been in demand. "We build them too. Our sales have probably tripled since 2019. It's a good business."

Teeco Products is a wholesale distributor and fabricator of gas equipment. The company operates out of a corporate headquarters in Irvine, Calif., and three locations: Sacramento, Calif.; Auburn, Wash.; and Rapid City, S.D.

Established in 1946, the company is marking its 75th anniversary this year. Teeco hopes to hold a celebration at its own open house or at the Western Propane Trade Show. But, of course, that is predicated on whether those events can be held this year. The company also marked the occasion with a recently released 75th anniversary edition print catalog.

Online training, too, has taken off during the pandemic. "Our salesmen used to take training to the customer's front door, but since those doors are closed during the pandemic, we have partnered with our manufacturers to do virtual training," Stephens reports. The training has covered "everything you can think of" related to propane, he adds. "Our customers have probably done more training this year than ever before," Stephens says, "because virtual training is easier to access and they don't have to travel."
In-Demand Products and Services 
Because wholesale distributors deal with a wide range of customers, serving many end-user segments and different regions of the country, they always have a good idea of what's in demand. Here are products and services highlighted by nine distributors who serve the propane industry and related industries.
Agricultural heaters — "Where cannabis cultivation is legal, everyone wants heaters for their greenhouses, so we've hopped on. There are a lot of manufacturers, but the one we sell the most is the L.B. White Therma Grow 120,000 Btu or 220,000 Btu heaters. They've been selling like hotcakes."—Jay Stephens, Teeco Products.
Propane equipment — "The propane business has been solid and good. People are putting money into their homes instead of traveling, they are working from home, there is new construction, and people are moving out of the cities and into their summer homes in rural areas. So, residential is up, but commercial is down primarily in the restaurant industry due to the shutdowns in dining. That is a Northeast phenomenon that impacts us as we all adapt to the pandemic."—Mike Hopsicker, Ray Murray Inc.
Indoor air quality — "Antimicrobial filters and ionizing air cleaners for rooms are in demand for not only residential use, but also commercial and industrial use. We've increased our portfolio in Honeywell and Aprilaire, making sure our offerings are readily stocked. For any company that deals with HVAC, indoor air quality has moved front and center."—Ray Kazakewich, R.E. Michel Co.
Storage vessels — "The storage vessel business is just going off the chart. Whether it's 250, 500, 1000, 1150, or 1999, if anybody has tanks, they can sell them. Not only storage tanks, but even small barbecue bottles are doing quite well right now."—Arch Hudelson, Meeder Equipment Co.
Autogas — "Over the last year, we've seen a lot more interest in autogas. More and more marketers are reaching the conclusion that they should integrate autogas into their fleets. The systems are reliable, they are EPA-certified, and they enable marketers to run their fleets on their own fuel."—Jeff Head, LPG & NH3 Supply Inc.
Heaters and fireplaces — "Because more people are spending time at home, they are adding or upgrading their appliances."—Kim Godlewski, IPS Equipment
Online training — "I think the industry as a whole looks at this as one change that will continue after the pandemic. COVID has pushed a large number of people in this industry forward much faster, and technology is stepping up to meet those needs."—J. R. Anderson, Gas Equipment Co.
Appliances — "Staying at home has definitely changed what people buy. They haven't been able to travel or go out to eat, so they are remodeling and adding new appliances. Grills, gas logs, and fireplaces have been hard to keep in stock. Usually, we would forecast by looking at what sold the previous year; this year has blown that right out the door."—Angi Harris, Gardner Marsh
Tank monitors — "Telemetry, or tank monitors, had been growing for the last few years, but it really took off in 2020. The real benefit is the analytics that help improve efficiency. It's not just monitoring the product level in the tank, but also using the analytics."—Don Montroy, Bergquist Inc.