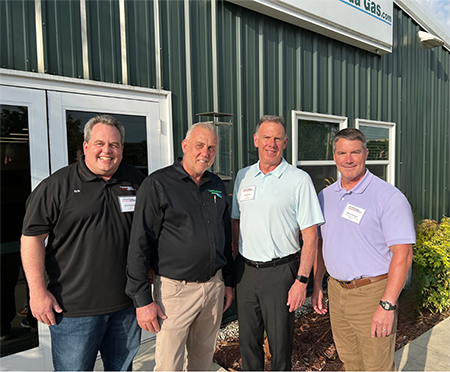 Cetane Associates (Cetane) is pleased to announce that ThompsonGas LLC (ThompsonGas), a Maryland limited liability company, has acquired the tangible and intangible assets related to the propane delivery business of South Florida Gas Company Inc. (South Florida Gas), headquartered in Fort Myers, Florida.
The transaction closed on June 21, 2023. For more than 27 years, South Florida Gas has been the premier propane provider serving South West Florida. With a team that has over 140 collective years of industry experience, their excellent service has earned them robust referrals and a reputation for reliability.
Charles (Chuck) Robb and Terry Fisher acquired Careful Gas Service in 1995. After Chuck purchased Terry's interest in 2007, Chuck and Stephanie Robb became owners of the renamed South Florida Gas. Building the business on a niche market serving RV parks, the business grew by acquisition, expanding its service territory in southwest Florida, and adding a state of the art facility with bulk storage. Their customer mix on the Gulf Coast includes multiple residential, metered propane systems.
South Florida Gas President Chuck Robb comments, "This is a great day for our business, our employees, and our customers. To sell our business one day was part of our long term plan and now, with ThompsonGas carrying it forward, we know it will be taken to the next level, especially with the guidance of our management team. The complexities of a deal this size were handled expertly by the Cetane team. Tamera, Fred, and Barrett were always there for us and made this successful transaction a reality. We are grateful."
With over 75 years of service, ThompsonGas now claims a footprint across 23 states. Their well-known brand began with Lloyd and Dorothy Thompson in a Boonsboro, Maryland storefront in 1946, with a promise to provide quality products and service to their customers.
ThompsonGas CEO Erik Peterson states, "The newest member of the ThompsonGas family, South Florida Gas Company, provides a significant addition to our Florida market. We are beyond excited to welcome the South Florida Gas team and look forward to making them feel right at home as they join ThompsonGas. We are honored to take forward the legacy South Florida Gas built so well."
Tamera Kovacs, director at Cetane Associates, said, "We are thrilled to have worked with Chuck through this transaction. I know him to have always hired great people. He has built one of the best propane companies we've had the pleasure to work with and we wish the Robb family the best with everything that lies ahead for them."
Cetane served as the sole arranger and financial advisor to South Florida Gas. Cetane advised on the sale, including an initial valuation opinion, marketing the business through a confidential process, assisting in negotiating the final deal terms, and coordinating the due diligence process. Team members Tamera Kovacs, Fred Lord, and Barrett Conway managed the transaction.