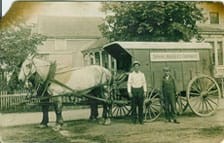 KENT, Conn. (June 8, 2022) — Cetane Associates LLC has announced that Fabian Oil Inc., a Maine corporation whose corporate offices are located in Oakland, Maine, has acquired the heating oil, propane, and service business of Spring Brook Ice & Fuel Co., headquartered in Waterville, Maine. The transaction closed on June 1.
Over 100 years old, Spring Brook Ice & Fuel was founded in 1918 after the end of the first world war. During a century of service, Spring Brook supplied ice and coal into the 1950s, when heating and range oil became the fuels of choice. Fuel storage and propane delivery were later added along with service supplied by their skilled technicians.
Robert L. Ervin founded and grew the business and enjoyed a reputation as a generous businessman and community leader. When Robert passed in 1962, his son, Edmund N. Ervin, assumed leadership with General Manager Joseph Michaud overseeing operations.
Around 2000, the next generation, Founder Robert's grandsons, Edmund D. (Ed) Ervin and Robert (Sandy) Ervin became involved in the business, and as co-owners took full management responsibilities in 2009. 
Fabian Oil was founded in 1988 as a single retail gasoline station. By 1991, Fabian Oil was retailing heating oil to the Central Maine area. With a growth strategy primarily focused on acquisition, family-owned and -operated Fabian Oil has expanded its product mix to include propane, service and natural gas, and added multiple retail locations throughout Maine plus servicing a vast wholesale market throughout New England.
Edmund D. Ervin, co-owner and president of Spring Brook Ice & Fuel, said, "We are very pleased that our organization will become a part of Fabian Oil. Their deep roots in Maine are positive for our customers and a great fit for our employees."
He continued, "I want to emphasize our thanks to Cetane for all they've done for us throughout the transaction. We really couldn't have done this without the help of the expert, experienced, and thoughtful team at Cetane."
Edward J. Fabian, Jr., Fabian Oil president, said, "The Ervin family and their talented team built a successful business, and we are honored that they chose Fabian Oil to continue to care for their customers. We appreciate that the Spring Brook employees will be joining our team and look forward to helping them feel right at home at Fabian Oil. We plan to carry on the legacy established by Spring Brook in the local community."
Cetane served as the sole arranger and financial advisor to Spring Brook Ice & Fuel Co. Cetane advised on the sale, including an initial valuation opinion, marketing the business through a confidential process, assisting in negotiation of the final deal terms, and coordinating the due diligence process. The transaction was managed by team members Jeff Brunner, Fred Lord and Steve Abbate.