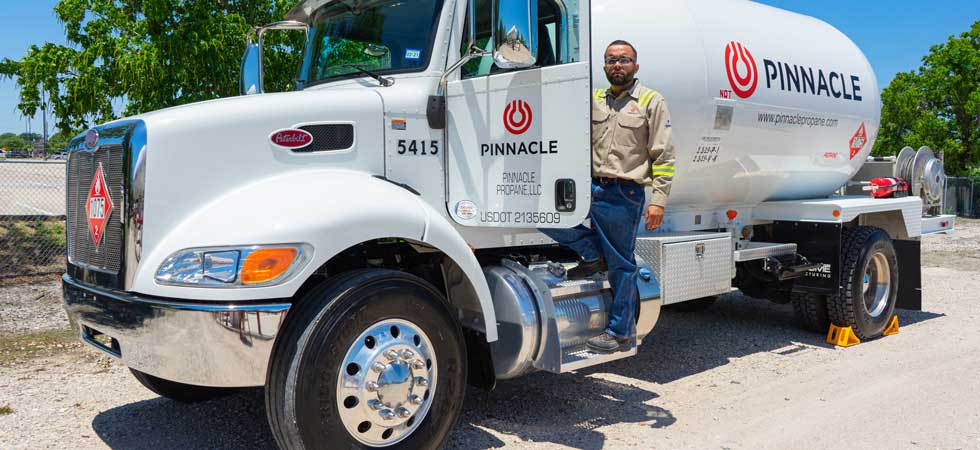 CEO details the retailer's M&A strategy, how the company keeps employees in the loop & more
Friday, December 10, 2021
Employees are the lifeblood of any company. From daily tasks to long-term projects, your team makes sure the work gets done and the company continues to move forward. When one company is acquired by another, employees face big changes and a significant impact on their daily lives.
In this article, Pinnacle Propane CEO Gino Vansteenhuyse discusses how Pinnacle approaches acquisitions and the role communication plays in ensuring employees feel integrated into a new environment.
Vansteenhuyse was appointed CEO in 2019 and has worked for SHV Energy for 21 years in six different countries. Pinnacle Propane LLC was founded in 2010 and is headquartered in Irving, Texas, between Dallas and Fort Worth.
In 2017, Pinnacle Propane joined the family-owned company, SHV Energy. Pinnacle retails about 60 million gallons of propane and 10 million gallons of refined fuels. Its operations include propane bulk retail and delivery, cylinder dispenser operations and community distribution gas systems.
Why do propane companies sell their business?
For small to medium players, we often see that local or regional propane business owners are struggling with succession. After two or three generations of building a successful company, sometimes the next generation in line does not wish to continue. It is no longer expected that children follow in their parents' footsteps.
A rising trend in the decision-making of young future propane marketers is the skepticism of whether fossil fuels have a future in the decades ahead. When you're in your 20s and looking for a job, this is a great question to ask.
For larger players, it can be that the strategy no longer includes propane or that they are part of a divesture strategy from a larger corporation.
How does Pinnacle ensure it is successful when acquiring a new organization?
When integrating a newly acquired business, we believe it is critical to pay attention to two things: employees and customers. To be a successful acquirer, you must first comprehend (both intellectually and emotionally) the importance of the seller's goal to provide a safe haven for their customers and employees.
I would say that in the propane world, not a lot of companies are sold; most are life achievements that are passed on — and understanding that is key. On top of taking care of the employees and customers, we apply one important philosophy: What can Pinnacle learn from them? The combination of the above delivers a great platform to be successful.
What areas of the U.S. are you concentrated in growing your business and why?
It should come as no surprise that we aim to expand and densify our operations in our core region. That's where we can not only guarantee, but even improve, our client service.
We are currently operating in nine states that form a contiguous territory — Arkansas, Arizona, Illinois, Kansas, Louisiana, Missouri, New Mexico, Oklahoma and Texas.
Simultaneously, we're trying to expand our territory to the east and the west (California) while maintaining a contiguous operating region. Finally, we would like to be able to establish a second operational area in the Northeast market.
What expectations does the Pinnacle team aim to create for employees joining the company?
Pinnacle is a business unit of SHV, one of the three largest propane companies in the world that is still family owned. SHV instills strong values including integrity, inclusivity, curiosity and trust.
The family feeling is the cornerstone of our Pinnacle culture: a great place to work where employees are individuals with diversity, equality and inclusion in their hearts. We are convinced that true safe behavior is the foundation of our journey to zero incidents. We want to become the leader in safety within the industry. With six safety managers on staff empowering the organization, we are bound to achieve this goal.
Our purpose is to have the "courage to care for generations to come," which means we want to shape the future, not simply adapt to it. By 2040, we aspire to be able to sell renewable propane for 100% of our sale. We strive to commercialize bio-propane as of 2022 in the U.S.
How does empathy toward the employees who are impacted by an acquisition come into play?
Empathy plays the same special role as in any business relationship. For Pinnacle, it is an absolute priority to "humanize" the acquisition. We accomplish this through the personal engagement of all senior management.
Each of the seven members of Pinnacle's management team — including myself — visits each location to meet all the new, onboarded employees.
Seeing people, talking about their experiences with the previous company and outside, and building connections ensures that we focus on the heart of the newly acquired company.
It is not the new environment, a new process or a new screen that people are struggling with; it's about small things that get lost through the cracks. Thanks to this effort, senior and operational management align much better on steps to take and can ensure a successful integration.
How do you effectively communicate a new business with your current team?
Pinnacle has a strong internal communication program in place, and all new employees are integrated in this on day one. Every month, each of our 400 employees receives a newsletter in their email inbox and a printed copy mailed to their home. By doing so, family members can feel a part of our Pinnacle family.
We also organize a monthly video town hall with our employees in the nine states we operate in. Senior and local management report results and project statuses and announce important new events.
We also offer a Q&A session during this recorded meeting. We also have a wall display in our breakroom at the headquarters that displays a plaque of each acquisition dating back to 2010.
How did the pandemic affect your future of acquiring new businesses?
The pandemic has had the same effect on the acquisitions world as it has on the rest of the globe: It has made it faster. Management presentations are virtual, the last non-digital parts of data rooms have disappeared and response times are shorter.
The danger of virtual processes is not being able to communicate with the sellers throughout the process, which has often been the foundation of successful purchases.
Furthermore, the emergency temporary standard published by the Occupational Safety and Health Administration to receive full vaccination or undergo periodic testing with mandatory face coverings will add special attention when acquiring companies with fewer than 100 employees if enforced. Successful communication and reinforced change management is key.
The COVID-19 pandemic is a sensitive matter that only adds complexity to the already sizeable transitioning efforts that employees are going through. I would say that the pandemic made us all more aware, especially when acquiring new businesses.