Thursday, December 15, 2016
WATERFORD, Mich. (Dec. 15, 2016) — Waterford School District (WSD) introduced 10 new school buses fueled by propane autogas into its fleet this week, joining almost 30 other school districts in the state to operate Blue Bird Vision Propane buses. Propane is an economical alternative fuel that will allow the school district to save money in maintenance and fuel costs, and to reduce its carbon footprint.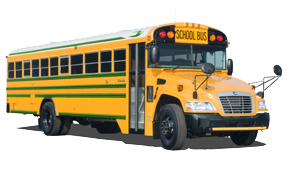 Each bus is fitted with propane fuel systems manufactured by ROUSH CleanTech, a division of ROUSH Enterprises based in Livonia, Michigan.
"Prior to joining WSD, I had a very positive experience with propane-fueled buses," said WSD Superintendent Keith Wunderlich. "School buses operating on propane are environmentally friendly and reliable in cold weather conditions, plus offer cost saving benefits."
Wunderlich also said that the school district selected propane-fueled buses because they provide the added safety of a quieter running engine and, although the initial purchase cost is higher, the "savings in overall cost of ownership versus a diesel bus is worth the initial cost."
"Waterford School District joins hundreds of school districts across America making the decision to find fuel alternatives for their buses," said Brian Carney, executive director of school bus and customer support for ROUSH CleanTech. "Propane is a proven choice that costs about 50 percent less than diesel per gallon and reduces maintenance costs due to its clean-operating properties." Propane also provides quick engine performance in cold weather.
Equipped with Ford Motor Company's 6.8L V10 engines, the Blue Bird Vision Propane buses emit 80 percent fewer smog-producing hydrocarbons and virtually eliminate particulate matter when compared with diesel.
The fleet of propane autogas buses will reduce nitrogen oxide emissions by about 10,000 pounds and particulate matter by about 315 pounds each year compared with the diesel buses they replaced. These ROUSH CleanTech propane autogas fuel systems are Environmental Protection Agency (EPA) and California Air Resources Board certified.
Since 2010, ROUSH CleanTech has deployed almost 14,000 propane autogas vehicles to fleets across America. Of those, more than half are school buses.
About Waterford School District: Waterford School District is a pre-kindergarten through 12th grade public school district serving the communities of Independence, Waterford, West Bloomfield and White Lake in Michigan.
About Blue Bird Corporation: Blue Bird (Nasdaq: BLBD) is a leading independent designer and manufacturer of school buses, with more than 550,000 buses sold since its formation in 1927 and approximately 180,000 buses in operation today. Blue Bird's longevity and reputation in the school bus industry have made it an iconic American brand. Blue Bird distinguishes itself from its principal competitors by its singular focus on the design, engineering, manufacture and sale of school buses and related parts. As the only manufacturer of chassis and body production specifically designed for school bus applications, Blue Bird is recognized as a leader for school bus innovation, safety, product quality/reliability/durability, operating costs and drivability. In addition, Blue Bird is the market leader in alternative fuel applications with its propane-powered and compressed natural gas-powered school buses. Blue Bird manufactures school buses at two facilities in Fort Valley, Georgia. Its Micro Bird joint venture operates a manufacturing facility in Drummondville, Quebec, Canada. Service and after-market parts are distributed from Blue Bird's parts distribution center located in Delaware, Ohio.
About ROUSH CleanTech: ROUSH CleanTech, a leader of alternative fuel vehicle technology, is a division of ROUSH Enterprises based in Livonia, Michigan. ROUSH CleanTech designs, engineers, manufactures and installs propane autogas fuel system technology for medium-duty Ford commercial vehicles, and Type A and Type C Blue Bird school buses, and compressed natural gas fuel systems for Type C Blue Bird school buses. As a Ford QVM-certified alternative fuel vehicle manufacturer, ROUSH CleanTech delivers economical, clean and domestically produced fueling options for fleets across North America.