Wednesday, January 15, 2020
(January 15, 2020) — Three local New Hampshire nonprofits experienced the true spirit of the season this year thanks to the annual "
Gift of Lights
" holiday event presented each year by
Eastern Propane & Oil
at the New Hampshire Motor Speedway (NHMS). The event, which was launched in 2011, runs each year from Thanksgiving through January 5th. This year's fundraising efforts benefitted the Speedway Children's Charities New Hampshire Chapter with $30,000; provided an extra 4,800 meals to the Loudon Food Pantry, and supported the Loudon Firefighters Association with a $4,000 donation.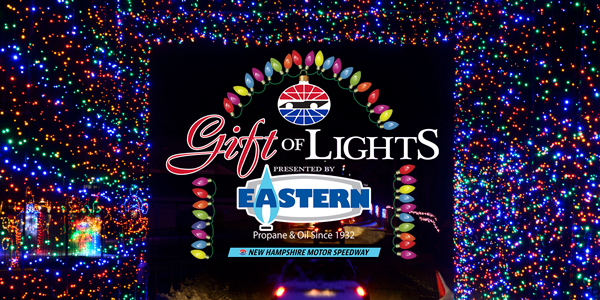 Gift of Lights visitors received a discount on their admission when they brought at least three non-perishable food items to donate to the Loudon Food Pantry. These donations contributed to a total of 5,858 pounds of food, which will provide 4,882 meals.
"It's always great when a community comes together to help those in need," said Sue Houck, president of the Loudon Food Pantry. "Thanks to the generosity of those that attended the Gift of Lights and those that work at New Hampshire Motor Speedway, there will be fewer families making the choice to eat or heat their homes this winter."
Since the Gift of Lights first began, food and monetary donations have allowed NHMS to donate more than 98,000 pounds of food to the Loudon Food Pantry, which has provided nearly 93,000 meals to local citizens during the holiday and winter months.
Speedway Children's Charities New Hampshire Chapter (SCCNH), that raises money for children in need throughout New England, received a portion of each car's NHMS admission and a part of the registration proceeds went to the "Yule Light Up The Night" Walk/Run hosted by Millennium Running raising a total of $30,218, making this one of the largest SCCNH annual fundraisers. The funds raised will be combined with the proceeds from other SCCNH events throughout 2020 and be distributed through grants to local nonprofits in December. As the official charity of the speedway, Speedway Children's Charities New Hampshire Chapter has raised $220,476 from Gift of Lights events since 2011, and has distributed more than $1.8 million to support over 808,000 children throughout New England since its inception in 2009.
During the 8-week Gift of Lights event the Loudon Firefighters Association hosted a S'mores Pit each Friday and Saturday night for a monetary donation raising a total of $3,736 for their "Off Road Utility Vehicle Fund, " which will be used for Off-Road Firefighting and Rescue situations. The Loudon Firefighters Association has hosted the S'mores Pit during the Gift of Lights for three years running, collecting a total of $10,169.
The Gift of Lights event, presented by Eastern Propane and Oil, has seen more than 108,000 cars since it started in 2011, is a 2.5-mile drive-thru light show, which transforms New Hampshire Motor Speedway into a twinkling winter wonderland with 80 different scenes, 520 displays and 2.5 million LED lights.