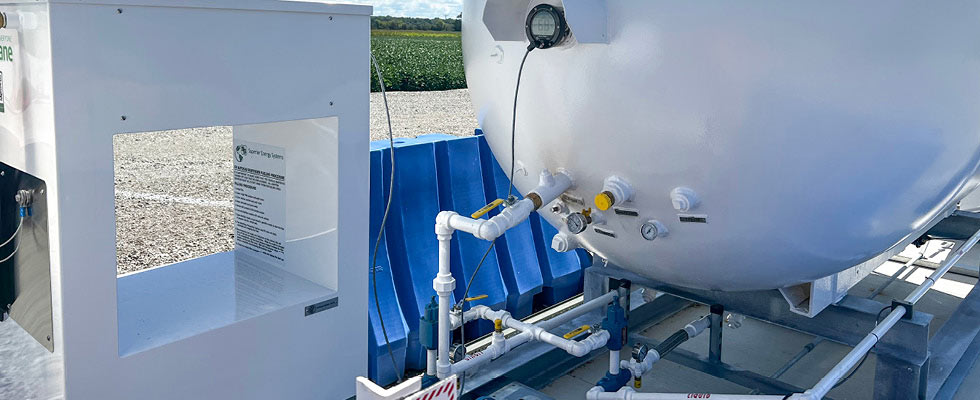 Autogas market trends, growth challenges & tech updates for marketers to consider in the new year
There's no need to reiterate the benefits of autogas growth to this audience — engines running on autogas are 90% cleaner than the mandated Environmental Protection Agency (EPA) standards and are certified to the optional ultra-low NOx emissions standard as defined by the California Air Resources Board (CARB) for heavy-duty engines. Achievements in energy efficiency aside, though, how do we grow this sector of the market? This is a topic top of mind for both Todd Mouw, executive vice president, sales and marketing for ROUSH CleanTech, and Crystelle Markley, marketing director at Superior Energy Systems.
ROUSH CleanTech is a leader in clean vehicle technology, particularly in the push to convert United States school buses from diesel to propane. Superior Energy Systems is a midstream liquefied petroleum gas (LPG) and natural gas liquids solutions provider and has installed over 1,100 autogas dispensers across the U.S. Ahead, hear from Mouw and Markley regarding 2023 autogas trends, current challenges to growth, why autogas is a great opportunity to sell gallons year-round and more.
What do you expect to see in 2023 propane market trends specific to autogas?
Mouw: I think 2023 has the potential to be a record year for propane autogas commercial truck and school bus sales and interest. The fleets that operate vehicles in the Class 4-7 market have experienced significant pain related to the high cost of diesel fuel, and they are looking for ways to mitigate the cost of the fuel and the complexity of the diesel aftertreatment systems.
Specifically related to school buses, the Clean School Bus Program offered by the EPA will be another mechanism to drive interest in propane school buses. While the program is weighted more heavily to electric vehicles, it does provide the platform for us to educate school districts that the end of diesel is coming — and the technology/energy source that is most capable of supporting that shift is autogas.
As an industry, we need to make sure we understand that electric vehicles are not the enemy here, as they have such a small percentage of the market. Diesel is what we need to combat, as this fuel still holds 75% of the school bus market.
From your perspective, what are the most significant challenges currently to encouraging autogas adoption and growth in the U.S. market?
Mouw: I have been doing this for almost 15 years, and I think the answer remains the same: It is alignment within our industry and how we communicate the benefits of autogas — the cost savings, the emissions reductions, the ease of infrastructure, no compromise on range or payload, and the emergence of renewable propane as a pathway to a "near zero" solution. If we can get aligned as an industry and communicate this relatively simple "elevator pitch" to fleets, regulatory bodies and media, then I am confident that we can make significant headway in transportation over the next decade.
What is your team & its partners working on in terms of new tech for the autogas space?
Mouw: We are spending a lot of time getting our engine technology compliant with the upcoming 2024 and 2027 regulatory standards. We don't have final certification in hand yet for 2023 model year engines, but it is our intent to certify at the lowest nitrogen oxide levels (0.02g NOx), which will comply with the standards in 2027.
That will help set our customers' minds at ease that we are already three to four years ahead of the curve. It will also allow us to educate fleets on the challenge that diesel will have to meet these requirements and the significant cost that will come with it.
Beyond that, we continue to put more effort into our technician training and education tools. This includes easier interfaces between our 700 service locations and our customer success team so we can reduce the amount of time it takes to get a vehicle back on the road and ensure that technicians can get the job done in a safe and efficient manner.
What autogas industry innovations made the industry better in 2022 or could in 2023?
Markley: Superior Energy Systems launched its remote autogas tank monitoring solution this year. Customers were continuously requesting a "one-stop shop" for tank monitoring along with fleet management software. Superior Energy Systems previously utilized similar technology at its midstream terminal and bulk plant locations that made adapting a solution easier. We also found that fleets new to propane autogas often run out of fuel before they expect to need a fuel delivery, which caused multiple issues. This innovation answers all those needs.
Fleets are eager to use the monitoring solution because it enables them to easily view their tank inventory and set alerts for specified tank levels. It also helps fleets eliminate dispenser and skid downtime with additional troubleshooting capabilities. Thus, instead of the company's staff having to travel for a quick fix, many issues can be resolved with remote system monitoring. Fleets are also impressed that no additional software is required for the monitoring system if they already utilize the autogas fleet management system.
We are also continuing to evolve our fleet software control system, which is being utilized by hundreds of fleets across North America. Our modular autogas skid-package design continues to be a popular infrastructure solution for fleets that are starting their autogas journey as well as looking for a one-stop, economical solution that can be installed quickly and efficiently.
How does autogas fit into the renewable propane market? What adjustments do marketers need to make in their strategies for selling renewable propane for use in the autogas sector?
Mouw: Renewable propane is critical to the industry's long-term success in the transportation segment. We must be aligned and communicate that we have a pathway to a much lower carbon-intensity fuel through renewable propane.
Ultimately it will take some time for supply to increase, but the message is important — that we have some commercially available today and we are working with the producers to significantly increase the amount of supply. Carbon intensity (often called CI) is a big buzz phrase now; we need to ensure fleets and the regulatory bodies that we have a pathway. This will keep us at the table and in all the critical transportation energy discussions.
For propane marketers that have been hesitant about entering the autogas marketplace, why should they do so?
Markley: A first step for a marketer wanting to enter the autogas marketplace would be to educate themselves on the basics by utilizing the vast materials offered by the Propane Education & Research Council (PERC) and autogas equipment manufacturers, like Superior Energy Systems and ROUSH CleanTech. In addition, we would encourage marketers to reach out to other marketers who are experienced in autogas.
Many of these partners are more than willing to give advice and share what they have learned as they have worked with varying customers. The equipment manufacturers are also eager to help and will join marketers on customer calls and visits to assist them in selling the products.
Autogas represents one of the best off-season opportunities for marketers, and as alternative fuels become more popular — due to clean air legislation and costs of traditional fuels — propane autogas will continue to be a mainstream solution for fleets, specifically school bus and light- to medium-duty fleets.
What is your advice to marketers for creating a plan to grow autogas dollars within their companies? What about marketers that offer autogas already but are struggling to grow revenue in that portion of their business?
Mouw: I love this question! There are already a ton of tools that we and PERC have developed to educate marketers on the opportunity in front of us. Over the next decade, almost all the diesel school bus market will transition to something cleaner and less complicated. Autogas is a viable and already proven answer.
Each propane bus we sell represents 51,000 gallons of fuel over the bus's lifetime. There are 400,000-plus older school buses that will get replaced over the next 10 years. We have a great opportunity to drive those bus replacements to propane autogas with our message of simplicity, lower cost, lower emissions, no compromise on range and a pathway to a near zero solution.
Let's assume 50% of those transition to propane over the next decade. Those 200,000 buses would consume more than 10 billion gallons of propane fuel over their lifetime. It is a game changer for everyone in our industry. Couple this with the opportunities in commercial trucks and the transit industry. Electric vehicles (EVs) will struggle in the vocational Class 4-7 markets due to cost, payload reduction, range limitations and other reasons. That puts propane in a perfect spot to help commercial fleets transition away from diesel in a very cost-effective manner.
If you are struggling with your autogas program or want to seize the opportunity, call us or PERC. It is not as complicated as you may think.
Can you detail some key points of discussion for marketers to use with their customers when explaining why autogas is a more reliable, clean alternative to conventional fuels than electric vehicles?
Mouw: I am asked this question quite frequently. My belief is that we should not fight the EV push in the transportation segment. The political will and lobbying spend are significant, and I am confident it will backfire. Fleets will receive electric trucks and buses, and due to a variety of current EV shortcomings (range, cost, infrastructure, payload, serviceability, etc.), many will have a challenging experience. Those fleets can do the "selling against EV" for us.
My answer is that EVs are a perfect solution for light duty and consumer vehicles as they don't need range or payload or DC fast-charge infrastructure like the commercial market does.
Now is the time for propane to become mainstream in the Class 4-7 segment. We are selling against diesel. Due to the upcoming regulatory changes, diesel engine technology and aftertreatment will get significantly more expensive over the next five years. We have heard some estimates of a $20,000-plus per engine price increase over today's price. Couple that with the price of diesel and the complexity of maintaining it with fewer available technicians, and it is clear that the Class 4-7 market will be primed for the propane industry to own. Let's all get aligned and on board.
How do you feel about the general health of the propane industry now & in 2023?
Markley: Propane will always hold solid ground in commercial and residential heating, but we must continue to evolve and offer propane solutions outside of the box. We witnessed an increased demand for autogas equipment in 2022 with no sign of a slowdown, which is greatly encouraging; but we are keenly aware of the strong electric movement that we rely strongly on PERC and the National Propane Gas Association to combat.
In addition to autogas, we see great opportunity in the industrial segment, including powering large commercial facilities where natural gas is unavailable or natural gas curtailment is in place and propane is used as a backup fuel. This has become a popular solution for a lot of distribution centers being built in rural areas as e-commerce demand has skyrocketed.