There's a growing need for technicians in a variety of industries, including the propane and alternative fueled-vehicles industry. Now is the time to start training people for those positions.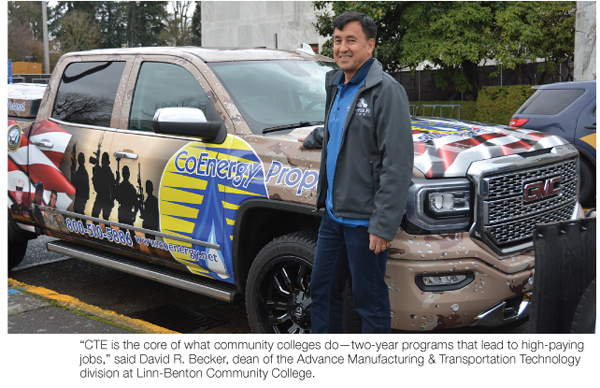 Those are messages being promoted in the state of Oregon and across the country by a propane marketer and a community college. CoEnergy Propane (Albany, Ore.) and Linn-Benton Community College (LBCC; Albany, Ore.) partner in teaching students and automotive service professionals how to service propane-powered vehicles. They also are working to increase the number of educators teaching these skills nationwide.
In Oregon, they recently joined the state's 16 other community colleges at two events promoting the importance of community colleges and their career technical education (CTE) programs. Career Technical Education Day (Feb. 1) and Community College Day (March 7) were held at the Oregon state capitol as legislators were working on the state budget. The rallies were organized to support funding that would enable community colleges and their CTE programs to maintain and add to the capacity needed to train workers.
Randy Camp of CoEnergy Propane attended both rallies. He is general manager of the company, which provides propane services to residential, agricultural, and commercial customers. He is also a member of the board of education of LBCC.
"CTE fills our industry's pipeline with future employees," he told BPN after the events. "Our employees are aging out and we don't have quality, trained employees to fill those positions. Unemployment is at 4.3% here, so it's hard to find employees. These Days show people in the Capitol that CTE is needed. By and large, we've had positive feedback from legislators."
Representatives of LBCC also participated in the rallies. At CTE Day, the school showcased its transportation programs, which cover automotive, heavy equipment/diesel, and alternative fuels—including propane autogas. Participating industry partners included CoEnergy, Pacific Propane Gas Association, Propane Education & Research Council, and Papé Kenworth.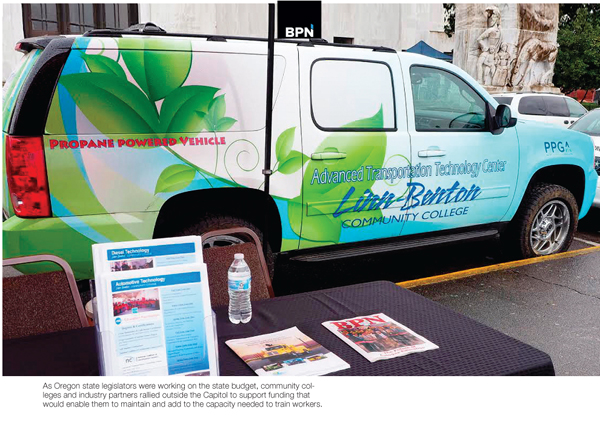 "The CTE Day at the Capitol provided state reps in the House and Senate with information about community college programs that lead to high-wage, high-demand, highly-technical workforce skills and jobs—this is true in the propane industry and alt fuels," said David R. Becker, dean of the Advance Manufacturing & Transportation Technology Division at LBCC.
CRITICAL TRAINING
Inside the Capitol, LBCC's president, business leaders, dean, and other administrative staff met with representatives, senators, and their staff. Their messages to legislators included the following: Community colleges and their CTE programs provide critical training for today's workforce. Graduates have a high employability rate and secure high-paying, career-oriented positions. Many are offered jobs before completing their program.
Outside, the college displayed a CoEnergy truck, a bi-fuel propane 2012 Caprice, and a 2010 CNG Freightliner. "We were able to display informational handouts on our industry partners along with vehicle displays that were eye candy resulting in conversations as they drew people's attention—legislators and their staff," Becker said.
"The purpose of CTE Day was to elevate CTE," he added. "CTE is the core of what community colleges do—two-year programs that lead to high-paying jobs. Everybody doesn't need a four-year degree to get quality high-paying jobs."
"In the legislature, we are pushing for more funding for these programs because of the workforce needs. If you are in Oregon, reach out to your legislators and tell them to fund the community colleges. We don't want to put all the expense of an education on the shoulders of the students. We want to keep that pipeline of educated and qualified employees flowing."
LBCC has automotive and heavy transportation programs and offers this training to current students as well as industry professionals. Most industry classes are taught at the employer's locations, mostly in the Pacific Northwest. LBCC has also made presentations at the SEMA Show, an automotive aftermarket trade show put on by the Specialty Equipment Market Association.
CoEnergy's truck was at the two rallies to draw attention to the company's cooperation with LBCC's training of students on autogas technology. Among the services CoEnergy offers its customers is the conversion of cars, trucks, and vans to run on propane autogas. Its vehicle conversion center also serves in a consulting capacity to LBCC's Advanced Transportation Technology Center (ATTC).
ATTC has a classroom, offices, and shop area designated for alternative fuels. Most of the technicians who have taken these courses are already employed. LBCC has seen students who had completed its alternative fuels classes take positions with dealerships, fleets, aftermarket fuel manufacturers, and propane marketers. Over the past five years, hundreds of technicians have been trained in LBCC's alternative fuels courses.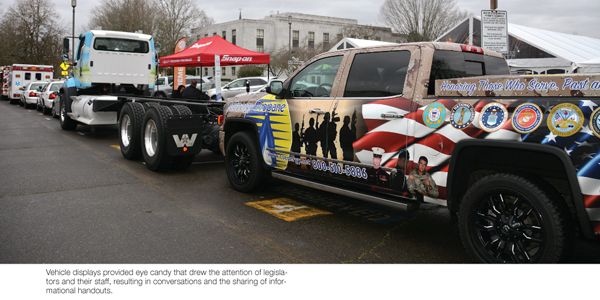 Highly Sought After
"Not many people know how these systems actually work," said Bryan Schiedler, transportation technology department chair at LBCC. "Because of this fact, many of the people who take courses from us are highly sought after by fleets who use these systems, dealerships who sell vehicles to customers who use these systems, and other companies that do business with the fleets as well. For example, Knapheide has sent technicians to some courses so they don't interfere with installations when adding a new body or other accessories."
ATTC is now also training educators to expand the availability of this education nationwide. LBCC is a longtime member of the National Coalition of Certification Centers (NC3). "We have people come here from around the nation to get training in this sector. We can help with professional development; we have done that with other colleges," Schiedler said. "Any business can look at getting their local community college involved," he added.
Oregon has had a special interest in alternate fuels because the state is one of the leaders in the implementation of low-carbon fuel standards. There is also growing interest in these fuels nationwide, since the new Democratic majority in the House has been proposing green initiatives. This reinforces the need for technicians and educators focused on propane autogas-fueled vehicles.
"LBCC trains the trainer for this kind of project," Camp of CoEnergy concluded. "This is the center of the hub and it will come out from here."
For more information about LBCC and its ATTC, visit linnbenton.edu.